Halloween weekend brought a growing wave of hype to attendees of this year's Hard Day of the Dead: many had attended and enjoyed Hard Summer, which was also held at the Pomona Fairplex in August; others were getting hyped for the music acts following the line-up leak (much of which was pretty accurate); and lots of the 21+ crowd was looking forward to the experience after the increased age restriction. Some of the changes made by Hard, and the overall festival experience has been getting some heat by news media as well as dissatisfied attendees directly from peoples' social media accounts. Before the event even began day two, I had already read an article documenting the number of arrests which occurred on the first day and had already received lots of texts from friends to "be careful." Putting things in perspective, the pros heavily outweighed the cons for me, and I rode my hype wave for two days of fun.
I'm going to start with the bad, not just because it is the smaller portion of my experience, rather because it actually occurred first chronologically. Saturday was rough getting in, so I cannot say that my weekend was flawless, nor did it even begin flawless.  The issue of being crammed in a sea of dudes at 3pm while our gate-keeper let 5-10 dudes trickle through every couple of minutes was annoying.  I lost about an hour of time which I thought I would have to see BAE(Alison Wonderland), and there were clearly more cops around than I was used to when getting into an event. Here's where the negative aspect of my weekend ends, as I cannot emphasize this enough: after I got into the venue, everything was absolutely fine!!! I was with a crew of two friends, so we stopped by the bathrooms and were on our merry way with no disruptions or tense feelings of cops creeping on us for the remainder of the night.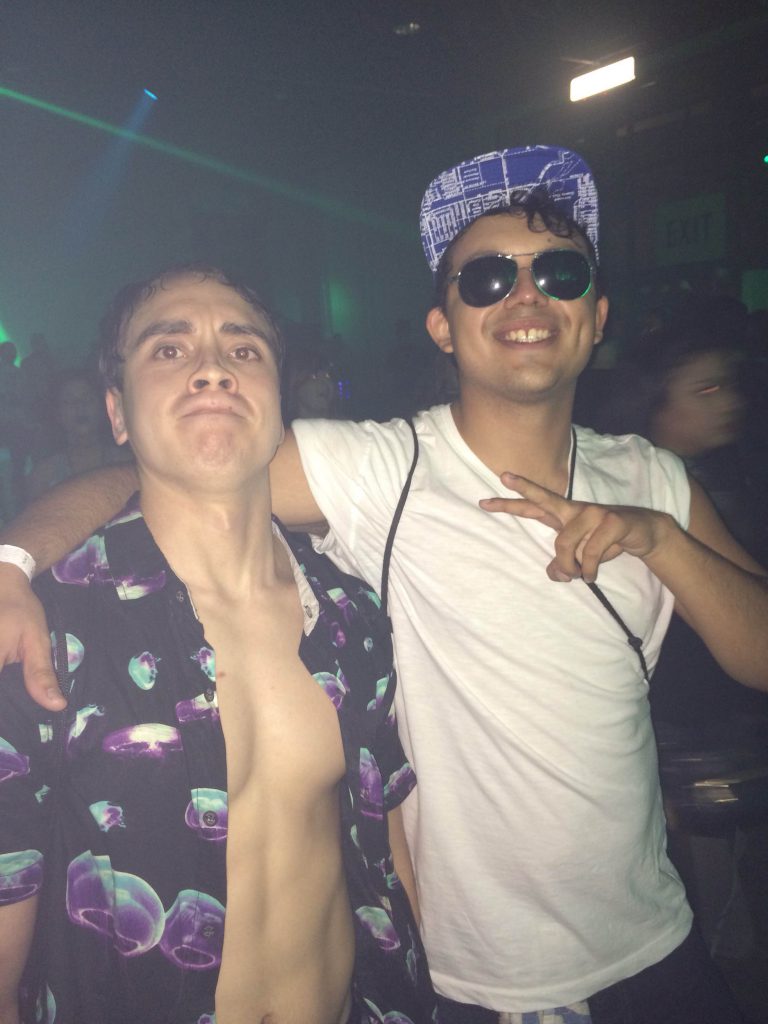 So let's get to the goods: the music was stacked, and the Haunted Mansion stage was proportionally massive in size. We started with Jauz inside the Mansion and that thing must've been the size of a football field, at least, so there was plenty of room to groove somewhere along the entire length of it.  Even during sets as populated as Deadmau5 or Skrillex, I was able to keep moving closer to the stage throughout the whole performance, with a bit of careful navigating. One thing that easily went unnoticed inside of the stages is that there were numbered labels along the length of the buildings like street addresses, which made it very easy to locate friends once inside.  Next up was the Bone Shaker stage, which was one of my most anticipated spots for the weekend, where the multi-faceted Djemba Djemba showed me just how hard the bass could knock at that stage (more on Djemba Djemba later, as he's part of my top five). The next stage hop took us from Snakehips to The M Machine at The Dungeon stage. I didn't stay at this stage much throughout the weekend, but I did come back to witness Grandtheft, who dropped the Diplo & Grandtheft remix of Rihanna's track.
Lots of things which Hard did right are going unacknowledged, which is understandable among those who did have a bad experience with law enforcement. However, I think it's crucial that these things get represented as well: There were so many water refill stations that I'm pretty sure I never waited more than 30 seconds for water. Secondly, making all of the stages indoors allowed for us to stay out of the heat while we enjoyed music in the first several hours of the day. Even the area outside of the stages themselves had plenty of shade from trees, and those popsicles kept me cool as a penguin.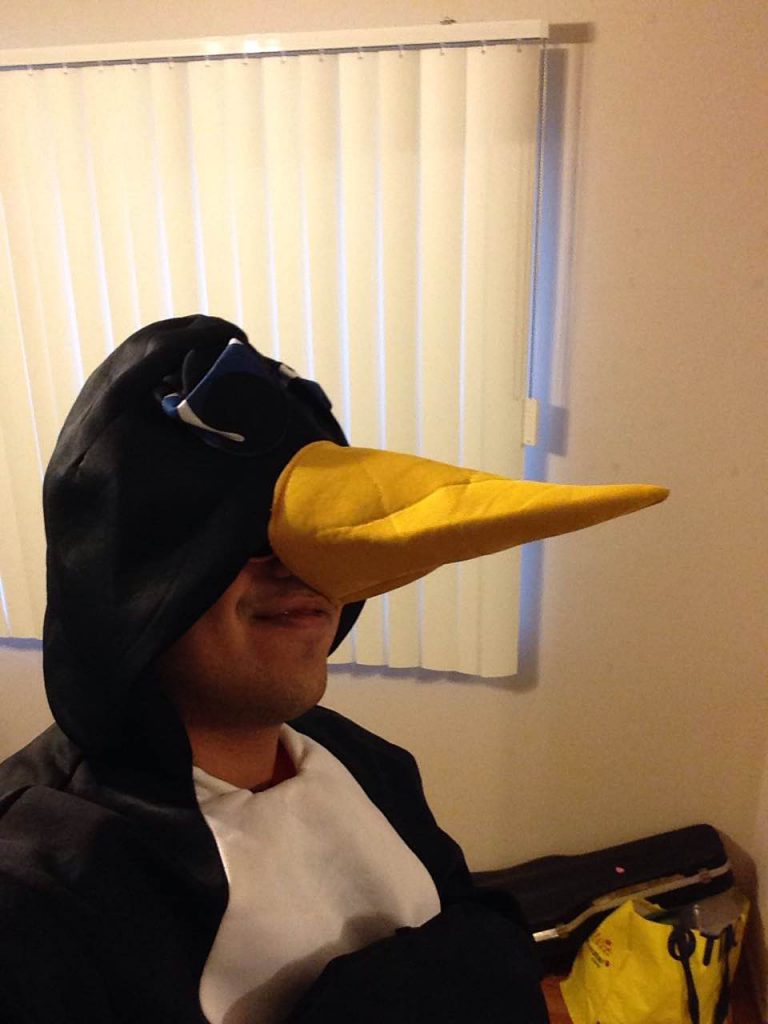 The last musical act of my Halloween was a set from the Mau5 himself, whom my first-time festival going roommate was most thrilled to see. It was a bit of a bummer that the sound stopped twice during his set, and even though I'm sure it was pretty infuriating for Deadmau5 as the performer, I enjoyed over an hour of greatness from him. Leaving a few minutes before he was done might mean that I missed an epic ending, but getting out of the parking lot promptly and back to the west side of Downtown by midnight was completely worth it.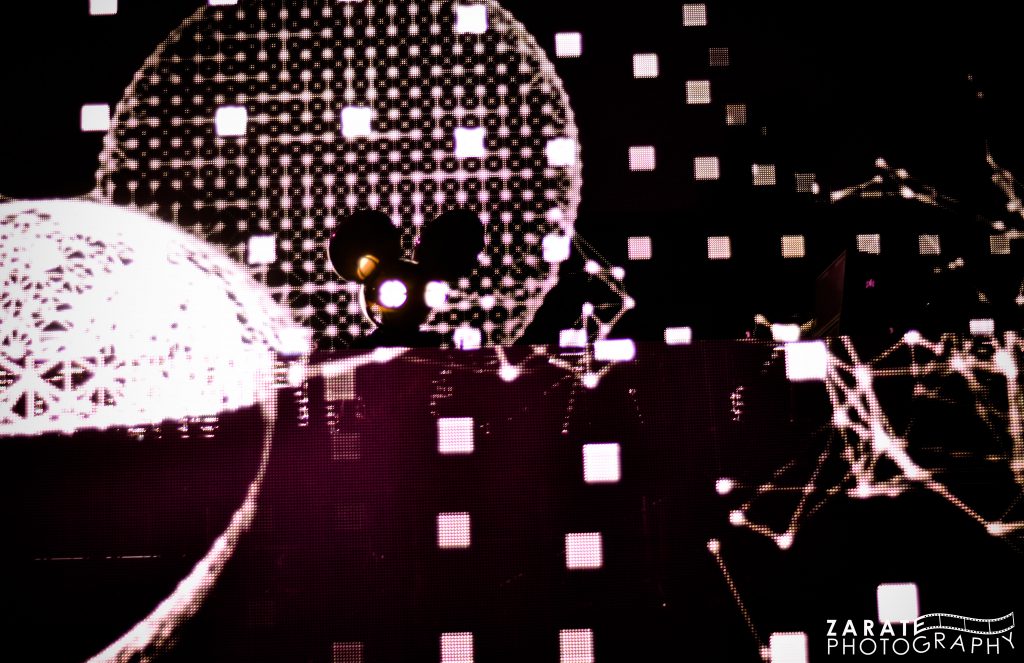 Day Two brought a different energy, as I was riding with a few new faces and only one from the day before (my roommate had enough fun with just Saturday). I was pleasantly surprised when we got into the venue within 20 minutes of getting out of our car. Despite the main stage being flooded with a prime variety of acts, I had to venture out, and I began my day with Oliver at the Underground stage.  The sound was again thumping at this stage, and the vibe among the crowd brought a fun energy to just dance.  Finally taking the perfect opportunity to visit the Strobe Stage, I showed up to watch Soulection's own Joe Kay. He gave us a trademark mix, fusing plenty of R&B and soul vibes with jumping Trap through modern beats and classic samples. Immediately after the head honcho Joe Kay, powerhouse Producer/DJ esta brought the funk.  Esta is a master of providing a collective party vibe while giving you an intimate music experience. He made several transitions from groovy house that sweeps your feet across the floor to some of his own trap bangers. He was undoubtedly the highlight of my weekend and, yet, after seeing him perform, I still had 5 hours of my Sunday to enjoy.
I headed across the entrance of Strobe to the Bone Shaker stage for the first time that day, where I was graced – er, grappled – by the wild jungle house of Wiwek.  It was impossible to not bounce in the house while he threw down his signature sound. Then, as Wiwek's set came closer to an end, a huge smile grew on my face, feeling the approach of one of my most anticipated acts of the entire festival: Marshmello. I'll have more to say on Marshmello below, but the most significant aspect for me at his set was how many smiles I saw among the crowd.  In the entire time that I was partying there, I don't recall seeing any frowns and got several dozen high fives moving through the audience. He left me incredibly satisfied, in accordance with his hard mixtape for the event.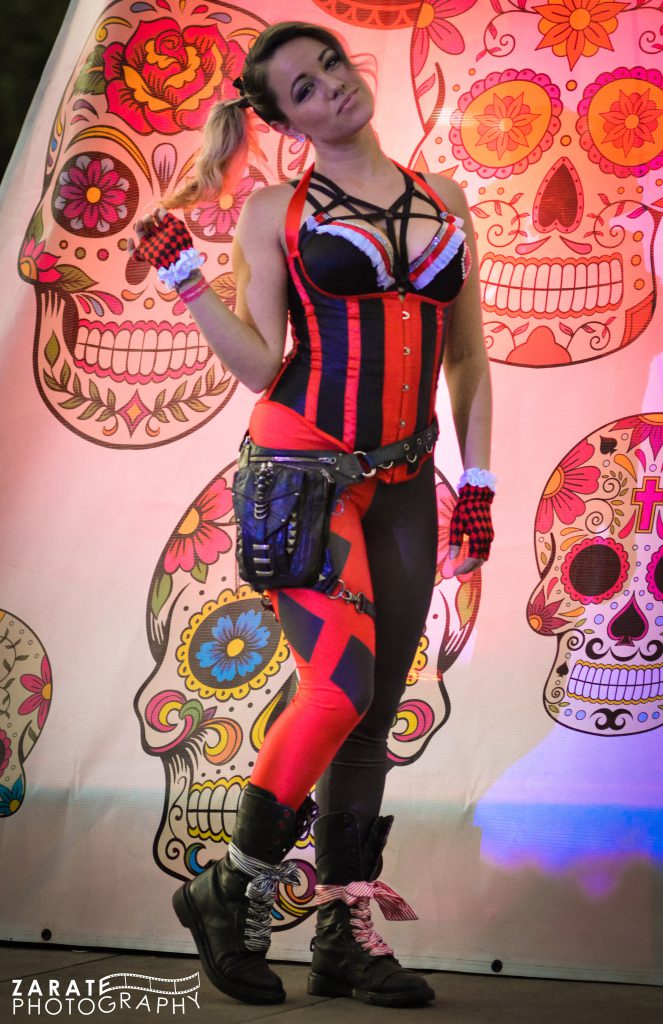 As if the night couldn't be better, it was almost time for a DJ set from the Dark Prince, Gesaffelstien. This dude has maintained a strong presence at HARD, with his Hard Summer 2013 DJ performance proving to be the most memorable for me. He threw down with sounds that were undeniably consistent with our expectations, and thus nothing short of greatness. The Haunted Mansion remained my stomping grounds for the next couple of sets, featuring special guest, Boys Noize, and then headliner, Skrillex. I was hopeful to hear plenty of Dog Blood, but I was more than happy to hear over 3 hours of the effective components of Dog Blood. I don't think I was alone, either, given that I saw several people remain at the Mainstage along with me through the acid house from Boys Noize into the heavy, closing act of Skrillex. Skrillex is constantly reminding me why he is one of my top 3 favorite DJs to watch perform, and his interaction with/consideration for his crowd and fanbase brings his headlining performance full circle.
So there were a few times when the sound got caught or stopped and the music wasn't pumping through the speakers. There were lots of hopeful attendees who were apparently mistreated by present law enforcement. There was even the god-awful hold up upon entering the venue day one.  But the vibe inside of the event was truly magnificent, and I urge those who had a bad experience to give Hard another shot.  What was perhaps a strong and discouraging enforcement of new policies among recent negative changes in their reputation in the media needs some time to air out. Hard is not at full blame for the degree to which officials enforced what they thought to be proper policy. Many officers who were there seemed to not really know their exact purpose in assisting, and may not have experience being around people who are tipsy but know what they're doing. With no disrespect for the experiences of those who had a really bad weekend, these new policies as well as those enforcing them should be granted some time to adapt to this context for the sake of our cooperation for effective safety methods. Again, I want to personally empathize with those who were celled up in awful conditions, as well as those who were mischaracterized as too messed up to be allowed inside.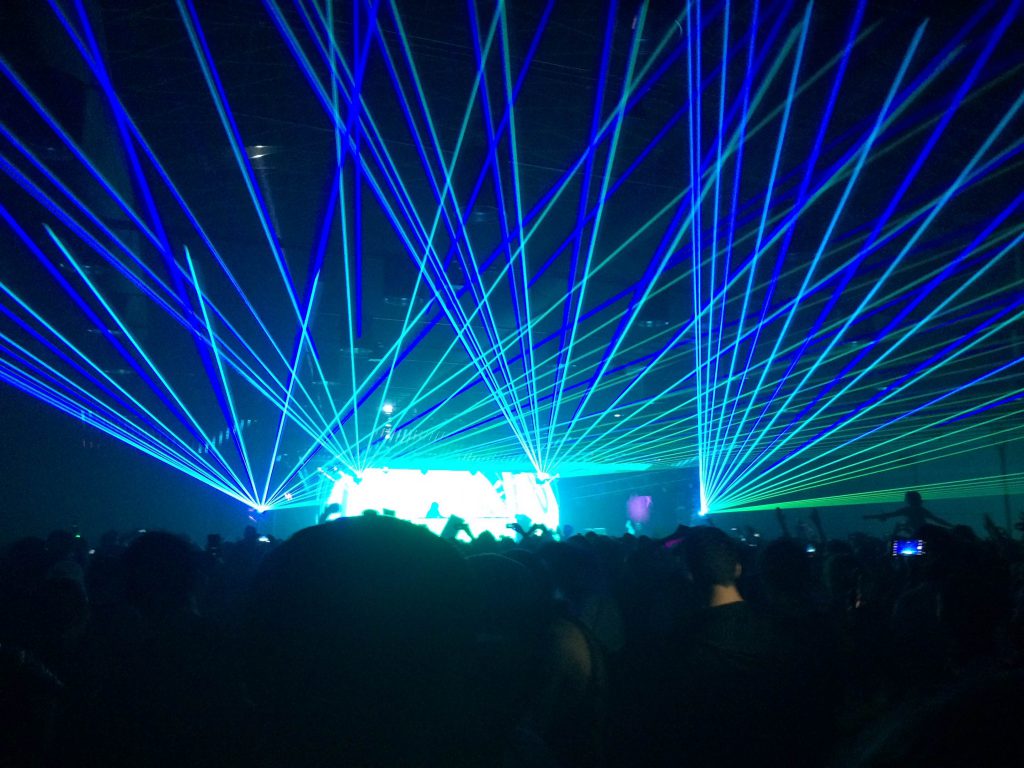 Back to the positive features of this review, here are my top five acts of Hard Day of the Dead 2015:
Esta – a versatile Producer/DJ, esta rolls with Soulection and is an artist with such a crafty delivery of his work. When he holes himself up to crank out some production, he's remixing, providing beats for vocals, or making original hits.  At Day of the Dead, however, he was called to the stage and performed a set that turned the crowd into a tribe. As typical of his performances, you could see esta getting way into his element, dancing behind the decks with his man bun bobbing.  His knack for transitions showed in how he came out of Joe Kay's set as well as almost all of his shifts from one song to the next. I am so glad to have finally seen him on a festival bill and had the pleasure of catching him spin in a different environment than the LA or OC shows in the past.
Marshmello – Marshmello is making a huge splash in the scene, generating loads of support from listeners and the highly respected artists already in the music loop. I first heard his music back in the Spring, when I added one of his tracks to my playlist of the new tracks of the week. When my friend asked, "who's Marshmello?" I responded, "Marshmello is the future." That being said, I had only put him on my musical radar, and had no clue I would see him added to Hard DOTD later that year or early in 2016 for Holy Ship. While the man behind Marshmello is not exactly a new kid on the block in terms of making and performing music, the sound of Marshmello seems to be leaving new fans with a great impression of him similar to that of Trippy Turtle and Cashmere Cat.  Sporting some headgear during his performance, I suspect that Marshmello is going to be harnessing a similar appeal or image to that of Deadmau5; his variety of good vibes onstage will place him in many hearts, not unlike Skrillex; and his musical performances are clear to bring people together for a fun time.
Deadmau5 – Deadmau5 was a set I was looking forward to because mau5 + Halloween + roommate's most anticipated set guaranteed me a good way to close my night. Despite a couple of issues that caused the music to stop for a couple of minutes (I think with his iPads), Deadmau5 has tracks that are as dance-worthy as they are musical gems. This set was much better overall than his Day of the Dead 2013 set, I think because of how much enthusiasm I had going into the day. When the sound was playing, which was most of the time, it was more than I could have bargained for in 2013, and his set seemed like less of a troll this year.
Djemba Djemba – I'm sure you've heard something by this guy, even if you don't know it. He's known to work with Diplo often, he's collabed with members of the Soulection crew many times, and is a big name in the TeamSupreme unit.  He has a very eccentric vibe, and his versatility for the set was spread out along future trap, jungle house, and even a few familiar remixes.  The crowd wasn't so large for his set, but he rocked the stage with his strong-willed flow and didn't make any hesitation to keep the Hard energy pumping. Don't be mistaken by the sound at his set because his production game includes some of the most delicate tracks I've heard in the first half of 2015.
Joe Kay – Joe Kay is incredible. He is a full embodiment of the spirit of Soulection, promoting a gung-ho journey for the future of music.  I've seen him play Coachella's Do Lab stage earlier this year, and it was clear that he knew what crowd he was playing to this time.  His fans and followers showed up like we have at many other smaller performances, and he delivered the presence right back to us. Anyone who's been to a Soulection show knows the tribe feeling, and this time was no exception; from the stage production and deep blue lighting to the Drake samples, we vibed.