After all the horrific rush hour traffic, I finally made it into media check-in. It was dead. Credentials were issued fast and graciously. The rest of the crew were on their way to the hotel but also had been a domino effect of delays. We all met up, got dressed for the event and were ready to rock n' roll.
We headed out to Escape: Psycho Circus, anticipating another great event from the Insomniac Team. Upon arrival to the NOS Events Center, the roadways were packed and parking had an influx of cars that engulfed the surrounding areas. The venue security team was respectful and courteous. The check-in and search was quick. The walk up the small hill to the entrance was when I got butterflies and an rush of adrenaline. The Psycho Circus area was amazing. The detail and use of what appeared to be 1920's era circus tents, equipment, trucks, and rides. The costumes and shows were blast from the past. The Ferris Wheel and Carousel were personal favorites. As always, ADA was present and in full effect with Austin at the helm. The water area contained nostalgic bumper cars and various raggedy but comfortable recliners and couches. The mega structures and hangars were filled with old school ravers, newbies, veterans, friends and family between 18-100+ years of age. It is a great time for the music scene. Times are tough but the tough will survive.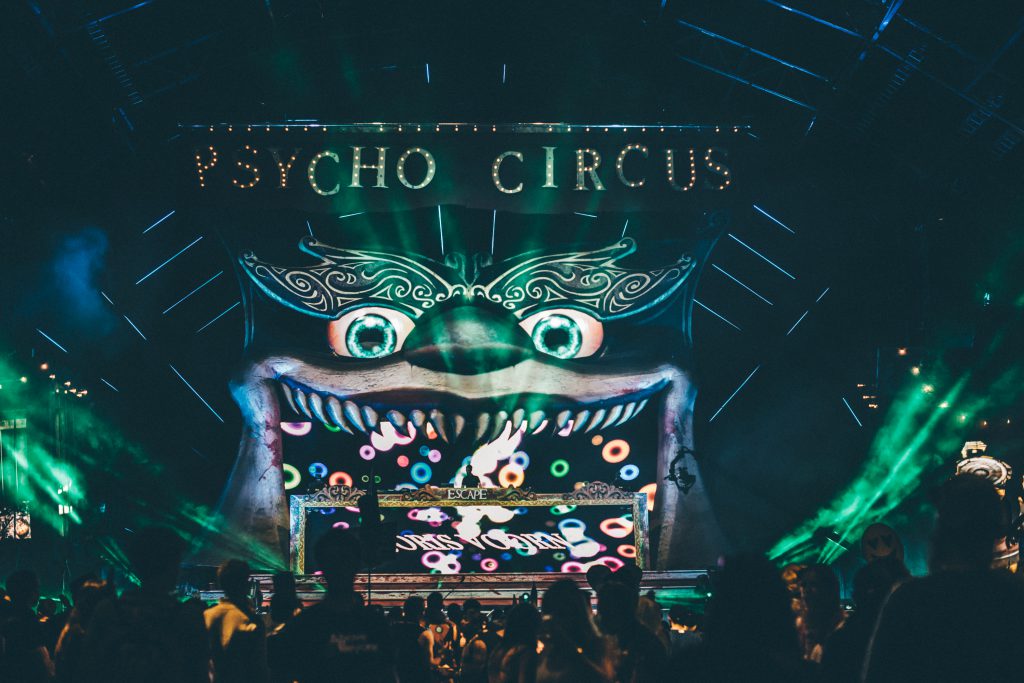 Due to a late arrival, ETC! ETC! was the first set of the night at Escape: Psycho Circus, bringing the best of his LA style to the tables. His mix of Summertime Sadness is one for the books. Moving up the ladder is Funtcase, a UK invader that has been a staple at events in San Bernardino and Dirtyphonics. They just completed the remix for Power Now. I love pizza and Crizzly made it as cheesy as can be. So far, Jibbs' song, "Chain Hang Low", remixed by Crizzly and AFK is his rise to EDM stage fame as of late. As I was about to walk out and escape the Chopping Block since Bro Safari was unable to attend and play his set, Datsik got on the decks and tore it up. The funniest thing is when he was on his way to the stage and came on a golf cart that had Bro Safari's name still on it. Gotta keep it G. I left his set early to catch Eric Prydz, the unofficial fourth member of Swedish House Mafia, which I'm happy he decided to stay solo. A great DJ and producer. The visuals and the flow of the set gave us the feels. Above & Beyond was on point with their good vibes and euphoric set. I can't wait til the Acoustic tour begins. Last but not least, Flux Pavilion provided the proper dose of bass to close out the night.
With limited sleep and anticipation, we were primed and ready for Halloween Night at Escape: Psycho Circus. I personally loved Escape from Wonderland at San Manuel Amphitheater and the camping atmosphere the best. Breach, who recently appeared at the first Dirtybird Campout in SoCal, another UK shining star has an excellent remix of Maya Jane Coles' Everything, started the second late night trip. I decided to roam from stage to stage until Porter Robinson took the reigns for a DJ set at the Slaughterhouse. After a quick performance in San Diego, he brought a bass heavy opening for Ephwurd. This dynamic duo of Datsik and Bais Haus was a rare and dope effort to bring the craziness to bring in the Psycho Circus vibe. I caught a brief glimpse of Mat Zo. Laidback Luke, with an old school set with remnants of 2008 or 2009. The two face costume was classic. Moby was a reminder of how good things were and how they've changed so much. Dirtybird bleesed us with a double shot of Justin Martin and Get Real for final curtain. Till next year. Ciao :p