Pegboard Nerds ~ Whiskey Bar, Portland ~ 7.31.2015
Enveloped in ennui earlier that fateful day, I was mindlessly scanning Facebook when I spotted a banner for the Pegboard Nerds playing that night in Portland.  The prospects of catching the Nerds jolted me upright, and I determined that I could comfortably make it if I left within the hour.  I contacted my cousin Rachel to request lodgings, to which she generously agreed on the condition that I could handle the excess of small mammals roaming the house.  Not a problem.
I left Seattle around half past three, hoping that it would be smooth sailing the whole way down.  The timing, in fact, could not have been more perfect for me to hit peak traffic in all of Seattle, Tacoma, Olympia and Portland.  On several occasions during the 4+ hours of soul-crushing boredom, I gazed somberly out my window, wondering whether or not this impulsive decision was worth the seemingly interminable misery.  Eventually time passed, as it often does, and the monotony receded.  I was greeted by yelping voices and open arms when I approached Rachel's.  Two plump old dogs and an overweight calico lazed about in overheated exhaustion while she and I caught up beside a rotating fan.  My traffic induced angst had subsided, and soon I was en route to the venue.
The Whiskey Bar was as a lively venue with a bizarre layout.  The secluded left-hand side was dedicated to an overcrowded bar that exclusively served one drink per person, for which every indulger had to be present, causing an impractically large swath of thirsty patrons.  Adjacent to the huddled mass was a red brick wall behind which the stage and crowd were sheltered from the eager throngs.  Oscillating lights rotated in multicolored luminescence around the narrow dance floor, creating an additional layer of movement to the scene.
Equipped with my smeared Whiskey Bar stamp, I entered through the steamy barrier of human enjoyment.  As I approached the swarm at the bar I instantly spotted a familiar face.  I instinctively denied that it could in fact be Crackers, a good friend and fellow promoter from Foundation Nightclub back in Seattle.  After a closer glance, I spotted not only him but Gina, my promoting supervisor, both standing right there.  I couldn't have been more excited to see anyone!  I had come alone to this Portland show on a last minute impulse and immediately found my favorite people from the venue I frequent most back home.  Serendipitous, indeed!  They introduced me to the two other cute girls, Nicole and Lindsay, who had accompanied them.  And then, we were five.  We double-teamed our promoting efforts in the crowded outdoor patio, until hearing the low-volume incidental music fade in, then scurried inside to secure a spot just in time for Pegboard to take the stage.
Behind the blondish, dopey Scandinavian duo appeared the signature pixelated red heart rotating in empty darkness.  Their stylized moniker flashed onto the screen followed by a rumbling bass buildup.  The first drop erupted with Pele's fury and hurled the crowd straight into bass-driven madness.  Pegboard Nerds' upbeat style and eclectic blend of dubstep, trap, hip hop, drum and bass, glitch hop, electro, pop and 8-bit adornments kept the mob lurching with each booming pulse.  They wove through musical genres with seamless transitions and consistent tempo changes, creating a uniquely Pegboard atmosphere.
After some time of exhausting, joint-ravaging amusement, they dropped the track I was most anticipating.  Pegboard's song BADBOI is an invigorating blend of trap and dubstep, deftly sprinkled with other musical spices, and has been my number one energy-fixing jam for months. I often refer to trap music as "diet dubstep" since I find it generally less stimulating than the more textured, rhythmic design of dubstep.  BADBOI, however, skillfully harmonizes distinctive elements of both musical styles into a bouncy, syncopated, power-fueled soundscape to which I cannot help dancing.
The Pegboard Nerds were absolutely destroying the set.  Meanwhile, I was drifting through the mob like a helpless cephalopod thrashing in a violent ocean current.  The crowd itself had become its own living organism, moving in amicable wrath though intermittently conscious of its united energy in time for a friendly mosh.  By the prophetic words and aggressive beats of their tune Here it Comes, we were all simultaneously "Livin' life for the next drop," raging beyond mind, senses and stifling collective diaphoresis.
In response to an uncharacteristically sweltering heat wave in Portland that day, security guards hopped on stage and began tossing full bottles of water into the crowd.  For free!  The fact that I found free water bottles as shocking made me reflect on some of the more thoughtless criticisms of the EDM scene involving individuals' agency on self-induced dehydration.  But uninformed opinions aside, the water was absolutely necessary and eagerly appreciated, though it made dancing a little more tricky with smashed bottles and a layer of water blanketing the floor.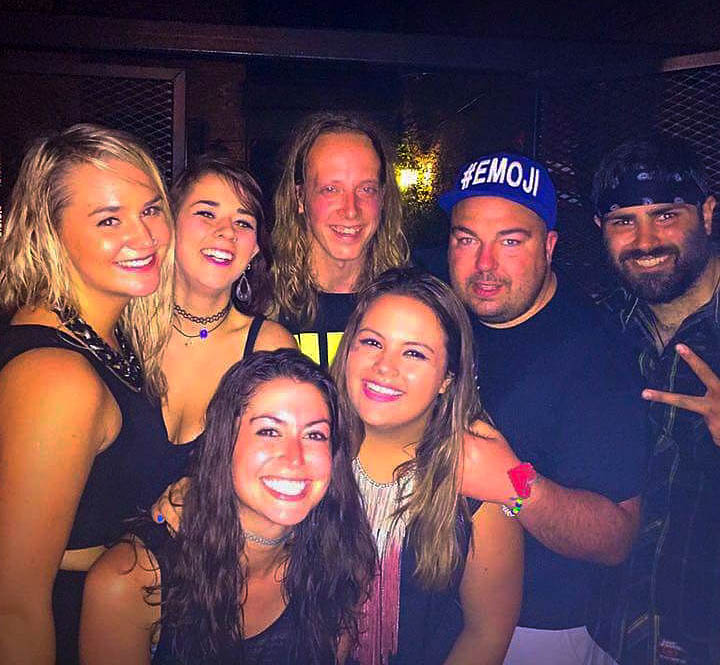 I eventually emerged from my bass coma and maneuvered towards the Foundation crew for the show's finale.  The track Pegboard chose to end their set was a very pleasant surprise.  Disconnected starts off with an upbeat, synth-pop verse and cheerful refrain, then abruptly plunges into a grimy pit of growling, metallic tones in an epic, glitchy half-time drop.  It bounces back to cheer and rainbows, where it's impossible to not feel elated whilst consumed by the layered, airy synth leads.  They played the song through two explosive drops, then dwindled into a wistful encore before finally calling it a show.
In an effort to snag a picture with the Nerds before they fled the scene, the five of us bolted to the building's rear exit after being promptly ushered outside.  The Nerds exhibited a characteristically Scandinavian sense of politeness, despite their apparent exhaustion, and agreed to take a picture with us.  We exchanged some words then relentlessly thanked them for such an amazing set before finally releasing them into the crisp midnight air.
I was unsure how to move forward with life after such an inadvertently transformative experience.  I stood in the middle of the sparse downtown street, gazing pensively down several blocks of twinkling traffic lights.  The passersby were drunkenly emerging from their temporary nocturnal dwellings and I hearkened their unintelligible rabble wondering if they, too, had been as moved as I was this evening. With closed eyes, I stood for just a moment, reflecting on each individual's own succession of simultaneous, yet distinctive experiences.  Then, I devoured a gigantic Brazilian burrito.