TomorrowWorld 2015 – located deep in the Chattahoochee Hills, is a beautiful and magical place that you truly have to experience to understand.
This year was my second year attending the festival. I began my journey with my boyfriend (Nic) on the Wednesday before. We drove approximately 15 hours total to get from Kansas to Georgia where we stayed overnight with some amazing friends. We woke up early and headed to DreamVille. We had to retrieve our tickets from will call and wanted to make sure that we got there early enough to get in line. I remember last year, the lines for will call were insane!
We decided to park in the west entrance (we bought a parking pass online). Getting to the parking lot took a while, probably about 40 minutes, but we made the best out of it. People were sitting out their windows and we had our jambox cranked blasting some Prydz! Everyone was dancing. We made it to our parking spot which was quite a ways away from the west entrance, but still manageable. Thankfully, we brought two wagons this year to carry all of our stuff. It was still a brutal walk, a lot of bungee-d on items kept crashing to the ground, but we made it. I stood in line at will call and got my two ticket and the DreamVille upgrade wristband I purchased, it only took about 15 minutes.

The brutal part of the day was now upon us – the wait to get into DreamVille, the walk to get to a camping spot, and finding enough room for the crew to camp. It was difficult to say the least, but we were able to make it happen thanks to everyone around us being exceptionally kind! We had a pretty big crew and we definitely did not have enough space… but we made it work.
Once we finished setting up camp, the crew hung out for a while. It started raining shortly after we were finished setting up. I meandered over to The Gathering stage to check out YVES V and HeadHunterz. I was super impressed by HeadHunterz' set – he played a lot of hardstyle which I'm sure made all of his die hard fans extremely happy. Although the rain was coming down really hard, we danced through it! It was a lot of fun.
We ended up back at our camp. Thankfully, we had a canopy, otherwise I feel like it would have been a completely different experience. We were all able to fit underneath it and play some drinking games that night before heading to bed.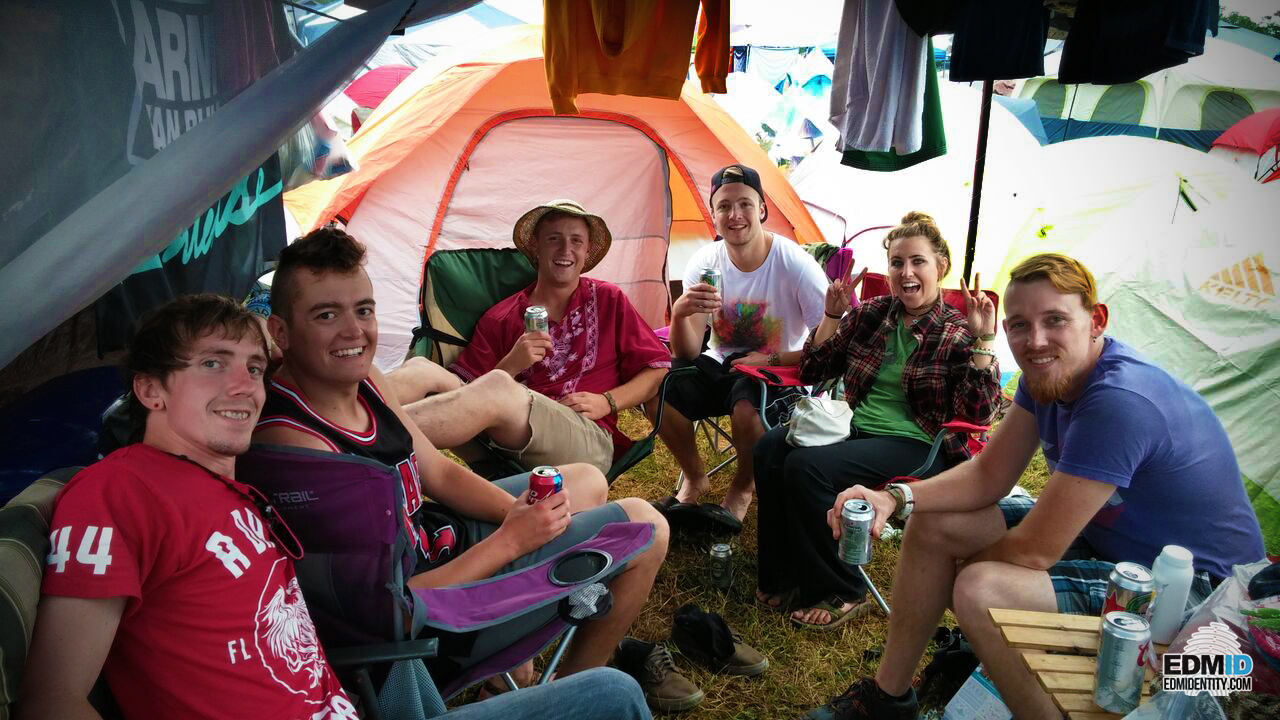 Waking up the second day, I hurried over to the shower. It was already pretty muddy around the showerhouse and there was already a long line, but I was able to get in and take a hot shower. Honestly, even though the water pressure was not good at all, I was happy. Last year, there was no hot water… so anything was better than that. By the time I got back to camp, my feet and shoes were already muddy again, but I still felt refreshed.
The day was upon us! It was still dreary, chilly, and raining but we weren't going to let that damper our mood. We headed out to enter the festival for the first time. We stopped at the QDance stage first where Bass Modulators was playing. Everyone was dancing their feet off (go figure)! After that, we saw Ida Engberg at the Drumcode stage. She was great and I'm totally glad I was able to check out Drumcode even for just a bit. To be honest, I wasn't extremely excited about Cosmic Gate and Ferry Corsten because I've seen them so many times already. To my surprise, Ferry Corsten played the best set I've ever heard from me and my favorite set of all of TomorrowWorld. He had me in tears multiple times and I have goosebumps as I'm writing this. His set was AMAZING. He started out by playing 'Airwave' and 'Take Me Away' and ended with 'Beautiful' and 'Not Coming Down'. 'Not Coming Down' is a song that really hits home for me as it used to be one of my favorites. I hadn't heard it live in a really long time – I think the last time would have been on Groove Cruise in 2012 when Ferry closed out the last day. I can't even begin to explain the feels!

We headed back to camp. We had such an amazing experience that we weren't done yet! My boyfriend and I built a really cool stereo cooler that is extremely loud and has remote controlled LEDs all around it. We put it in one of our wagons, gathered our crew, and started The Untz Train. The Untz Train dates back to TomorrowWorld 2014 where it began, however, we did not have the epic setup that we did this year. We began playing music such as Prydz, deadmau5, Tchami, and anything else that was requested. Slowly we gathered multiple people following us up and down the boardwalk of DreamVille.
Eventually, we had so many people, that we headed to The Gathering stage and started our own party! People were chanting for us to put the stereo on the stage… of course, we didn't… but it was epic. We ended up lifting the cooler into the air and everyone was screaming and going wild. I've never had so much fun. The Untz Train ended up somewhere in DreamVille with a mass of people around it. We eventually had to shut it down as it was getting really late, but people were chanting "One More Song! One More Song!".
Saturday was the day I was most excited for – Trance Addict day. Trance is my favorite genre for multiple reasons that I won't go into. I started the day with Arctic Moon. I'd never seen him before so I was most excited out of anyone to see him. His set was dark and semi psy-trance… I loved it. I met up with quite a few friends during his set that I hadn't seen yet – the trance family! After that, I was a little sad that we had to miss so much, but we went out to our car to charge our stereo cooler (which we also used to charge phones all weekend, etc). I was already exhausted by this point from days of tredging through feet of mud to get in and out of DreamVille to the festival as well as out to our car. We were able to get back in to catch a bit of Seven Lions (he was playing psy-trance.. crazy!). Next up was Aly & Fila – my favorite. Fadi owns my heart. We brought our Aly & Fila flag and proudly waved it as much as we could from the back. His set was amazing but honestly I felt like he wasn't as into it as I've normally seen him. Come to find out, he was pretty upset at the way he was treated. Last set of the night and my second favorite of the festival – Paul van Dyk. This was my first time seeing him live and he was absolutely amazing. No one wanted him to quit and we were all chanting "Paul Van Dyk" – he came back out 2 or 3 times to wave and thank the crowd.

Our crew woke up Sunday to find out that they had cancelled the third day of the festival for outside attendees. I was saddened, as multiple people that I knew were no longer able to come inside. We also saw news articles regarding people being stranded the night before trying to get home from the festival. It was shocking. We had no idea any of that was going on. We also came to find out that the back stages had been closed, set times had changed, and some artists had been cancelled. Despite all of that, we still got ready for day 4 with smiles on our faces. My boyfriend and I went into the festival and caught Klingande and Guy Gerber on the boat stage. Then, came the real test. EDX? Armin? Porter? Jamie Jones? Who should we see! The one good thing about the other stages being closed down is that everything was close together.
We started out watching Armin but soon left to go see Porter. When we got to Porter, apparenttly there were technical difficulties, so he couldn't play his live set as expected. I'm sure he was extremely disappointed… he was able to finish out somehow but I'm not sure if he ended up getting it fixed or exactly what happened. My boyfriend stayed at Porter and I finished out by listening to EDX by myself.

Waking up Monday was the most difficult thing. We had to pack up camp, all of our items were muddy and wet, and it was extremely brutal. People were leaving items: camping chairs, huge tents, canopies, air mattresses, etc. There was thousands of dollars in camping equipment left behind. The trek out of DreamVille was the worst part of the weekend. There was no way to roll wagons through feet of mud. There were abandonded wagons everywhere – missing wheels, etc. It was raining as well. We were tearing off the bamboo fence lining to make paths up the hill out of the camping ground. It took us a long time. We didn't get out of DreamVille and the car packed until 4 PM. We were planning on driving the entire way home that day… but that clearly was not going to happen, so we had to stop overnight in Nashville.

The weekend was dreary and cold. Our clothes were wet, we had no dry socks or shoes, and everything we owned was muddy. Despite all of that, despite stages being closed, despite sore and tired we were even just after day 1 of walking through everything… we still managed to have the time of our lives and I don't regret it for a second!