Dancefestopia. The name speaks for itself. Smack dab in the middle of the midwest, in Kansas City, MO, lies Richard L Berkley Riverfront Park. The park sits just outside of downtown Kansas City, providing an absolutely astounding view of the city skyline. This beautiful park is where campers and festival attendees gather each year as a family to experience the most epic electronic music festival that Kansas City has to offer.
Day One
I arrived at the festival on Friday morning. We paid for VIP parking ($60 rather than $30) as splitting the cost seemed like a good idea. It didn't get us much closer to the entrance on the first day, but on the second and third I truly appreciated it… I was able to park right by the will call booth and entrance. To our surprise, you had to take your printed out "ticket" and go to one of the four windows at the trailer next to the entrance to actually pick up your festival and/or camping wristbands). We were only able to determine this from asking the people around us. What we (and everyone else) ended up doing was grabbing a spot in the line for camping and then having one person stand in line to get all of the group's wristbands. I wasn't too fond of this, as the lines were extremely long (especially will call, which was only one window – I waited 2 hours). It would have been more convenient to receive wristbands ahead of time in the mail to remedy this issue, but it ended up working out.
The camping line (once they started allowing campers in) went by fairly quickly as we had gotten a spot in line pretty early. Security was relaxed at this point, probably to allow people to get in quicker, but it was definitely more tight on the second and third days of the festival when less attendees were trying to get in at one time. We started looking for a camping spot and as we walked to the boardwalk which is parallel to the river, I was astounded by the amazing view. The way the sun shined on the Missouri River and the beautiful Kit Bond bridge.
We quickly picked a spot for our group (which was pretty large) to set up camp. If we had gotten there any later, finding a space might have became an issue. However, we were lucky to get a great space by a set of porta-potties and right by the river! We relaxed for a bit and got ready to enter the festival.
The festival entrance from camping was a short walk from our campsite which was super helpful as we went back and forth quite frequently to replenish. There were three stages:
DFT Mainstage

TheUntz.com Stage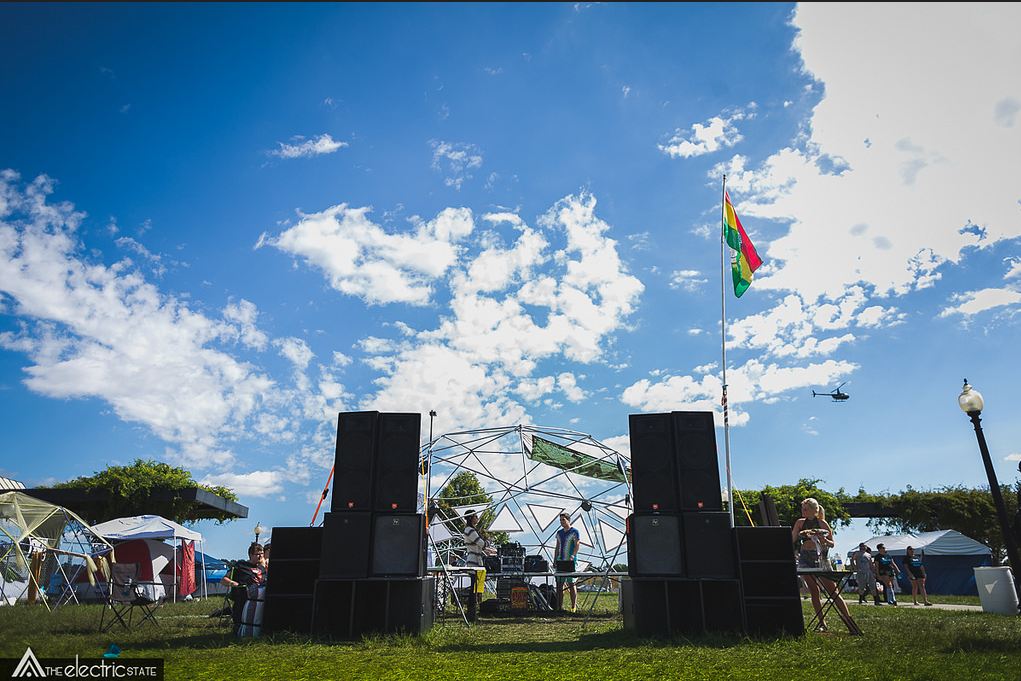 Hy-Tekk's Auxiliary 3rd stage
Photo credit: Nic Conroy (EDM Identity) & Jeffrey Ross (The Electric State) & Hex FX Aerials
Friday night was amazing! We first saw Audien who threw down a really good set. He played most of his fan favorites and was very into his set. Next, I was able to catch Datsik. Although dubstep isn't necessarily my favorite genre, I still enjoyed his set. He was really good and the crowd was loving every minute of it. The dubstep scene is pretty huge in Kansas City, so most attendees were at the mainstage for his set for sure.
After that, we took a break to replenish ourselves at camp and then met up with Simon Patterson and Brian Flinn before Simon's closing set on the mainstage. Simon was very humble and a ton of fun. I was most excited for his set out of anyone (I love Trance). He threw down! The one negative thing about being so close to the city is that due to city ordinance, sound has to be turned down at midnight each night, therefore some sets had to suffer with lower sound. This bothered me because in my opinion the sound was definitely not loud enough… but in no means is the festival's fault. After Patterson we were able to catch Flinn's epic trance set throw down where he featured one of my favorite songs: Bryan Kearney – Te Amo. It was beautiful.
Audien at the DFT Mainstage                                           Simon Patterson at the DFT Mainstage                                        Hanging out with Simon Patterson & Brian Flinn
Photo credit: Nic Conroy (EDM Identity)
Day Two
Waking up on day two, I decided to head home to shower and get prepared for the day because I live less than ten miles from the park. Feeling refreshed, I joined my party in the afternoon. We hung out at our campsite and enjoyed each other's company and met a ton of new friends. Thankfully, although not all of our friends got to camp together, the campgrounds were small and close enough that no one was too far away from each other.

My DFT crew at our campsite
Photo credit: Nic Conroy (EDM Identity)
We decided to head into the festival to check out Mr. Kristopher – a local Missouri DJ. I can honestly say I've only seen one other person put as much energy into their set as he did and that would be Orjan Nilsen. Honestly the way he was into his set completely reminded me of Orjan… dancing, interacting with the crowd, and completely loving it. He even grabbed our GoPro and decided to film some footage for us. It was EPIC! Definitely one of my favorite sets of the weekend.
We left a little early and went to check out our next set – EDX. He most definitely had me dancing. I've seen him a few times on the Groove Cruise so I was really excited to see what kind of set he would show in a setting other than what I'm familiar with. I was not disappointed – he had the whole crowd groovin'! After EDX, we of course had to check out the famous Bassnectar. I think I've seen him around 9 times now but he also never disappoints. His sets are always unique and he definitely pleases the crowd with his huge bass drops. It was easy to see that most festival attendees were at his set.

Mr. Kristopher at TheUntz.com stage                                                       Bassnectar Main Stage                                                               Nic Conroy & Cassey Varvel of EDMID
Photo credit: Nic Conroy (EDM Identity) & Dancefestopia
Towards the end of Bassnectar's set, my companion (Nic from EDMID) and I decided to check out the food trucks. Let me tell you, there were a TON of options… all of which smelled absolutely amazing. We decided upon the Taco truck where we got two tacos for a reasonable price. It was enough to fill us up and it was REALLY tasty. I saw people walking by with huge blocks of curly fries from the BBQ truck and other random items that looked delicious.
After indulging our taste buds, we went to explore all of the many booths that were available. Jewelry, tapestries, clothing – you name it! There were plenty of really awesome items to look at… many handmade and absolutely beautiful. They even had a booth where they were selling glove sets and LED items. I decided to buy an EmazingLights glove set (I used to glove but lost a really expensive glove out of my pair on the Groove Cruise and hadn't bought another one). We attempted to buy a t-shirt from the DFT merchandise booth, but most were already sold out… festival tip: if you are looking for merch, buy it on the first day!
Day Three
Day 3 could arguably be my favorite day of Dancefestopia, although every day was an unforgettable experience. Honestly, due to my genre tastes, there really wasn't anyone I was super interested in checking out until Porter Robinson. I love listening to new things, don't get me wrong, but if you've been to a music festival I'm sure you understand how resting up is important and making every set is entirely not possible. Regardless, the rest of my crew was super excited to see Zomboy. I had honestly never even heard of Zomboy, but I figured that I would give him a shot and see what the fuss was all about. Although not particularly my taste in music, I was able to get down. My friends were having an epic time seeing who they were most excited for and it clearly rubbed off.

DFT Mainstage                                                                           Porter Robinson (PC: Lexi Watson)                                                                          tyDi Mainstage
Photo credit: Nic Conroy (EDM Identity) & Dancefestopia
Next up – Porter Robinson. WOW! So. Freaking. Good. I hadn't seen him since 2012 at a super small venue in Lawrence, Kansas (the Granada) when he was on his Language tour with Mat Zo. He was absolutely astounding. He gave me goosebumps and brought me to tears. His set was beautiful.
The last set we caught for the weekend was tyDi. I was really excited to see him as I'd never seen him before. He played some really good trance tracks – even taking us back and dropping Motorcycle's As the Rush Comes remixed. He was either using Skype or FaceTime to connect with his girlfriend during his set, which I thought was pretty hilarious and cute. He turned down the music to hear what she had to say… some people have some mixed thoughts about that, but either way, his set was really great.

Cassey & Friends on Boardwalk                    The Untz Train (PC: Omar De Leo)                   Cassey & Friends                                        Nic Conroy & Friends on Boardwalk
Photo credit: Nic Conroy (EDM Identity) & Dancefestopia
My favorite part of the entire weekend was the end of day 3. Nic and I built a stereo cooler that is lined with flashing multi-colored LEDs. We put it in a wagon and rolled it around the campground, acquiring festival goers as we went starting our own dance party. We call this the "Untz Train". It originated at TomorrowWorld 2014 where we took a jambox and walked up and down the boardwalk – acquiring a gathering of people dancing with us! It is custom to also carry a bag of wine with the Untz train. We had a pretty big group of people with us at DFT. We danced until the sun came up… it was an amazing experience and I not only met so many amazing new friends, I also grew closer with the ones I already had.
Dancefestopia will definitely go down as one of my most memorable and favorite experiences of my life. I hope that I get the opportunity to go again next year and reunite with my new found family.
The official Dancefestopia aftermovies can be viewed here and here. Be on the lookout for the EDM Identity Dancefestopia aftermovie – coming soon!
Follow Dancefestopia on Twitter | Facebook | Website to stay up to date.