EDM. Electronic DANCE music. It's in the title; it's created to make you move, make you laugh, make you enjoy your surroundings. So when a venue takes away your ability to dance, it's almost as if a bit of each of these factors are stripped away as well.
I always appreciate the security guards and venue employees because they must deal with much more than us concert-goers can imagine. But sometimes these employees are annoyed for whatever reason, and bad energy spreads to the crowd. I think most of us can agree on this, and I think most of us can now agree on the fact that the Sleep Train Amphitheater is not the proper place to hold an EDM concert.
On October 3, I prepared for a marvelous night, with marvelous company, to see the internationally beloved Kaskade on his Automatic Tour with Galantis and CID. Originally, I thought this piece would be a rant about my love for the Grammy nominee's irresistible beats and striking production. Yet after experiencing the venue's troubles, I've decided this is my chance to question their setup: Why are you holding an EDM event at a venue designed with both seats and a lawn, and labeling all tickets as General Admission? When I heard this was how they were running the event, my mind scrambled to find a suitable reason. Yes, they planned and prepared, but was it done well?
The confusion began as soon as you entered the gates; various lines, various wristbands, various instructions. Several answers were given to us when my friends and I were deciding where we wanted to go, none of them told us the whole story. You picked a line, you were given a specific wristband, and before you knew where you were about to end up exactly, you were stuck there. The professional part of me applauds this type of organization when the entire place is GA, but on the other hand, why would you make all tickets GA? Once we were with the music, lights shining and crowd singing, we observed the area around us. We chose the line that we believed would lead us to the floor area in front of the stage, but due to misguided information we were in the first section of seats. I'm not one that needs to be directly in front of the host of the night, I can have fun anywhere. But there was a serious lack of communication between security guards. As we were let through into the seats by the first guard, we found space in a middle row and with huge smiles on our faces, started dancing.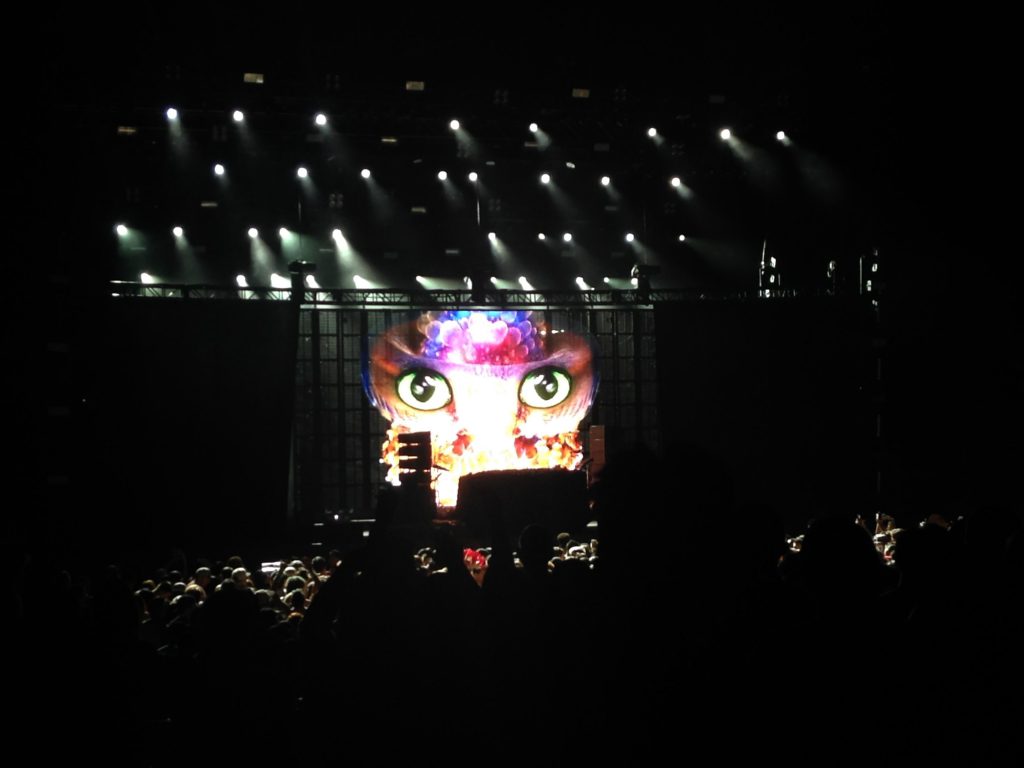 As the night went on, we found ourselves in the aisle dancing and grooving with our fellow ravers, only to be ordered to find seats again. I'm not sure if I've painted the right picture, but by this time the rows were packed with people and there was absolutely zero space to move around whilst standing in front of a chair. If you're anything like me, you enjoy crowds but also enjoy the ability to move around freely and dance like you're not about to punch the person next to you. Like I said, the first security guard let us through, along with tons of others, yet a few yards down the aisle, another security guard was pushing us to the side, demanding we find a seat, and if you couldn't, he'd escort you to the exit of the area. I questioned him, "You know, that woman is continuing to let people through as you kick people out." He stared at me blankly and couldn't find a response. Along with a few other mishaps, here is my point: communication with your coworkers is an important thing- because as this guy learned, you will not accomplish anything without it.
Besides my little disclaimer, I will now go ahead and tell you: KASKADE WAS SPECTACULAR! I may not have had the space I desired to dance, but it didn't matter much as the music connected with my heartbeat. Of course this tour is focused on his new album, and it's surprisingly sexy. I couldn't help but break out some of my more risqué moves as his passionate lyrics and sensual sounds filled the amphitheater. And somehow he composed an impressive set of upbeat romance reminding us that we're all stars holding a light up in the dark. The crowd stood united as one as he performed Disarm You; and we all went berserk as he dropped his remix of the EDC 2015 anthem, Runaway after Galantis had already excited us enough with it by closing out their set with this beautiful melody. All in all, after overlooking the venue's misfortunes, it was a night to remember with music that will continue to inspire greatness.