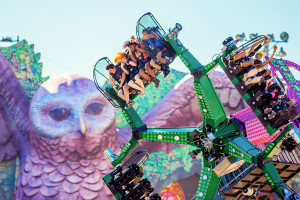 The official event trailer for this year's edition of Electric Daisy Carnival in Orlando has been released. I'm excited to see what Insomniac brings to Tinker Field this year. Last year it was the Kinetic Cathedral, what will it be this year?? After all EDC will be celebrating its fifth year here in the Sunshine State.
Here is a description from the official trailer on YouTube:
EDC Orlando returns! On November 6 & 7, 2015, the fantastical world of Electric Daisy Carnival will touch down at Tinker Field, bringing its signature experience and cutting-edge production once again to the Sunshine State. Join us for two unforgettable days of super blooming beats and funkdafied freaks!
Be sure to check out the official trailer, it brings back amazing memories of last year.
Buy Tickets at http://orlando.electricdaisycarnival.com/tickets/
Music:
Artist: Aaron Jackson, Ruff Hauser
Title: Ridin N' Grindin feat. J.A.M.O.N. (Ruff Hauser Remix)
Label: Cats&Boots Records
Buy Link: http://www.junodownload.com/products/…
Artist: Kronology, Divine Elements
Title: Submerge (Original Mix)
Label: Technique Recordings
Link: https://soundcloud.com/kronologymusic…
Artist: Chris Lake, Chris Lorenzo
Title: Piano Hand
Label: Ultra
Buy Link: https://itunes.apple.com/us/album/pia…
Artist: Don Diablo, Teisto, VASSY, KSHMR
Title: Secrets feat. VASSY Don Diablo's VIP Mix
Label: Musical Freedom
Link: https://soundcloud.com/musical-freedo…