Due to the weather conditions, TomorrowWorld 2015 will be closed to anyone attending unless you are a Dreamville camper. This is very unfortunate to all of those out there that have spent so much money on making this magical journey.
One of our writers out there was almost stranded last night, as the majority of transportation was halted due to road conditions and police. Mud reduced the camping grounds to a bog, parking lots are flooded, and judging by the photos its a mess out there.
The organizers have closed all daily parking lots and drop off locations.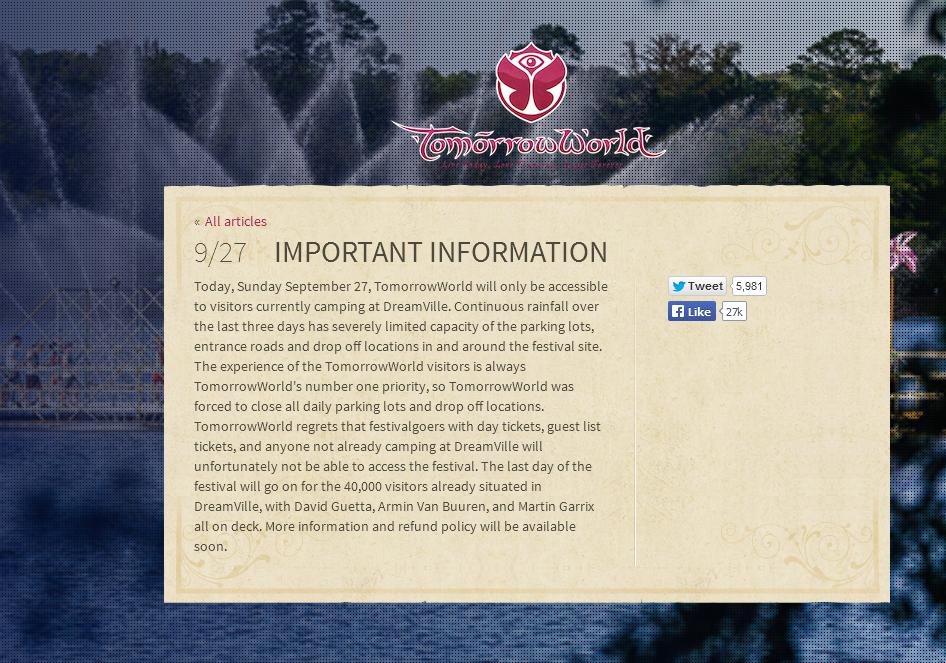 There still is some good news though, TomorrowWorld will be reviewing the refund policy for those that are unable to attend due to these unforeseen circumstances. Sunday will go on as planned with David Guetta, Armin Van Buuren, and Martin Garrix performing on the main stage. TommorowWorld's Twitter (@tomorrowworld) and EDM Identity will be the best source for any new information. Stay safe out there and we really hope that you can still make the most out of your weekend!