This just in: TomorrowWorld has announced their refund policy in response to the shutdown of day 3 to outside attendees and a claim form for those inconvenienced by the transportation issues (Shuttle/Parking) on Saturday as well. The picture shown below explains all as per TommorowWorld's website.
Questions about Sunday tickets refunds are asked to be directed to: [email protected]
The TomorrowWorld refund form for the Saturday inconveniences is located at: http://www.tomorrowworld.com/saturday-shuttle-and-parking-refund
Remember that the unused "Pearls" from the event are also refundable. If you have not set up automatic refund with your wristband, the manual refund option is available here at a flat rate of 3.5 "pearls". This especially important for those that topped up on site rather than online.
Bear in mind that Dreamville costs are not covered in this refund process at this time, as all Dreamville campers were granted admittance on Sunday.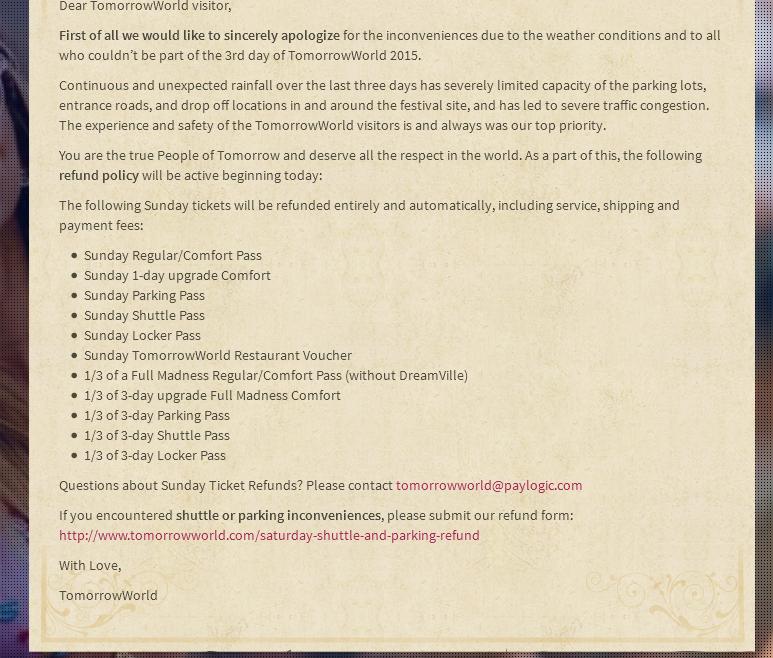 Do you think this make amends for the situation? Is there no remedy for what happened? People of Tomorrow: Please share your story and let the world hear what you experienced!