For those of you looking to purchase single day tickets to TomorrowWorld, you'll be pleased to know that the festival has released its headliner listing organized by day as shown below. One day tickets can be purchased for $137 before fees. One day VIP tickets can be purchased for $297 before fees. This is tier 1 pricing – so it looks as if the pricing will increase. If you're interested in snagging a one day ticket, it'd be wise to do it soon before prices go up! Also, it would seem that according to the festival's website single day tickets for Saturday are currently running low at the time of this writing.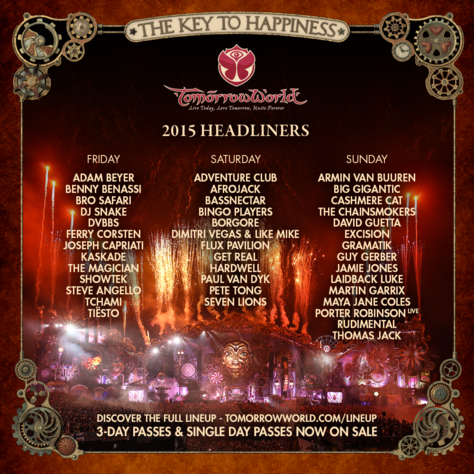 TomorrowWorld is set to take place on September 25th, 26th, and 27th in the Chattahoochee Hills outside Atlanta, GA. Tickets can be purchased on their website.
Follow TomorrowWorld on Twitter and Facebook to stay up to date or visit us here!