Originally posted on September 18th, 2014 on The Scene Is Dead. Click HERE for the original story!
Excited as ever to not only be visiting two new states I had never been to, but also a festival that is still in its infancy was keeping me pumped for Summer Set Music Festival 2014. In only their third year, this festival promised a Coachella-like assortment of artists ranging from the worlds of EDM, Rock and Hip Hop. With attendance increased to an average of 18,000 and fixes to some of the issues from the past few years, we could only anticipate having an awesome time in Wisconsin.
The first thing we noticed after security was that no one was playing at the Main Stage, which threw me off initially, and I'm still not sure why they didn't have artists starting earlier there. I saw the Gravitron ride in the center of the dance floor and groaned as that too made no sense to me. There were shade structures scattered about, and a lineup of food vendors too which had festival basics like pizza, a cornucopia of fried foods and even some gyros. Kevin and I found a food cart that was selling cheese curds and steak nachos which we practically lived off that during festival hours due to how tasty they were. The smoothies we purchased from the coffee stand were also crucial to beating the heat during the day. I was shocked to find that they had some amazing craft beer on draft at many of the drink stations, alongside Four Loko who sponsored the event. Different strokes for different folks I guess. There were also plenty of vendors selling everything from glow in the dark/UV reactive rave attire to hippie inspired clothing.
EDM and Hip Hop clearly ruled this event, as the large crowds for each dictated. One more factor that added to the festival was that at every stage the sound was nearly perfect, which was surprising to me considering that I've seen some serious mishaps at larger festivals I've attended *cough* Coachella *cough*. There were quite a few artists who shocked me with their sets, and the crowds were definitely feeling good vibes the entire time. Personal favorite sets of mine from this weekend were Big Gigantic, Flux Pavilion, Myon and Shane 54, Autograf and Kaskade, in that exact order. Looking back on it the only set I wish we would have missed was Danny Brown, but the rest of the crowd seemed into it. We missed the Gramatik after party but caught Savoy, who seriously impressed us with a highly bass oriented set.
Summer Set attendees were of a wide variety themselves, and I felt that the festival brought together everyone from all walks of life. Hippies and Kandi Kids to Hip Hop Junkies and Rockers, you could feel at home with just about anyone. One thing that caught me by surprise was the sheer amount of people who were amazing at Hooping and Poi, once the sun went down the lights turned on and the craziness began. Even huge festivals on the West Coast paled in comparison to the amount of people giving lightshows to the crowds with their various skills. Totems were in abundance at this festival and the sheer amount of ones that were funny or awesome was great! Also, walking around throughout the festival were plenty of people trading or selling a variety of pins, something also pretty foreign to those of us on the West Coast. In true fashion, most everyone we bumped into was nice, and we even found a few people who also had traveled out from California.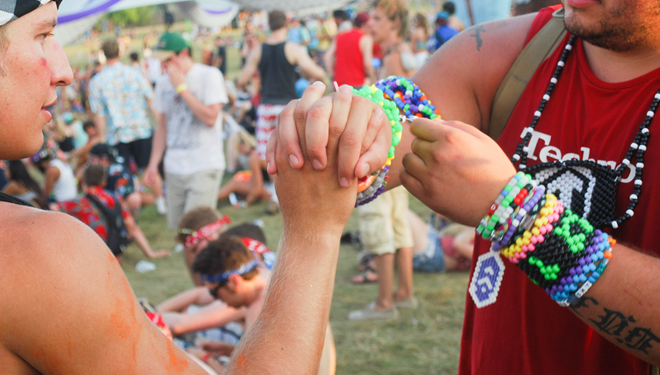 The stages themselves were very basic, compared to events like EDC, Ultra, or TomorrowWorld, but the sound quality did not disappoint. The Main Stage was a bowl shape that had nice grassy areas to sit down and chill out to the artists that were playing there. That Gravitron in the middle needs to go, as it was in the way for a majority bottom part of the bowl, and I swear I didn't see it running for than a few times. The Big Top Stage was on top of the hill between the Main Stage and The Grove, and was actually pretty nice outside of the sticky mud that covered the front half of the area. The Grove itself was down in a valley, and played a dual role as the venue for the on-site after party each night. Getting down there was not a problem, but we began to avoid the stage due to the enormous journey to get back to the rest of the festival. The Saloon was fun, as it provided jam bands a place to vibe out and in true Saloon fashion served as a bar as well. One of the past grievances that attendees had was the security check in between stages, which was thankfully removed this year. Speaking of security, there were nearly 8 police officers at every stage, alongside roaming medical personnel (of course in true recent festival fashion they all seemed to be centered at the EDM stages). Each night there was a fireworks show for each of the main headliners, which was an unexpected bonus.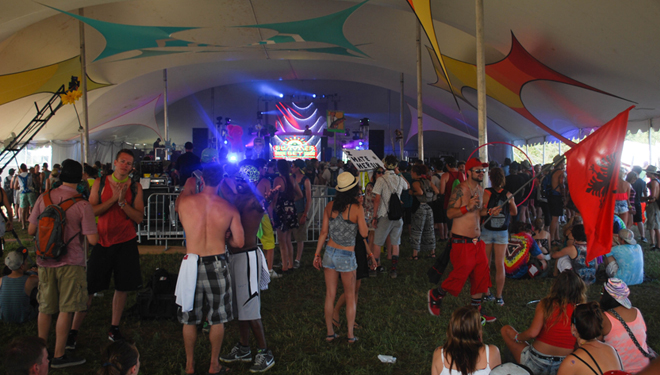 Unfortunately we did not get to experience the camping areas, and I wish we had more time to see that. We asked a lot of the people who were camping about their experience and there seemed to be an overwhelming amount of good reviews. One thing that was noted was that the camping areas were all in different portions of the festival grounds and not easily connected to each other, I'm not sure if that made things difficult for some of the attendees. The staff members and security that we spoke to were all friendly, with the only issue being that some of them did not seem to be completely informed or dressed for the job. There were times I didn't know that staff members were staff because many of them were wearing regular clothes with no official badge or indication that they were staff members whatsoever. I'd also like to say that the security check for cars was seriously either under staffed or all to thorough, as even we elected to skip out on the official parking for two of the days because of waits that were apparently close to two hours.
Personally, at the end of the festival I was left with more good memories than anything else though. It was a great weekend filled with some amazing music and vibes that were awesome. It's somewhat hard to think that this festival is only in its third year, and I feel that they can only keep getting better with slight tweaks to some minor details. If I have a chance to attend this festival again next year I will definitely consider it, as I could see the potential of it being even better.