Facebook: https://www.facebook.com/DJEludis
SoundCloud: https://www.soundcloud.com/DJEludis
Mixcloud: https://www.mixcloud.com/DJEludis
EDM Identity is proud to introduce you to DJ Eludis! Based out of Boston, he has been spinning dope beats since 2011. As the official DJ for DRK Productions and Rabbit Revolution, you can be sure to check him out when you are visiting the Northeast. Not restricting himself to one genre, DJ Eludis has released sets ranging from deep house to trap, and even some big room house.
I personally met the man behind the decks, George, in 2013. His girlfriend Sarah is an admin for the Electric Daisy Carnival Subreddit and that year we had a get-together at the house they rented off the strip. While we stayed cool while playing in the pool and had some drinks, all while listening to George set the soundtrack for the afternoon. We have stayed in contact ever since, and last November while I was in Boston I was treated to a night out by him and Sarah.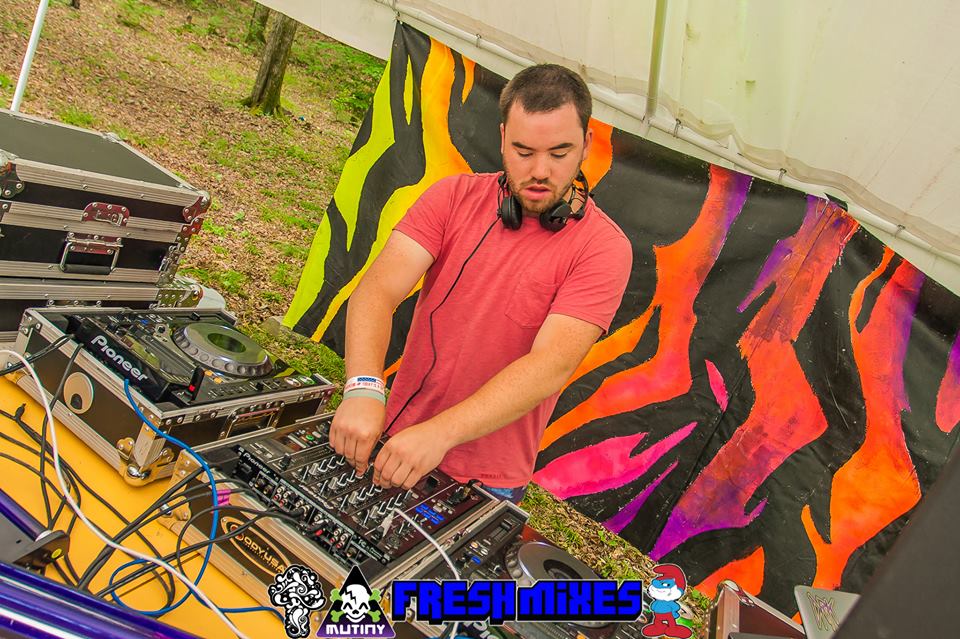 When FNGRS CRSSD announced CRSSD Festival in San Diego, I reached out to George in hopes that he would come out and visit the West Coast. With a lineup that was perfect, and a city to go to that was not five feet under snow, there was no chance for him to say no. Not only will DJ Eludis be visiting San Diego for CRSSD, but also will be playing a show Wednesday at Dance Klassique. This event just hit its 15th Anniversary, and this longstanding Deep House night will have great company with him on the lineup! Be sure to check him out if you're in town!
I had the chance to ask DJ Eludis some questions in anticipation of the week ahead of us today!
EDM Identity: What was your inspiration behind becoming a DJ?
DJ Eludis: I've always been really fond of music and sharing it with others. Even in my younger years, my friends often related my enthusiasm for finding new music to share with my friends a disposition to be a DJ. It was only a matter of time, so to speak.
EDM Identity: Ah I see! Your SoundCloud is filled with so many different genres, how would you personally describe your own sound as a DJ?
DJ Eludis: I try to avoid describing or labeling myself, especially when my tastes are really broad and always changing. I guess if i were to sum it up, I'd go with something along the lines of "danceable".
EDM Identity: Okay so you have to pick 3 artists to listen to for the rest of your life, who are they and why?
DJ Eludis: 1. Deadmau5. He's one of (if not) the very first artist to truly show me the magnitude of Electronic Music. He also has a expansive taste in music that plays a big part in his broad style. That's important to me.
2. Metallica. One of a very short list of truly talented projects. When some of the final pieces of their collection are on par creatively and technically with some of their earliest and brightest, it's hard to argue that the aptitude for writing and performing isn't there.
3. Michael Jackson (like this needs an explanation). The spirit of a lot of his music runs parallel with the meaning of dance culture. Feel good, fun music that carries meaning. A lot of his music was a big part of a past nightlife movement, and it's influence is ever present in our music today.
EDM Identity: If you could partner up with any artist on a track or play with during a set, who would it be?
DJ Eludis: Wolfang Gartner. Another one of the very first to open my eyes to Dance culture, his creativity has always spoken to me. His music always finds a way into my sets regardless of the style I'm playing.
EDM Identity: What about the Electronic Music Scene specifically speaks to you?
DJ Eludis: Electronic Music changes faster than any other style of music. Becoming the first true style music of the internet, trends and styles come and go faster than any other music before it. It's led to so many different kinds of great music, which is truly unique to pretty much all of music.
EDM Identity: Which artist was your introduction to Electronic Music?
DJ Eludis: It's hard to pin down. I could say the Eiffel 65 album I got in third grade was my first true exposure, or even the month long period where everyone listened to songs like "Sandstorm" or "Every Time We Touch" when they had first come out. I guess when I first got my hands on Deadmau5's "Random Album Title", and Kaskade's "Strobelight Sedution" we're when I really started to understand the beauty of dance music.
EDM Identity: I remember that era of electronic music, that Eiffel 65 album was fire! You have a ton of past shows that you have played listed on your facebook, which one is your favorite show that you have played?
DJ Eludis: There was a neat little festival in central MA called "A Midsummer Night's Dream" than had a short-lived stint. It was a collaborative project put together and run by all of the dance lovers in New England. The last one in 2014 was faced with a bit of adversity with huge rain and thunderstorms throughout the first 2 days. At about 1AM on the second night the rain had finally subsided. I was the first person to go on after the storm and I played to a really eager crowd. The stage techs finally had the chance to turn on many lights and lasers that had been left off all weekend until then. It made for a great moment, that I was able to share with a lot of my friends.
EDM Identity: That sounds like a blast! What is your favorite event that you have attended overall?
DJ Eludis: Tomorrowworld. I had never been to a camping event before, and was excited to do so. I  had also never been to a dance festival that made such a priority of making sure the music they provided was as diverse as possible. That along with the beauty of being among nature to enjoy your favorite music with my closest friends was truly special.
EDM Identity: Finally, what is your favorite Ice Cream?
DJ Eludis: I'm not too sure. It's either Half Baked, or Milk and Cookies. (Both from Ben & Jerry's obviously.)
Here is one of the latest mixes from DJ Eludis, enjoy!
https://soundcloud.com/djeludis/booty-bass-and-beats