ZHU put his best foot forward for a jam-packed weekend in his beloved hometown of San Francisco.
---
To say we've been waiting all year for ZHU's FALL OF GRACE TOUR would be an exaggeration, but the five months since our interview with him has felt long indeed. After attending the recording of his forthcoming album in San Francisco's Grace Cathedral, we had the chance to chat with him about this new era in his journey. This was before we heard the singles, before we saw the visual concept and merch come to life, before the veil was lifted from around some of the more mysterious elements.
All we knew was that his upcoming album, Grace, and paying homage to his hometown of San Francisco would be at the core of this stop on his first tour in five years. As ZHU is a cryptic artist, it wasn't a surprise that there weren't many spoilers for the show — so when Friday, October 20 rolled around, we were ready. Donned in all black, we made our way to Bill Graham Civic Auditorium.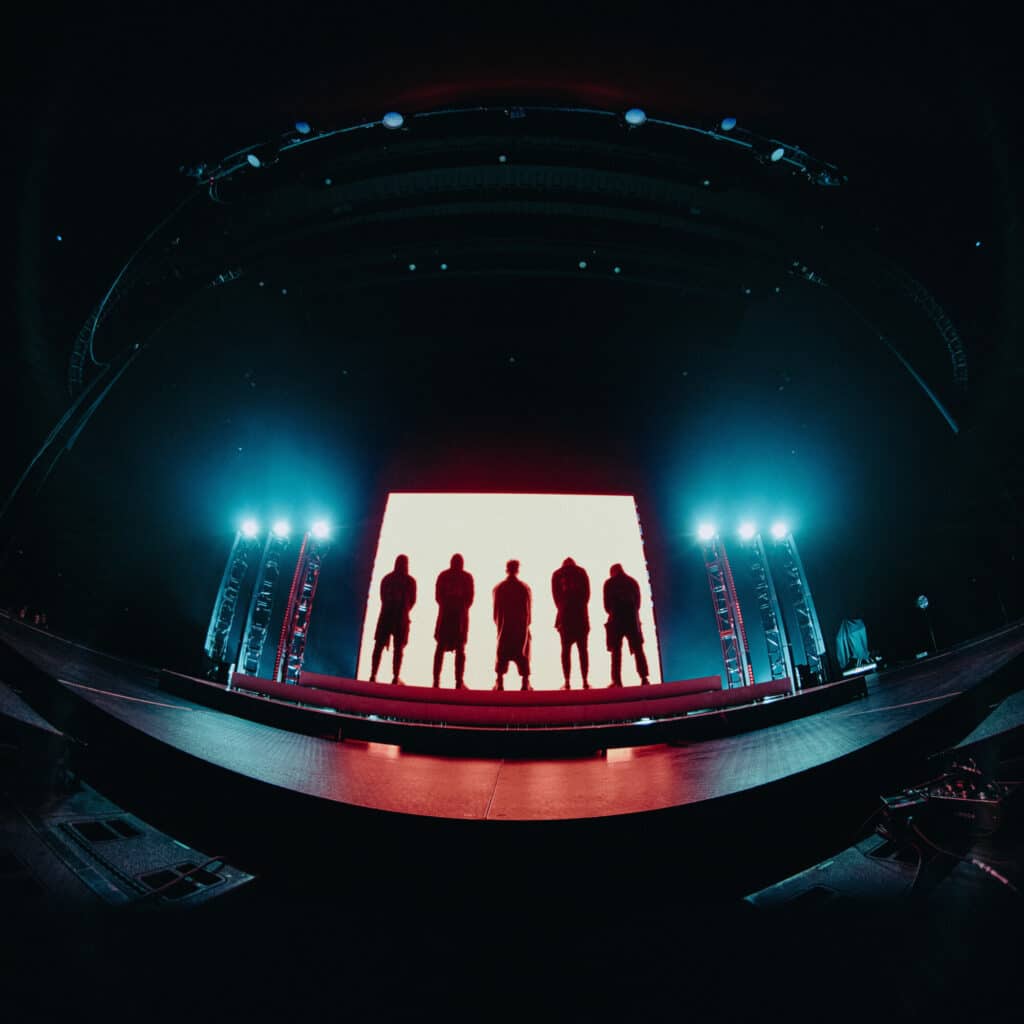 The Grace Tour SF was truly a night to remember for longtime ZHU fans.
Before even stepping inside the familiar Bill Graham venue, we were giddy with excitement. As long-time ZHU fans, we knew we were in for quite a show — and yet, we were still unsure of what exactly to expect. Combining a homecoming gathering with the fact that the full album remains unreleased only added to the anticipation. We made our way inside, where deadmau5 was on opening duties, setting the tone under his Testpilot alias.
We quickly made our way upstairs to the balcony, hoping for a full view of the whole stage. From the start, ZHU gave one of the best live performances we've seen. With a cage-like structure on stage — and with the help of a live drummer, bassist, and his own raw vocals — he took us on a heavenly journey through his discography with THE NIGHTDAY, GENERATIONWHY, unreleased gems, and more. The set made for countless moments in which fond memories were made. Fans sang along, recorded their favorite tracks, and danced to their heart's content. There was no one way to enjoy the performance.
Throughout the set, it was clear that the night meant as much to ZHU as it did to us. He took moments to pause, taking it all in and showing appreciation for his bassist, drummer, and fans. The set continued with surprises sprinkled throughout, like ZHU singing a number of covers and allowing for solos from his band members.
The last half hour of the night brought an even bigger surprise, as the performance turned into a full-on Blacklizt set, allowing ZHU to showcase his techno repertoire. Fans let loose, enjoying the rest of the performance in full dance mode. Coming back down to earth after the end of the performance took a moment — but that was just night one.
The weekend continued at The Midway SF for ZHU and deadmau5's co-headlined block party.
Though ZHU lent his talents for a Blacklizt set at Day of the deadmau5 on Saturday, we opted to catch the two titans at their Sunday event. The rain didn't stop devoted ZHU fans as the party took to the streets adjacent to the main venue. Though the stage at The Midway SF was much smaller than Bill Graham, he brought the same production that we saw at the former venue; the caged structure housed the members of his live band, and his decks were placed atop.
Quickly, we realized that the set was nearly identical to what we saw on Friday. The setlist, visuals, and special moments like singalongs, old favorites, and a cover of Creedence Clearwater Revival's "Have You Ever Seen The Rain" were all replayed.
Honestly, we didn't mind. With this having been his first headline tour in so long — and being huge fans — it was nice to re-experience the set from a different vantage point. Plus, it was a magical moment hearing "Stormy Love" and "Sky is Crying" (which led into the aforementioned cover) while a light rain came down. The lights reflected through the raindrops, making the sky glisten overhead.
Throughout both shows, we were hoping to see Grace come to life. With glimpses in the past few months of red, gothic lettering hinting at the fashion around this new chapter, we thought the tour would bring everything together.
And though it did to a certain point, things still exist in a level of abstraction with the album not yet out. The visual and sonic theme for Grace isn't fully realized yet, as it was for DREAMLAND or Ringo's Desert.
Only time will tell with the official release of the album on January 19. Until then, ZHU stays behind a veil of mystery as he has throughout his career.
---
Follow ZHU:
Website | Facebook | Twitter | Instagram | SoundCloud | YouTube