Same Same But Different continues to set itself apart with its tremendous community, diverse musical lineup, and striking landscapes!
---
Same Same But Different has easily become one of my favorite festivals to attend. Every year, I look forward to the lineup, the innovative ways attendees will be immersed in the experience, and the natural beauty of Lake Perris' landscape. The diverse musical lineup is always full of heavy hitters and new artists to discover, event producers are consistently brainstorming ways to keep the experience fresh, and the bouldery ridges of neighboring mountains atop a dazzling lake are the perfect backdrop to it all. Not to mention, Thursday evening into Friday this year was a full moon, which illuminated the environment in fairytale fashion with glimmers of orange reflecting on the water's surface, eliciting an indelible energy to get the festival underway.
This year's headliners brought unparalleled spirit to the Same stage. Attendees were treated to spectacles from Polo & Pan, GRiZ, Big Wild, and Louis The Child. In addition to the headliners, there was a plethora of other spaces to experience music, including the adjacent Different stage, lakeside Coconut Cove, thunderous Inner Space, Giving Tree, Groove Grove, and reimagined But stage, which took its new form as But Camp. There was also yoga, workshops, and other creative-focused activities taking place at the Creation Station and Healing Sanctuary.
No matter where you ended up, though, everything was elevated by the community Same Same But Different has cultivated. The dance floor was a free place to express yourself and embrace your wildest, weirdest dance moves. The workshops were a place to open your heart, learn something new, and explore different activities, and the serene landscapes complimented every experience that took place across the weekend.
All of these beautiful notes go hand in hand with one common denominator. The people and community of Same Same But Different continue to bring me back to this wonderful event. It is unlike any other festival I have attended. The combination of live music, electronic dance music, the variety of activities, and the chance to enjoy it all beside a lake makes Same Same But Different a unique music festival.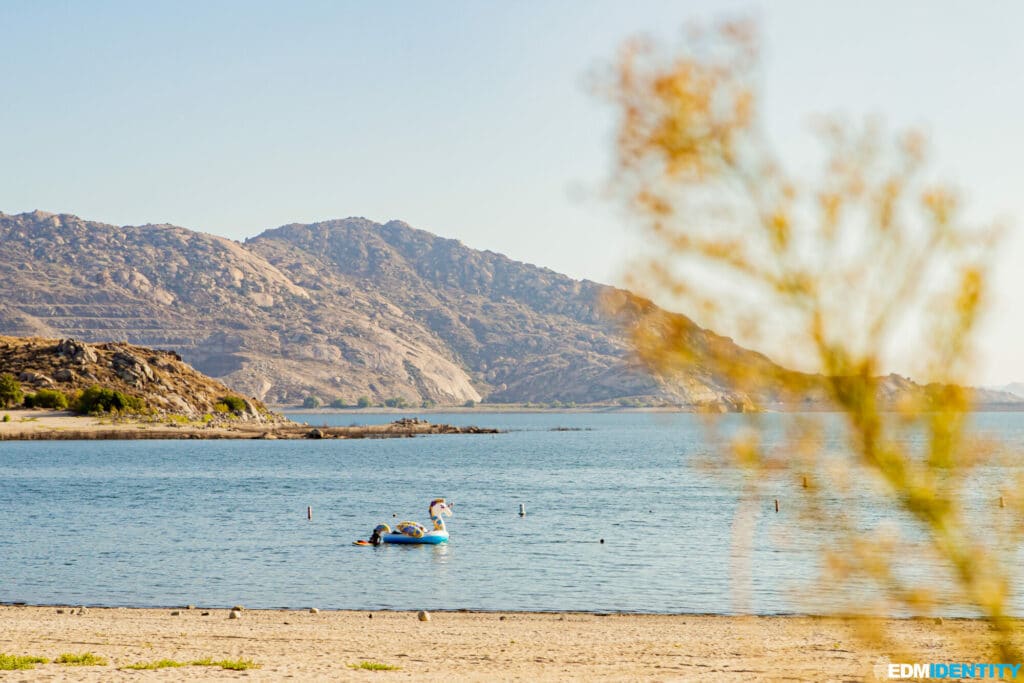 My weekend at Same Same But Different began with exploring the festival grounds and watching Mr. Eos at the Different stage.
Same Same But Different's venue footprint is much smaller than many festivals, making it easy to navigate and friendlier on the legs. There are five stages strategically placed throughout the grounds, with the main stages, Same and Different, adjacent to one another. At these stages, set times are staggered, so you don't worry about missing sets due to conflicts. When one set ends, there is a five-minute gap to head over to the other stage, which is a short 100-yard. Due to this, you get incredibly stacked days of music, seeing back-to-back sets with very low stress.
I started Friday with Mr. Eos and was completely blown away by their set. I have seen Mr. Eos on many lineups but have never been able to swing the set due to set time conflicts. I'm elated that I could see their set at Same Same But Different. A fusion of hard-hitting bass, funk, and live instrumentation, Mr. Eos had the crowd moving and grooving early in the day. The crowd was flowing, and it was clear to see people were enjoying the space to dance as they flailed their arms and scooted across the dance floor, shuffling their feet. With visuals provided by Trip Current and a seemingly upgraded sound system, the Different stage was visually appealing and thumping all weekend.
After Mr. Eos, Friday continued straight into huge sets from Moontricks, Megan Hamilton, Boombox, Flamingosis, Polo & Pan, Mitchum Yacoub, and ended with San Diego's own Kaipora. Seeing SSBD alumnus Kaipora graduate to the main stage with that type of sound system was incredible. The live bass duo rocked the Different stage with their experimental bass sound, playing renditions of their tracks and inviting all attendees to let their freak flag fly. The entire set, my hat vibrated on my head, and we were all treated to one of the best "Crowd Magic" performances.
"Crowd Magic" is a part of Kaipora's set, where they send a microphone into the crowd and take samples from the audience. They then chop up the samples live and make a tune on the spot. It never fails that people in the crowd say some wildly ridiculous stuff into the mic, but this experience was different. There were tons of great samples, and to no surprise, Kaipora turned them into an insane tune. When attendees heard their sample being used in such a creative way, they would yell out in complete stokedness. It was such a high-energy way to bring the first night of Same Same But Different to a close.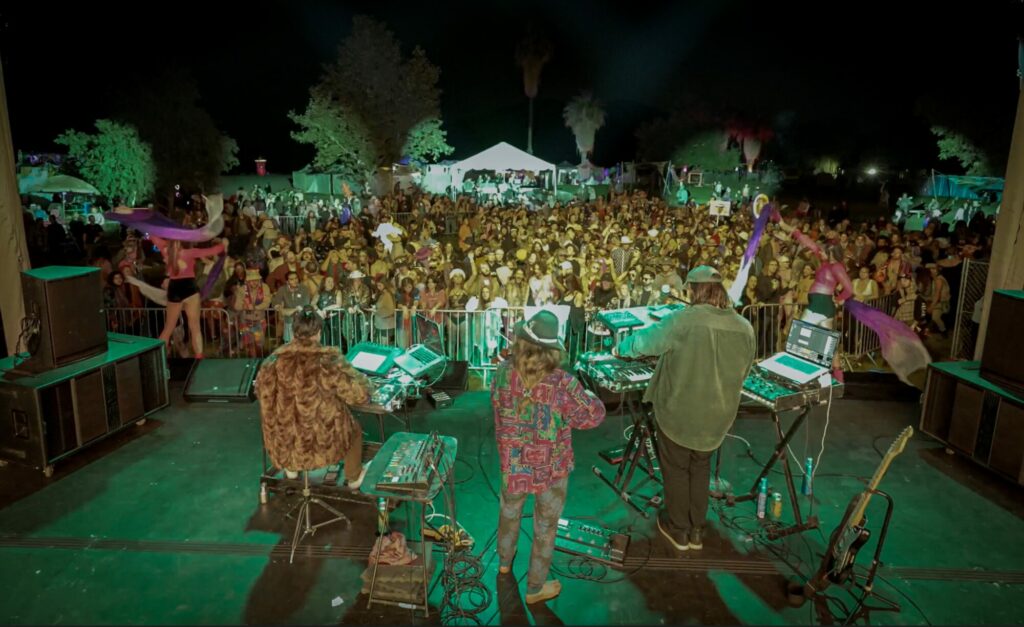 Between the last two years, Same Same But Different could not escape impending weather patterns; however, this year was much milder, and everyone made the best of it.
Luckily, the weather came through Lake Perris early in the day and did not impact the programming. Belongings were intact, and it was just a matter of waiting things out. People who were enjoying the lake had to exit and take shelter at camp while the rain, thunder, and wind passed through. We also hunkered down at camp while the weather did its thing, and after a few hours, promising weather was the backdrop once again.
Saturday was full of friends doing cool things. I found my new home at Inner Space, where I saw my good friends Simple and Phunkify rip the decks on a Void sound system. Inner Space was a small, intimate stage, but with big stage energy. Simple played a set full of funky tunes with some high-energy bass mixed in, while Phunkify went in on a complete drum and bass set. Watching friends take the next step in their musical journey was so fulfilling. I will never forget seeing them on stage while attendees in the crowd were letting loose, hugging their friends, and smiling ear to ear. I even got a little emotional in these moments because it was so beautiful to witness the magic revealing itself before me.
Sunsets also played on Saturday at the lakeside stage, Coconut Cove. Playing a hybrid set, Sunsets played guitar, live looped samples, and brought Foreignlocal. and Virr to sing their collaborations. Coconut Cove was always a vibe as people danced in the sand and enjoyed the pirate-themed aesthetic of the stage. Halfway through the set, there were pirate dancers blasting bubble guns from the stage, which added to the overall vibe and enjoyment of Sunsets' set.
As Saturday ended, I returned to Inner Space because I wanted to experience my first Cam Steen set. Having been introduced to his music through streaming platforms and his hand-pan videos on YouTube, I did not know what to expect, but I did have an inclination it would be completely different as Inner Space had been prominently full of heavy-hitting low-end music. Cam went in on his set, taking full advantage of the sound system, and bathed attendees in visceral bass beats. Needless to say, I was completely blown away and look forward to catching another Cam Steen set, as he is an insanely versatile artist.
Come Sunday morning, it was time to refuel after two long festival days. I went in early to visit the food vendors where my friends and I got a variety of cuisines to share.
It's a small festival, so the selection of food vendors isn't as large as others, but there is no reason for it to be. The options were satisfying and exemplified the meaning of quality over quantity. The food vendors were Epic Eatz, Flavors of East Africa, North Indian Cuisine, Dang Brother's Pizza, Kaliko's Hawaiian Kitchen, Wild Acai Season, and a few drink vendors. Collectively, we decided to patronize Flavors of East Africa, North Indian Cuisine, Dang Brothers Pizza, and Epic Eatz.
At Flavors of East Africa, we got the spicy jerk chicken, collard greens, and lentils. At Dang Brothers Pizza, we got a Sexy Pep. At North Indian Cuisine, we got a Chicken Tika Masala naan wrap with side samosas, and at Epic Eatz, we got tacos. Trying them all in one sitting was quite the undertaking; however, it was completely necessary to refuel and start the festival's last day feeling rejuvenated and refueled. Everything was also extremely delicious, and we were all more than content with the plates and dishes we purchased.
After the grub sesh, we saw Blu DeTiger at the Different stage. Arguably my favorite set of the weekend, Blu ripped the bass, sang her catchy tunes, and commanded the stage as attendees vibed out in awe. There was plenty of space to let loose without reservation, and it seemed everywhere my head turned, friends were enjoying the set. Vibes were at an all-time high during Blu's set, and that worked in perfect harmony as the sun set on the last day of the festival.
Bringing the festival to its conclusion were performances from Big Wild, What So Not, and Louis The Child. Each set exuded a different energy as Big Wild played an entirely original set with songs across his entire discography, What So Not brought the heavy wonky bass, and Louis The Child's Playground set was a mix of their original productions with tracks they vibe with outside of their staple sound. Bouncing back and forth between the Same and Different stages for these sets was peak enjoyment as attendees enjoyed sounds that spanned the entire electronic dance music spectrum to bring the weekend to its ultimate conclusion.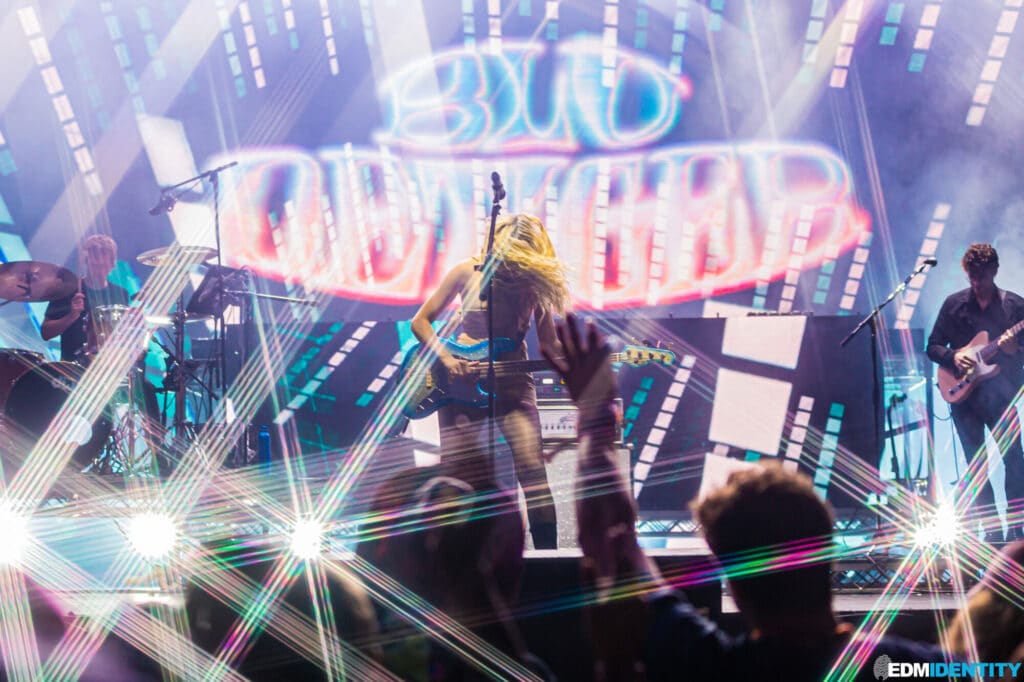 As Same Same But Different came to a close, I couldn't help but feel fulfilled and inspired. The entire weekend was full of love and community, with only little to be desired.
Same Same But Different continues to show why it is one of the best festivals around. Their musical bookings span the entire music spectrum, allowing attendees to enjoy all genres; however, it did seem this year leaned a little electronic-heavy. Every headliner was within the electronic dance music space, even making its way into the undercard. This is not entirely a bad thing. I love electronic dance music, but what drew me to Same Same But Different in the first place was its focus on live music balanced with electronic dance music. This is not to say there isn't plenty of live music to enjoy. I hope that Same Same But Different brings back headliners in the sphere of Vulfpeck, Chromeo, and STS9 in the future.
Something else I noticed was even though the actual festival space was compact car camping, general parking and other camping locations were pretty far away, especially with the single general admission entrance. Luckily, I was able to park at the entrance of the Up Front lot and wagon my camping gear to its final location, but after I set up, I had to leave my car in car camping and walk back to Up Front, near the single entrance, where I got my first experience of what my daily trek would have been if I settled in car camping. Last year, the campgrounds were on all sides of the festival, along with multiple entrances. This made walks to and from camp much more manageable during the day, which helped a ton when the weather was scorching. I hope they bring back multiple entrances.
Lastly, the VIP section at the Same and Different stages took up too much room—about half of each stage at the front. I completely understand the perks of VIP and the purpose of having tiered tickets, but I feel the amount of space it took from the dance floor for general admission attendees was a little much. In the future, it might be worth exploring a smaller VIP section in front and having viewing areas by the sound booth or along the sides of the stages to minimize VIP's encroachment on the dance floor.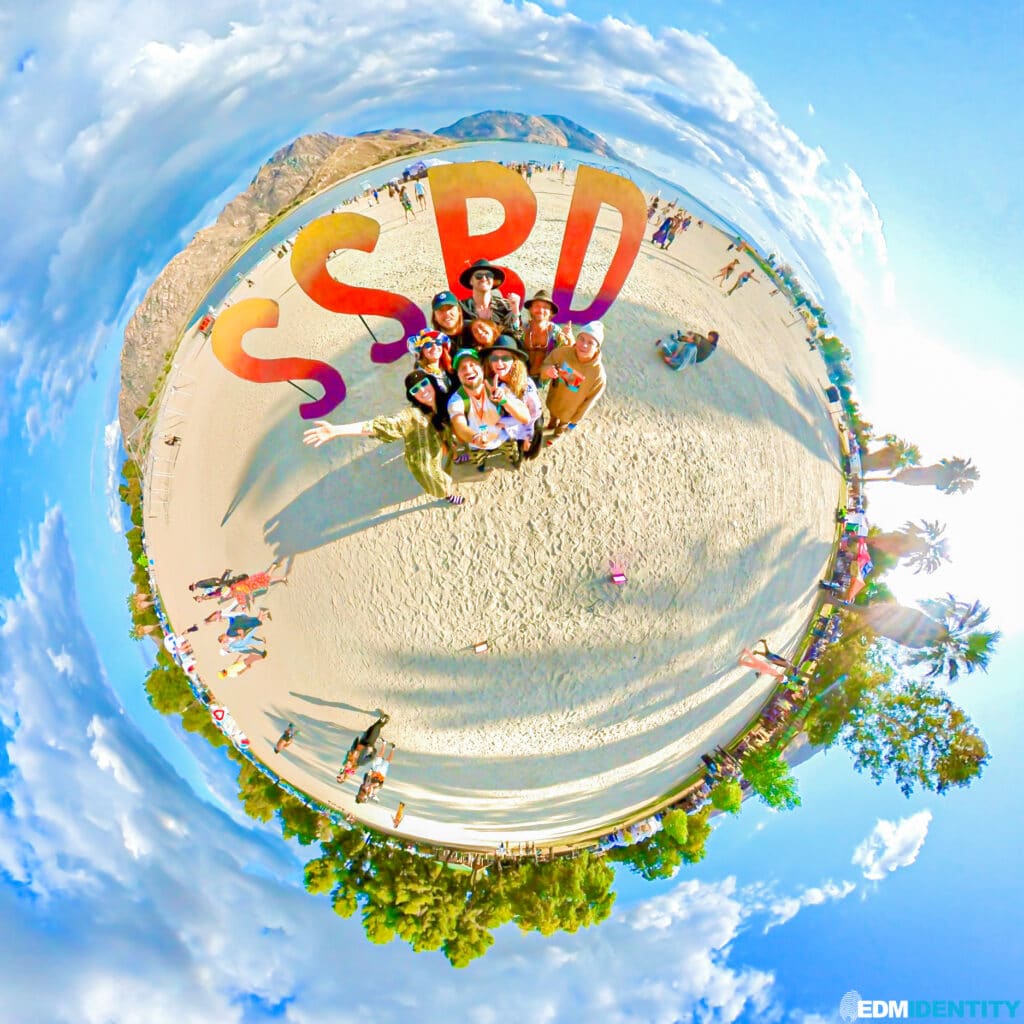 All this comes from a place of love. Same Same But Different will always hold a special place in my heart because of its community, the variety of musical bookings, and the beautiful backdrop Lake Perris provides.
The observations are just suggestions as I've been blessed to experience three Same Same But Differents thus far. Every year, I am amazed at how the festival grows, how it calmly and proficiently takes on unexpected challenges, like the weather, to keep attendees safe, and how it continues to book phenomenal lineups of established artists, those on the rise, and local. Over the years, Same Same But Different has cultivated a fun, loving, hard-working community that all come together in a space that feels like family. This is what sets Same Same But Different apart from any other festival and why I will continue to come back.
Walking through the festival grounds was a pleasure to run into so many old and new friends. Friends who were making big plays in their creative pursuits, whether it be playing music at the festival, helping build structures, displaying art, or expressing their talent through whatever medium to capture content for the festival and bring it to life (digitally). Same Same is a big family, and each year, the family grows. In turn, the love and support grow. It truly feels that within this community, anything is possible. Of course, this beautiful festival's music, art, and landscape are all huge pillars of what makes it so magical. When I think of the common denominator between them all, the people, community, and vibe elevate it to another level.
To spend another year at Same Same But Different with the people I love, admire and am inspired by made it another truly successful year. I cannot wait to see what next year's Same Same But Different has in store. I'm sure the wheels are already turning for all the masterminds behind this first-class festival. Until then, I will reminisce on all the memories I am grateful to have made this year. See you in 2024!
---
Follow Same Same But Different: