Rising artist Floret Loret opens the door to a new world for his fans with the release of his debut album, Tales From the Terrarium.
---
It's been a big year for Floret Loret, and this nature-inspired producer is determined to give 2023 the ending it deserves. Already sharing his musical passion with Okeechobee and EDC Las Vegas earlier this year, many lucky humans started their festival season with a refreshing set from this maestro. Always aiming to provide a safe space for expression, this producer has a few more opportunities up his sleeve for fans to hit a reset button with his therapeutic soundscapes.
With the final months of 2023 ahead, Floret Loret still has some monumental events planned to close out the year. You can catch him on support duties for CloZee and Daily Bread at the Orlando Amphitheater on October 14, and he is finishing off strong with the massive opportunity of touring with the legends KOAN Sound, set to start in December. The artist isn't stopping there, though, as he has also worked hard in the studio, and it's time his finished product came to light. Hot off the press, Floret Loret presents his latest piece of work, Tales From the Terrarium.
Tales From the Terrarium takes listeners on a journey with many hardships, but the end result is worth the challenges that will arise. From half-time glitchy nodes to trance-inducing melodies, the album has many new worlds from within Floret Loret's mind, readily awaiting anyone brave enough to explore them.
Listen to Floret Loret's debut album, Tales From the Terrarium, on your favorite platform, and read on for a closer look at the tracks!
Stream Floret Loret – Tales From the Terrarium on Spotify:
---
Get ready for an adventure through uncharted lands once you begin Tales From the Terrarium.
The sounds of a lush green wonderland rush into the mind once "Bewilderment" begins. Trickles of water lead you to a gushing waterfall where you can perfectly see the new world you have just stumbled into. Sounds of wilderness fill the space as hues of orange and pink fill the sky because you're just in time for the sunset. Now is the time to find shelter, and "Firespoken" is the perfect half-time track to prepare you for the task at hand—glitch forward with each high hat, inspiring your every step.
Flipping the script, "Druids Magic" brings another new layer to the story. Feel the breeze through your hair as you sprint amongst the trees with fireflies as your guide, as if they're under a magical spell to help you reach your next destination. Try to resist the enchanting melodies of "Warmblue." The glitchy yet mesmerizing soundscapes will leave you stunned until "Bloodstone" awakes you from your hypnotic state with its hard-hitting energy.
The journey is nearly halfway through. Can you handle what might lie ahead?
The sixth track, "Prowler," arrives with a point to prove and shows up confidently. This beat will have anyone walking with stealth and a purpose with each calculated footstep, like a lion stalking its next meal. "Walking with Ents" and "Treestomp" are the perfect pair to make you want to look over your shoulder a time or two with their eerie noises present. They will have you trying to escape this nightmare as you run from the dangers creeping around each corner.
Then, "Mandragoras" eases you gently like a Venus fly trap catches its prey. You can't help but follow the enticing melodic soundscapes, which lead you into a danger zone and abruptly snatch listeners into its clutches with unexpected experimental bass elements.
Coming in to bring peace, "Frozen Flares" takes you to a place more rewarding.
The sound of beautiful angelic voices lifts you into a euphoric trance, and for the first time in a while, you feel a sense of worth and accomplishment wash over your body. You can feel the start of new beginnings on the horizon. "Napo's Rest" brings this transformational adventure to the end it deserves. The happiness you feel from the sound design present is gushing out like the waterfall you stumbled upon at the start of the album. All of your efforts did not go unnoticed, and now you can proudly say you have reached the final destination of self-fulfillment.
Floret Loret created an entirely new world for listeners to fall into, and this album is another flawless escape within the artist's mind. Tales From the Terrarium showcases this artist's impeccable sound design abilities from start to finish. Jaws will be on the floor from the amount of diversity expressed throughout this album, and we can't wait to see what he will craft next!
---
Floret Loret – Tales From the Terrarium – Tracklist:
Bewilderment
Firespoken
Druids Magic
Warmblue
Bloodstone
Prowler
Walking with Ents
Treestomp
Mandragoras
Frozen Flares
Napo's Rest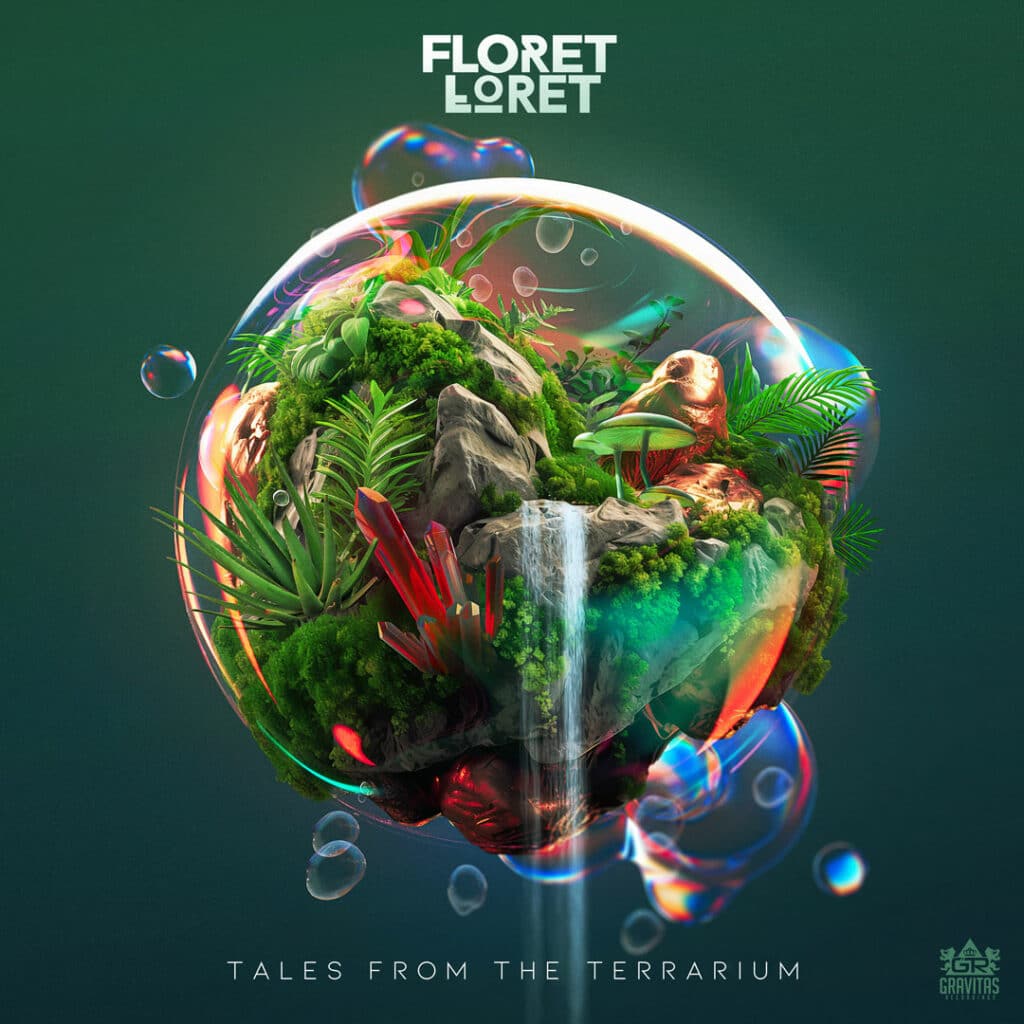 ---
Follow Floret Loret:
Facebook | Twitter | Instagram | SoundCloud