As we celebrate V2 Presents' 11th annual Das Energi Festival last weekend, take a look at the humble beginnings of this Utah festival.
---
Das Energi, Utah's biggest annual dance music festival, just completed its 11th year and made it better than ever. Hosted by V2 Presents at The Great Saltair, a venue just outside Salt Lake City, this gathering has come a long way since it began in 2012.
Over the years, Das Energi has hosted legendary artists such as Benny Benassi, Zeds Dead, Kaskade, deadmau5, Above & Beyond, Excision, Subtronics, Seven Lions, and Porter Robinson. Growing from an intimate attendance of a few thousand to well over ten thousand patrons, this festival continues to expand in better and bigger directions.
Related: Take a look at our review from last year's epic Das Energi and the full lineup from this year's event.
Before diving into Das Energi's advances over the years, let's explore the origins of V2 Presents, the promoter that puts on Das Energi, Get Funky, Get Freaky, and Get Lucky, to name a few. It started in 2000 when creators Brandon Fullmer and Jeremy Moreland began working together to create larger-scale events than their previous warehouse parties. In 2005, they collaborated on a festival called Versus 2 in Utah County, which SWAT teams and police raided. The videos of this incident went viral, and from then on, V2 Presents was created.
What started as a compact, single-day concert event at a seemingly empty desert abyss soon expanded into a two-day music and arts festival.
Held in 2012 as a one-day event, the first Das Energi featured headliners Benny Benassi, Zeds Dead, Fedde Le Grand, and more. Initially, the layout at The Great Saltair had two main stages, one inside and one outside, and three smaller stages out in the sandy salt flats area. Even back then, the usual merchandise vendors and food concession stand inside were offered.
What first began as The Temple of Boom stage and Bass Station stage has evolved to Energi Field, Synergy Station, and Galactic Flats further out on the beachy area. These stages have continually expanded into larger and more stimulating performance arenas. Adding better lighting and effects production, including pyrotechnics and CO2, has put Das Energi into the spotlight, bringing in more out-of-state attendees.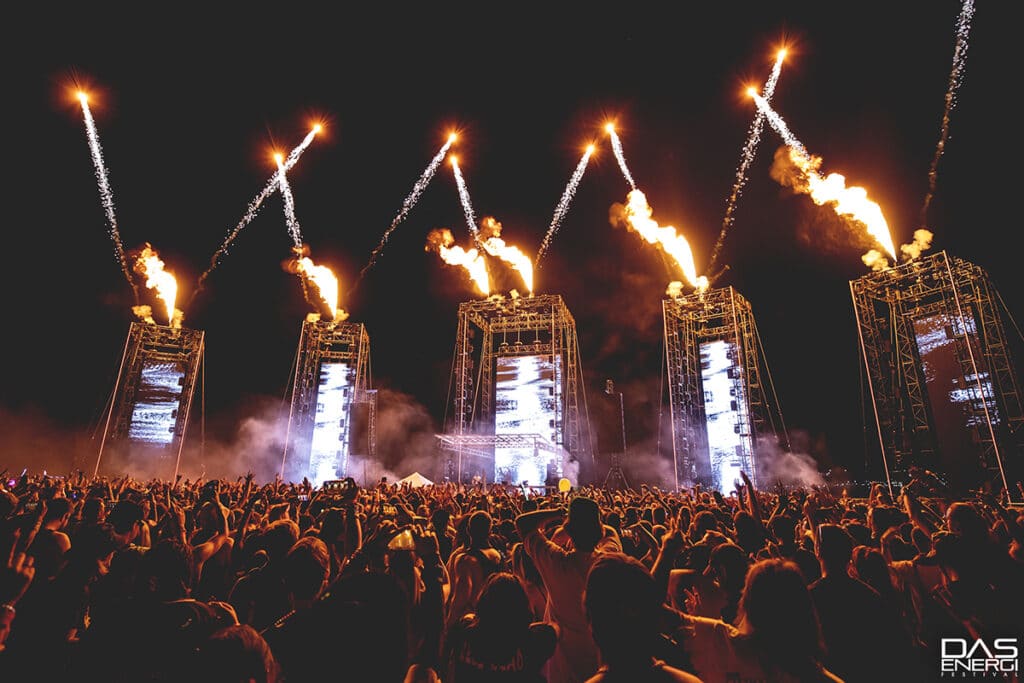 This recent year of Das Energi included more food trucks, bigger art installations, and an overall expansion of the festival experience.
In addition to the growing production scale, the festival experience quality has also improved. In the last few years, the addition of food trucks helped expand available options. The chicken strips at the concession stand inside remain a top-tier choice throughout the years, however. Regarding vendors, the variety of items sold continues to expand, ranging from beaded rings and unique clothing items to handmade tapestries and rave goggles.
From the beginning of Das Energi, art installations have been a prevalent piece of the festival. Graffiti walls, Burning Man-esque art sculptures, and beautifully designed hangout places have adorned the venue grounds since the beginning. This year's art direction resulted in spinning, interactive creations and blow-up blooming flowers on which guests could relax.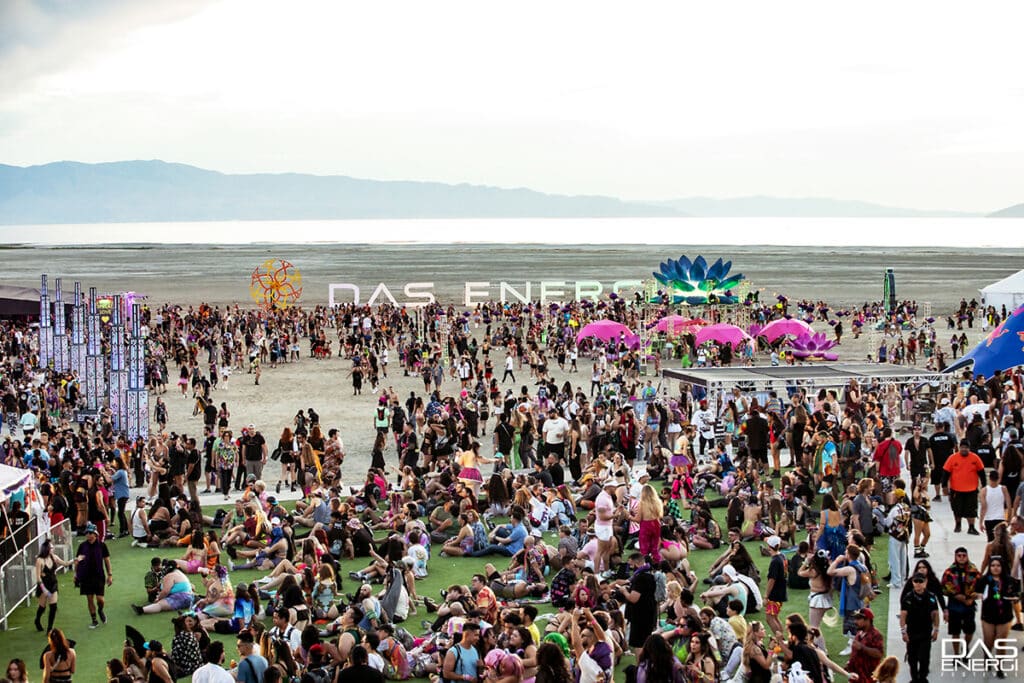 Das Energi has continually surprised attendees each year with some new contribution to the venue, and this year was no different.
The most significant change was organizers laying down a turf field for the main stage instead of the dirt and grass of years prior. This turf came in handy when you just felt like sitting down and watching the show. The other most significant change was the second outside bar and viewing tower, which was built to overlook the main stage. These came in handy for easy access to extra restrooms, quicker drinks with smaller lines, and a two-story viewing area.
The stages got a makeover this year as well, reminiscent of smaller-scale versions of Ultra Music Festival's main stage and EDC Las Vegas' Circuit Grounds stage. Energi Field now contains a large Das Energi logo at the top of a caved-out cornucopia stage, similar to the Hollywood Bowl. Galactic Flats incorporated five massive LED screens surrounding the crowd that shot out fire bolts and released the occasional fireworks.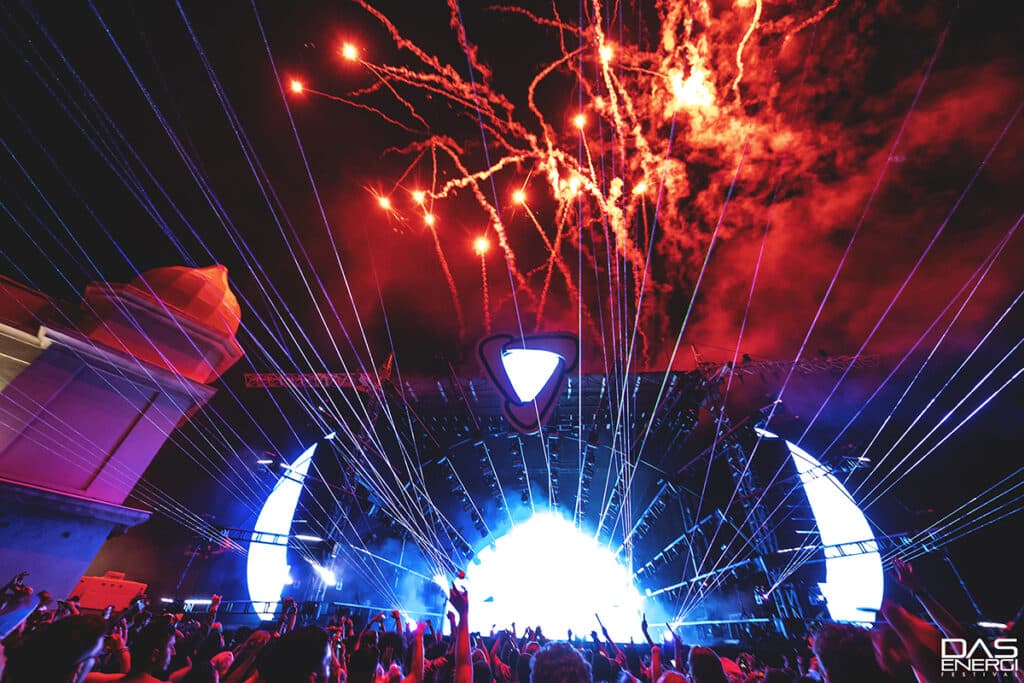 Each year tops the previous one. Stages grow larger, genres expand, and the food and art become more grandiose. If there's any festival in Utah to attend, it's Das Energi. The rich lifestyle experience and crowd unity stemming from this 11-year event will always hold a special place in the hearts of Utahns, and it's all thanks to the brilliant minds behind V2 Presents.
---
Follow Das Energi: