Same Same But Different reveals daily lineups with Polo & Pan performing Friday, GRiZ on Saturday, and Big Wild and Louis The Child on Sunday!
---
Same Same But Different returns to its lakeside home in Lake Perris the weekend of September 28 – October 1. This year is shaping up to be another epic year as Same Same But Different celebrates its five-year milestone with headliners Polo & Pan performing Friday, GRiZ on Saturday, and Louis The Child and Big Wild closing the festival on Sunday. Fans of GRiZ will be ecstatic to catch the funky sax extraordinaire before he takes an indefinite hiatus while also dancing in the sand to the sounds of some of electronic dance music's most revered artists.
With an eclectic lineup spanning multiple genres, attendees can look forward to huge sets on Friday from festival alumnus Boombox, as well as supporting sets from artists like Flamingosis, Morillo, Moontricks, and more. Also performing on Friday are local San Diego groups Aviator Stash, Kaipora, Well Well Well, and Mitchum Yacoub Soundsystem, who will fulfill all your indie, bass, and reggae dub desires.
As the festival gets into full swing on Saturday, there are plenty of sets to be excited for, including the high-energy house beats of Bijou, Partiboi69, and Mija. For those that need a dose of bass and funk, look no further than Maddy O'Neal, Eazybaked, and Sunsquabi. Not to mention the return of Boostive and Sunsets, who have put on some of our favorite sets at Same Same But Different over the years.
With the distinct honor of closing out the festival, Sunday attendees can look forward to Same Same sets from What So Not, Blu De Tiger, Phantoms, and SoDown. Also performing on Sunday are various local San Diego artists, including Cam Steen, Chucky Motion, Kat Hall, Voss & Things, and Fresh Veggies Micro Bass.
With the announcement of daily splits has come the addition of more artists to the lineup! Attendees will be excited to see the addition of Megan Hamilton, Tchilt, Elbee, King Julian, Bawab, Les Afriques, Phunkify, Simple, Boostive's But Jam, and more. This year's edition of Same Same But Different is sure to be one of the best yet, and we cannot wait to return to Lake Perris and share this beautiful weekend with the Same Same But Different community, old and new.
Tickets for Same Same But Different tickets are still available on their website. Be sure to lock in your passes as soon as possible to ensure you will be boogieing lakeside with Polo & Pan, GRiZ, Louis The Child, Big Wild, and more!
---
Same Same But Different 2023 – Daily Lineups: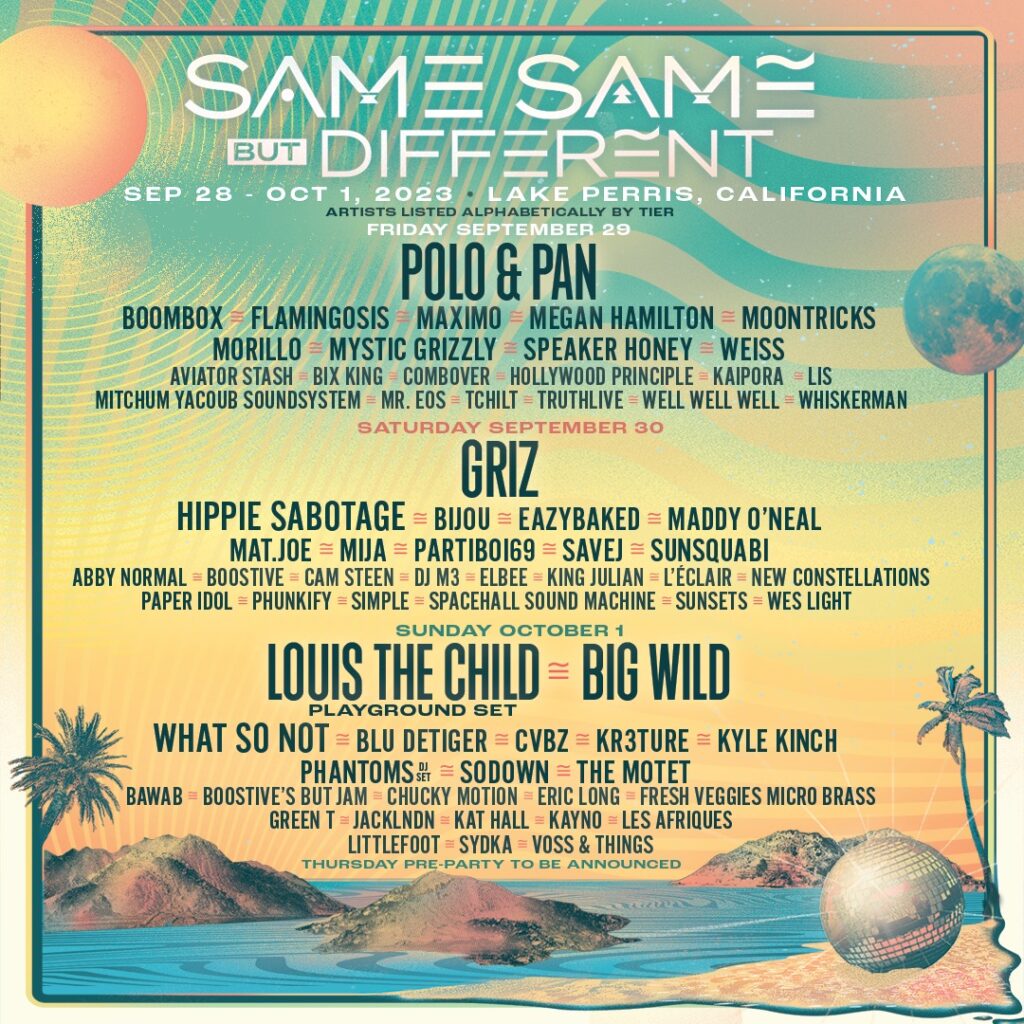 ---
Follow Same Same But Different: