Burners are pondering whether rises in camp recruitment and second-hand ticket availability will mean lower 2023 attendance.
---
Burning Man tickets sold out during the event's Main Sale in April — as they have every year it has gone on as planned since 2011. There are nonetheless murmurs of a population decrease in Black Rock City when attendees descend upon it between August 27 and September 24. What gives?
The participation-based structure (in theory, at least) of the annual gathering in Nevada's Black Rock Desert makes for a ticket economy unique to typical festivals. Each theme camp operates somewhat autonomously from the Burning Man Project, the 501(c)(3) nonprofit that organizes the coveted celebration of art and culture. When tickets go on sale, many buy them whether or not they plan to go in order to ensure that their campmates can.
More and more ticket holders try to sell theirs as the event approaches each year, and they usually have no trouble doing so. Perhaps not so in 2023. Burners have noted an apparent uptick in social media posts by people looking to get rid of their passes compared to previous installments.
As its name suggests, Burning Man Ticket Begging is a Facebook group in which most posts at this time of year come from Burners in pursuit of tickets. This year, they're greatly outnumbered by those of sellers. Most are going for face value, but a few are selling below. While obviously tongue in cheek, the below meme making its rounds also points to the lopsided 2023 demand.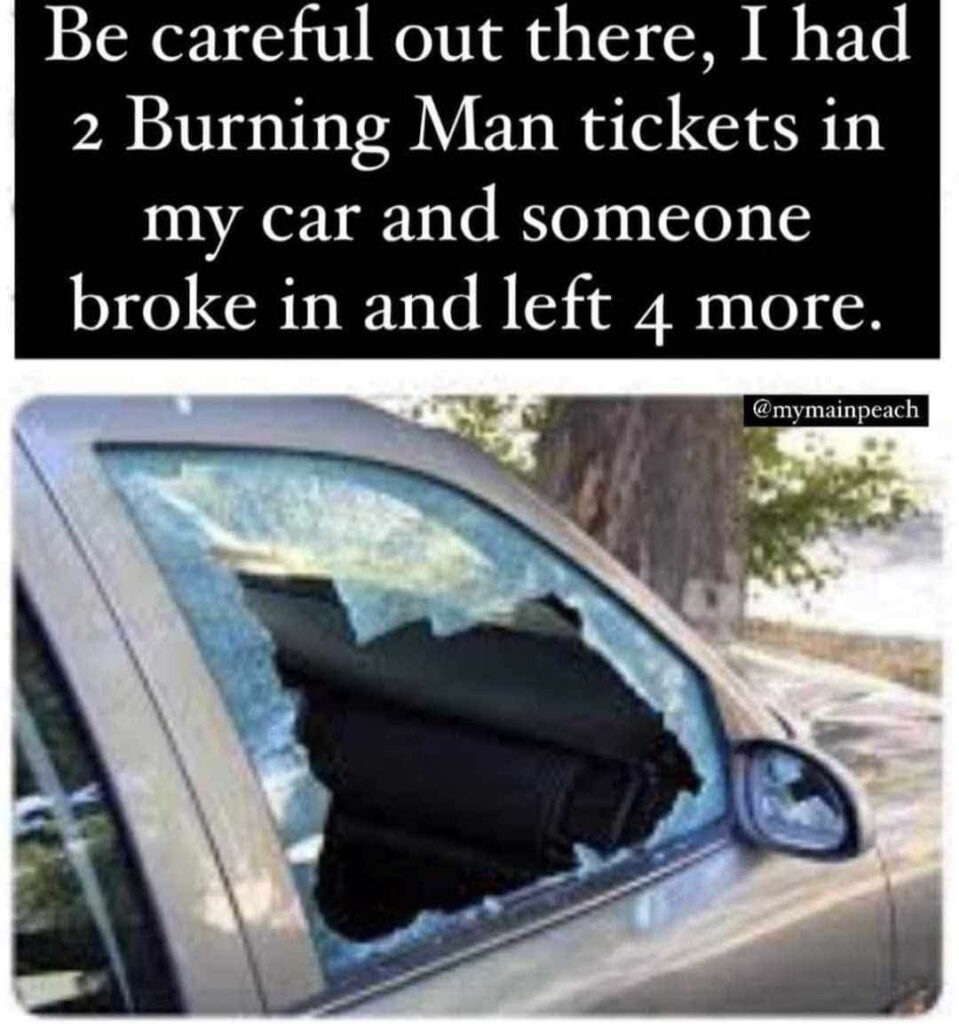 Moreover, a significant number of theme camps have posted in Facebook's most active Burning Man group in search of new members. Among them are Black Rock French Quarter, Cozy Cat Camp, Supernova, and Orphan Asylum. Some are trying to find buyers for the early entry tickets through the event's Stewards Sale, which guarantees admission for teams who help build the temporary city. Others are requiring that attendees buy tickets on their own, hoping to bring in enough camp fees to cover their operating budgets.
EDM Identity asked Burners sitting out the 2023 event what led to their decision. Some relayed commonly unforeseen life events such as new jobs, new kids, loved ones falling ill, or other travel plans. Many others, however, echoed the same three factors: last year's heat wave, rising costs associated with the event, and a shift in the culture among participants.
"Clearly [it costs] more than just the ticket," said Nourah, who must fly in from Saudi Arabia to attend. "There's flights, hotels, daily expenses pre and post, and rental. The heat was unbearable last year, I wish they'd move it two weeks later."
Travel poses issues for many Stateside as well. "Too much money this year," Rebecca told us. "I wish I could go, but I can't justify blowing $15k out of my ass and not hating myself when I get home to NYC. I did some cost comparisons of various two-week trips I could take around the world and they all amounted to less than half of that."
"It's too expensive," said Adah, who plans to go this year but is "not very excited about it anymore." She pointed out that "The general economy is facing a recession, and the US is at an all-time high in consumer credit debt. Additionally, Burning Man is facing challenges as the older generation involved in it is getting older, and their attitude towards newcomers can sometimes be less welcoming."
"Last year I said out loud, 'I'm done,'" recounted one Burner. "In terms of both weather and douchiness, the Burn has been trending downward for several years now. To a certain extent, I really feel like the prep and anxiety ruin the whole summer. There's always something I 'should' be doing to get ready."
"It feels unreasonable and the amount of resources needed just to get down to BRC feels irresponsible in terms of carbon footprint, and also there's other fun shit closer to home," said a Burner named Rachael. "Is it the same? Fuck no. But does it fill that desire in my heart to dance, explore, connect, dress up, be inspired by art and costumes, contribute, gift, and play in the dust and sun? Yes."
The Burning Man Project did not immediately respond to EDM Identity's request for comment. And of course, until the organization shares attendance figures on the other side of the 2023 edition, any speculation based on the above perspectives is anecdotal.
This dialogue surrounding this year's event still begs the question: What would Burning Man look like with fewer attendees? Different, probably — but not that different.
During one of the gathering's fallow years on account of the COVID pandemic in 2021, Burners flocked to the Black Rock Desert to participate in an unstructured event dubbed "Plan B." The absence of formal ticketing or gates prevented anyone from recording reliable attendance figures, but estimates ranged between 10-20,000.
While Plan B appeared smaller than any sanctioned Burn in the past 25 or so years, plenty remained the same. An abundance of theme camps offered revelers the same sensory overload that they've come to expect from the official event. Even if Burning Man 2023 attendance fell by half from last year's figure of 87,000, it would still draw more than twice as many people as the upper limit of Plan B's estimate.
All that is to say that if Burning Man is on your bucket list, 2023 might very well be your year. A word to the wise, though: Don't say "bucket list" around any veteran Burners. It's a long story.
---
Follow Burning Man: