Nostalgix reflects on her growth, being a woman in dance music, and tells us what's to come during her set at Imagine Music Festival this year.
---
Bass house superstar Nostalgix has been turning heads since she first entered the mainstream eye. Reaching exponential growth in just three years, she's naturally captured quite the fanbase, with fans wondering what her story is. The Canadian artist is a self-taught DJ and producer who first took a dive into DJing in 2017 and never looked back. From playing festivals to touring North America, she's currently thriving in her career, and it's safe to say that slowing down is not in the cards for Nostalgix.
With support from dance music legends like Tchami, AC Slater, BIJOU, Zeds Dead, and more, Nostalgix continues to reach new heights and earn her stripes accordingly. She does this by regularly releasing banging solo and collaborative tracks that encapsulate her irresistible energy while also capturing that same energy in her performances. Her most recent release with EVAN GIIA, "LIMIT," is a testament to her impeccable production skills while also ringing in with self-empowerment and the refusal to limit herself for anyone.
Recently off the high of playing her first-ever Deadrocks, Nostalgix now resumes her 2023 Summer tour with appearances at Lost Lands and Imagine Music Festival on the horizon. With such exciting things in the works, we jumped at the chance to chat with her before her highly anticipated performances later this year. Additionally, Nostalgix curated a playlist of tunes ahead of Imagine Music Festival to get everyone hyped up, so make sure to follow her socials as she continues to leave her mark on the scene, and continue reading for our conversation!
Stream Nostalgix's Imagine Music Festival 2023 Playlist on Spotify:
---
Hi Nostalgix, thanks for stopping by to chat with us! The last time we spoke with you was last year at EDC Las Vegas, and you've grown a lot since then! How does it feel to reflect on where you are now and how far you've come in the last couple of years?
It's honestly the most surreal feeling. I think I often get so busy being in the studio and on tour that I forget to look up and see how far I've come. Every once in a while, I'll look back at old photos or records I was working on and feel blown away by all of the progress. It's truly incredible. I'm living my dreams.
As a Canadian artist, you've gone from playing across North America to moving to Los Angeles and headlining your own tours in the span of three years. What has that adjustment been like being on the road constantly?
I feel like I was born into this life. I love performing, I love traveling, and I love meeting people. I think being a touring artist and staying sane is its own art form though. When I first started touring, I was doing a lot of support shows, so I wasn't making much money, and I was doing it solely for the love of the craft. It wasn't easy at all, but I absolutely loved what I was doing, so it kept me constantly pushing and challenging myself. All of those late nights and early mornings led to me being where I am now.
You recently played Red Rocks Amphitheatre as part of the 9th annual Deadrocks event with Zeds Dead. Congratulations! What did it feel like to reach such a milestone when playing at that iconic venue?
It was a dream come true. I can't even put the show's energy into words, but it felt like pure magic. I was smiling from the beginning till the end of my set. I've gotten to do so many incredible shows throughout my career so far – but Red Rocks felt like a whole other level. It was very inspiring. Shoutout to the Zeds Dead guys for having me!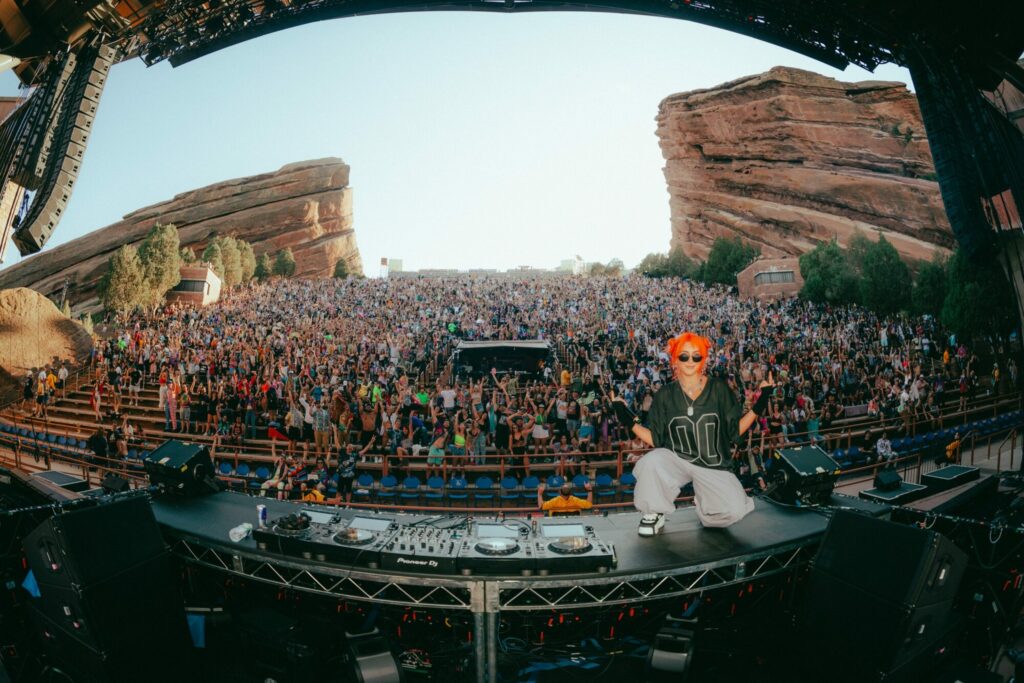 This September, you're set to take the stage for Imagine Music Festival in Kingston Downs, Georgia. What can fans expect from your set at Imagine?
A lot of new music. A lot of energy. A lot of dancing. I've been working nonstop in the studio in between my shows to get ready for festival season. You already know Imagine is about to be insane! I'm so excited!
You recently posted a reel on Instagram about reaching the six-year mark since you first pursued music. What's something you know now that you wish someone had told you then?
Keep your head down and keep moving forward. As an artist, I think it's so important to stay authentic to yourself and your vision. It's the #1 thing. Don't ever let anyone tell you what you should or shouldn't do. And keep pushing, girl! Not everything will work out, but what matters is you take forward motion.
We know that the dance music industry has a history of being a bit of a boys' club in an already very cishet male-dominant world. How has that challenge impacted you, and how did you surpass it? Do you still struggle with it today? If so, how do you deal with it?
I've seen it a lot throughout my career, and to this day, I still experience moments where I know that if I was a guy, I would be treated very differently. I think it's even harder when you're a female artist starting out – but it exists everywhere, unfortunately. My way of dealing with it is by doing me and not letting anyone tell me what I can and can't do.
As a woman in dance music, what are some words of advice you could give to other women, nonbinary, or femme-identifying people trying to enter the space as a DJ/producer?
Believe in yourself. Be your own cheerleader. And know that you can do this.
Finally, what legacy do you hope to leave behind with the Nostalgix project?
I want to have a big positive impact on people's lives. That's a life goal of mine. And I know that I can achieve that through my music. I want to make people feel loved, seen, and accepted for who they are.
---
Follow Nostalgix:
Facebook | Twitter | Instagram | SoundCloud | YouTube