Legendary artist Armin van Buuren united people through the power of music as he performed to a sold-out crowd at Brooklyn Mirage.
---
No introduction is needed when you hear the name Armin van Buuren. With a career spanning over two decades, hundreds of successful singles, a prolific label, and a monumental radio show, Armin has established himself as one of the most influential figures in the electronic music industry. With his name always guaranteeing a sold-out performance, the Dutch producer continued that trend at The Brooklyn Mirage on May 20 and delivered a mesmerizing set for his trance faithful. 
On Saturday night, a parade of fans swarmed the open-air venue right when doors opened at 11pm, turning the famed Brooklyn venue into a kinetic rave with no cell service. Clearly, fans were there early to camp for an up-close view of the trance king. Armada Music signee AVIRA greeted the eager crowd with a two-hour set featuring a darker trance orchestration, melodic techno, and, at times, a glimmering laser production. With the crowd warmed up, the atmosphere became charged with anticipation when the lights dimmed for a brief intermission. 
Everyone was pulled into his sonic wonderland when Armin stepped behind the decks.
The opening track, Armin's remix of Eelke Kleijn's "Transmission," set the tone for what was to come, immediately captivating the audience with the song's dark beats and trance melodies. While his main stage sets bring different levels of fans, Armin knew he was playing to a loyal 8,000-person crowd. In the first hour, he featured a deep trance selection that took the audience on an exhilarating rollercoaster of emotions. Whether it was a euphoric trance anthem or a deep progressive gem, each track had its purpose and added a new layer to the sonic tapestry Armin was weaving.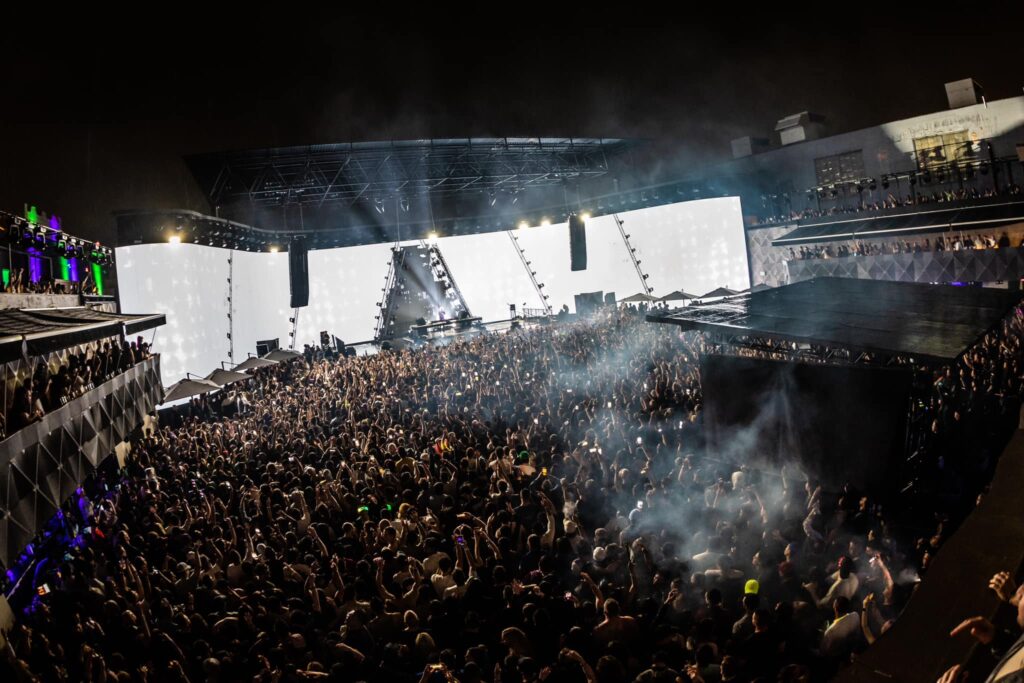 Armin van Buuren's seamless transitions between tracks were a testament to his exceptional mixing abilities.
His mixing style created a continuous flow of energy that kept the crowd engaged throughout the entire set. However, no Armin show is complete without main stage hits. The second half of his performance showcased more of his global tracks, such as fan favorites "Blah Blah Blah" and a dynamic rendition of "This Is What It Feels Like." But the trance maestro also treated his audience to a kaleidoscope visual experience.
From sparkly underwater movement to icy structures to futuristic purple designs, the synchronized visuals seamlessly merged with the beats, melodies, and emotions, creating an out-of-the-world experience made only possible by The Brooklyn Mirage's massive video wall. Visually, Armin's set was a feast for the eyes, but the light rain throughout the night added another dimension to the performance.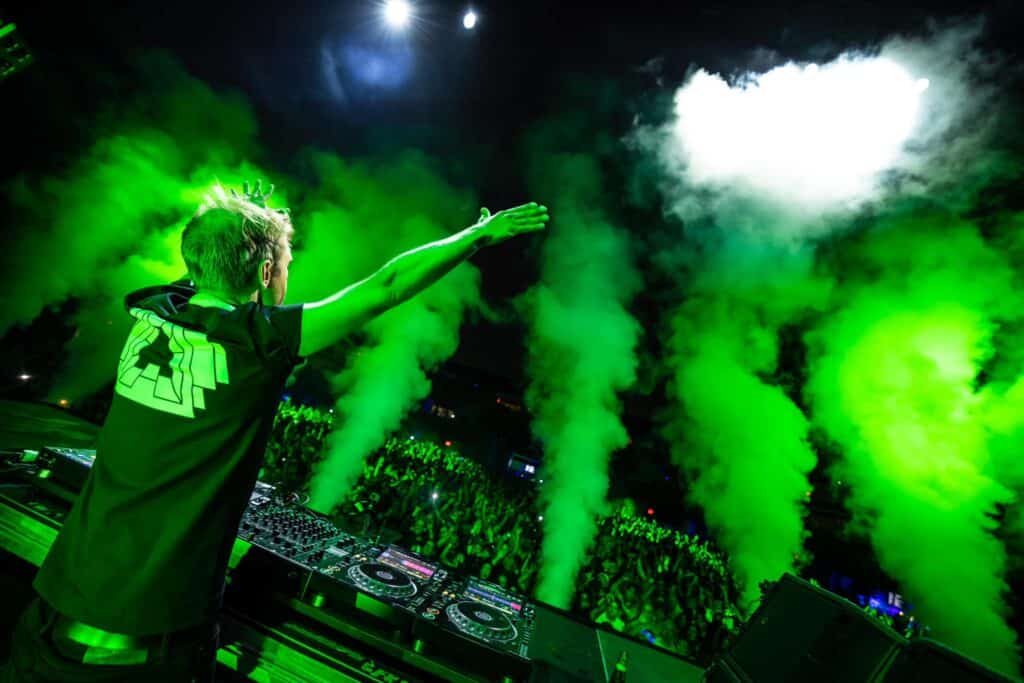 What truly stood out during Armin's performance was his ability to read the crowd and respond accordingly.
Armin van Buuren expertly gauged the room's energy, knowing when to build up the anticipation and when to unleash a wave of energy that had everyone on their feet. His signature arms-in-the-air poses were met with screams and applause, creating an electric connection between him and his fans.
The combination of masterful DJing, spellbinding music, and breathtaking visuals create a sensory feast that leaves the audience in a state of trance. Whether you're a devoted fan or a newcomer to his music, witnessing an Armin Van Buuren performance is a memorable experience that will have you looking at his tour dates and counting down the days until you can see him again.
---
Follow Armin van Buuren:
Website | Facebook | Twitter | Instagram | SoundCloud | YouTube