Giuseppe Ottaviani, Roger Shah, Ciaran McAuley, and Luccio will join Kristina Sky at United We Groove San Diego this summer!
---
Trance might not be the first genre you think of when you look at the dance music scene in San Diego, which has become renowned for its house and techno offerings. But it's always a stunning experience when artists from that realm grace the decks in America's Finest City, especially when it's during the heat of the summer. That's exactly what will happen when Kristina Sky's United We Groove boat party makes its return this year for its third edition in association with UNITE! Music Festival.
Set to take place onboard the Inspiration Hornblower, which features 28,000 square feet of event space between its interior deck and open-air sky deck, United We Groove San Diego is shaping up to be a monumental experience for trance family members on July 16. Past iterations have brought forth some of the biggest names in progressive and trance, and this year is packing just as big of a punch with a flurry of debut performances.
This includes two legends in the scene, Giuseppe Ottaviani, who is bringing his Horizons concept along for the ride, and Roger Shah, who is putting his Sunlounger alias on full display. The third artist making their San Diego debut is Ciaran McAuley, who has quickly ascended the ranks of the scene with captivating releases and performances that have left jaws firmly on the floor. Rounding out the lineup is another rising phenom, Luccio, and then the United We Groove boss herself, Kristina Sky, both of whom will help set a proper vibe as the ship makes its way around the San Diego Bay.
While United We Groove San Diego is a party you simply need to be at, don't forget that other fantastic events from Overdrive, Masterbeat, and WÜF! are taking place throughout the weekend so that everyone can celebrate LGBTQIA+ Pride in style. Head over to UNITE! Music Festival's official Facebook Page for details on other shows that will have you dancing all day and night!
Tickets for United We Groove San Diego 2023 are on sale now and will move quickly. Head over to Eventbrite to grab your passes and use code "EDMIDENTITY" for a discount on your purchase!
---
United We Groove San Diego 2023 – Lineup: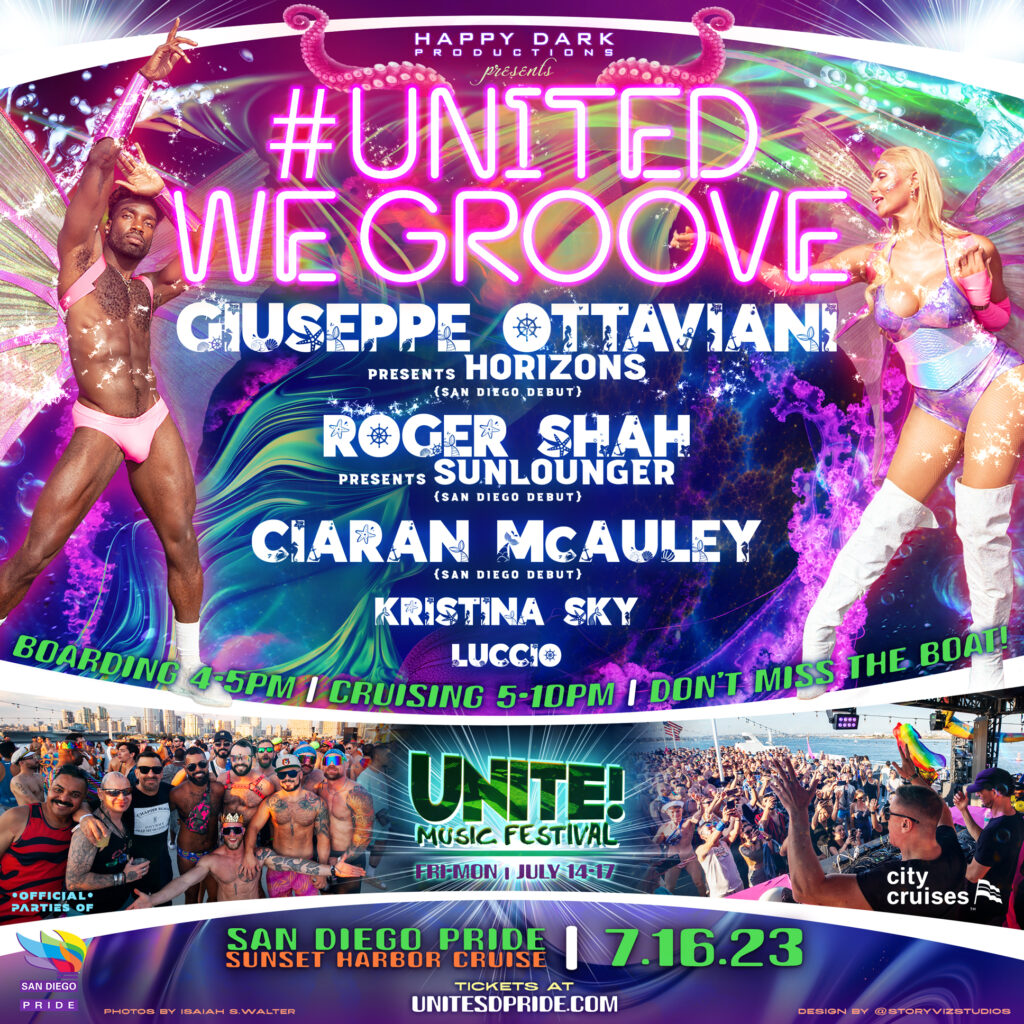 ---
Follow United We Groove: