EDEN brought his unparalleled experience to San Francisco, the penultimate North American stop on his ICYMI Tour.
---
Over the past 10 years, EDEN has solidified his status as one of the most remarkable artists in pop music. His musical style challenges the notions of what pop music is by simply being his music. EDEN's career has been especially unique, as he's sold out shows all over the world, topped charts with his records, and maintained a massive cult following without a single peep in the mainstream media. In addition, he's a pioneer for the "dystopian" pop musical style, and arguably the precursor for other artists such as Jeremy Zucker.
During his time as EDEN, he has taken listeners on a journey of self-discovery and reflection as he grows personally and sonically through every release. Now with multiple projects under his belt, he released one of his best bodies of work with his latest album, ICYMI, which tells the story of an ever-changing world filled with loss and life. While his previous albums contain an unescapable sombre to them, ICYMI highlights EDEN's struggles and how he manages to overcome them. Throughout 11 records, EDEN travels across the music spectrum with influences from many genres, and tops it off with his style that is often imitated but never replicated.
After the release of ICYMI, EDEN hit the road to embark on the ICYMI Tour. With more than 25 dates all over the world, we were lucky enough to attend his penultimate North American stop in San Francisco, at The Warfield where EDEN brought his album to life in a show nothing short of marvelous.
The energy inside the venue felt interesting as a lot of people were admittedly there for EDEN's openers, slenderbodies. Luckily, an equal amount of fans were there for the main event in EDEN. The merch situation was unfortunate as many items were sold out given that this show was toward the end of the North American leg of the tour. Regardless, this wasn't anything that took away from my experience. It made me happy for EDEN as he's an independent artist, and it shows that his fans are extremely dedicated to his craft. Luckily, I was still able to get a shirt and another fan gifted me a tour poster.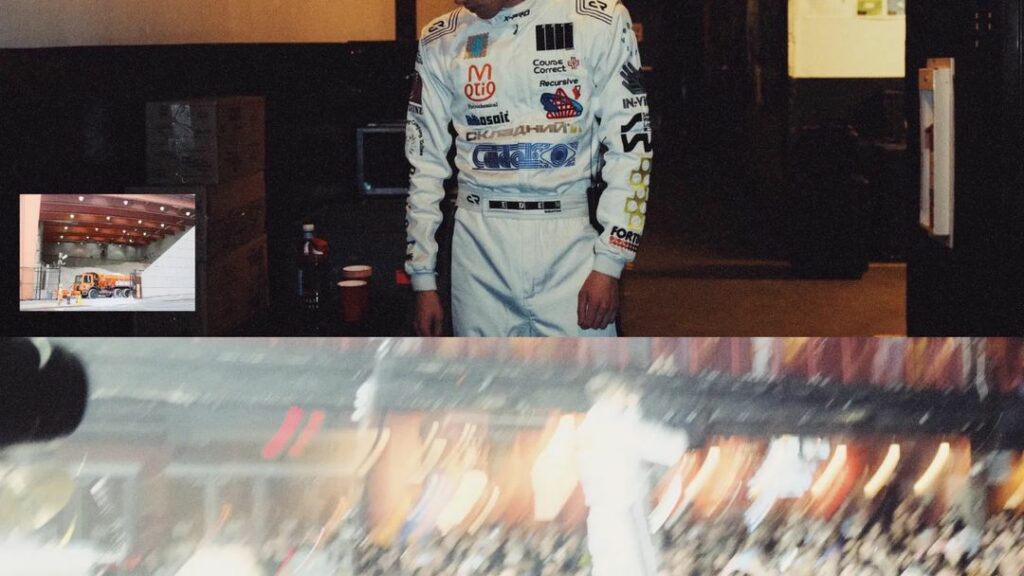 Although I didn't know slenderbodies before this show, they did a great job setting the tone and getting everyone dancing until EDEN's performance.
slenderbodies is a unique act and I did not know any of their music before the show. They played a fun set that got people in a lighter mood and ready for the experience to come later on in the night. When it was finally time for EDEN's performance, the lights went dark and I felt the loud rumble of fans screaming in excitement. An image of Totoro from the animated film, My Neighbor Totoro, appeared on the stage and the song "Joyrider" by Burnt Out played through the speakers – a ritual that EDEN has held since about 2017. His intro consisted of him talking to the crowd and asking if they were going to stare at that all night, referencing Totoro.
The show finally began when the high-pitched vocals from "Closer 2" began to come through the speakers until a shadowy figure in EDEN appeared. This was the perfect opening song as "Closer 2" is ultimately a techno song in disguise, so it got the crowd moving and dancing, and made for a great release of tension after anticipating EDEN's appearance.
His performance started with some of his more danceable tracks like "Sci-Fi," "projector," and "sex" before transitioning into songs that were meant to be appreciated by watching him perform them. One of the most beautiful moments came when he cut his microphone audio and let the crowd sing the bridge of "sex." For just a few seconds, everyone was captured in a single moment of togetherness, bonding over the love they share for such a beautiful record.
After these tunes, EDEN moved on to his ballad-type of songs like "crash," "Balling," and "Modern Warfare."
EDEN took fans back in time with "End Credits," which is a stellar classic. He followed up with "forever//over," and I admittedly was never a fan of this song when it was first released on vertigo. However, hearing it live made me completely change my mind as I found new meaning and emotional attachment to it. "forever//over" is an intense record in a live setting, and I couldn't help but shed some tears when I heard it in this context.
For the ICYMI tour, EDEN crafted a special mashup that consisted of "tides," "XO," and "drugs." This made for a highlight that served as a special dose of nostalgia mixed with the new meaning of the present. EDEN sang a few more records and ended with "Call Me Back" – a true healing experience that broke me down and built me back up in the span of a few minutes.
When EDEN said goodbye, I was torn. I couldn't believe that my favorite artist had come and gone just like that. Nonetheless, fans were still hungry for more and the roar for an encore grew until it couldn't be ignored any longer. After a few minutes passed, EDEN came back for an encore where he sang the closing record from ICYMI, "Reaching 2." EDEN then executed the ultimate fan service in playing listener favorites, "Wake Up," "rock + roll," and "Fumes," which ultimately ended the concert and sent everybody home happy.
After taking time to reflect on this show, I only have positive feelings and couldn't have asked for something better. The ICYMI Tour still held a big focus on the latest album while also carrying the spirit of the End Credits Anniversary Tour in that the shows felt intimate and nostalgic. Pairing these feelings with the incredible visual experience made for my favorite EDEN performance to date.
On a more personal note, this performance by EDEN served as a great core moment in my life to reflect on the emotional growth I've been through in the past five years. When I went in, I expected to experience negative feelings and resurfaced memories that I have attached to EDEN's music. However, I only felt happy that I was finally hearing my favorite songs in a live setting once again. By the end of the night, it felt powerful to create new, positive memories when many of the feelings I associated with EDEN's music had stemmed from a place of pain.
The North American leg of The ICYMI Tour is now over, but make sure to get tickets as EDEN finishes the tour in Europe.
---
Follow EDEN:
Website | Facebook | Twitter | Instagram | SoundCloud | YouTube