Heading to a festival with new policies that force you to use clear bags or hydration packs? Have no fear – Lunchbox has you covered!
---
Whether attending a massive festival or heading to an event, one of the most significant changes that have seemingly swept the US is new bag policies. Some venues have outright banned all forms of bags from being brought into shows, while others, especially those hosted in stadiums or operated by Live Nation, have opted only to allow "clear" bags. This has effectively forced many attendees to leave their vibrant, decked-out hydration bags at home – but that hasn't stopped Lunchbox from figuring out a new option.
If you've been involved in the scene over the past five years, there's no doubt that you've heard of Lunchbox. They began as a Kickstarter that launched to bring an anti-theft hydration bag to the festival space and have dominated the scene's landscape ever since. While the original Lunchbox remains one of the most reliable options for anyone looking to stay hydrated while they dance the day and night away, they also unveiled a smaller Snack Pack for those who want a solid, smaller bag to carry with them as well.
In response to the ongoing ban on non-clear bags, Lunchbox looked to innovate its line beyond the base model. Today, they unveiled the Clear Lunchbox Hydration Pack and the Clear Snack Pack just before festival season kicks off. The hydration pack version is perfect for those heading to a festival with a clear bag requirement, while the snack pack is a solid option for any smaller venue or stadium setting.
Both bags use Coated TPU Vinyl, Polar Fleece Protective Linings, and YKK Zippers, while the Lunchbox retains the 420D Diamond Ripstop material, and the Snack Pack uses 210D Nylon Liner. This means that they offer the same enhancements for anti-theft and comfort so that you can carry your gear at any event without worrying about getting your bag slashed.
Additionally, one of the defining aspects of the Lunchbox Hydration Pack is the customizable skins that you could rock to show off your style. Those purchasing the clear version can also use these to cover the interior of their bag once you're past security – just zip it off and zip it right back on after!
With this year's festival season picking up momentum, there's no better way to stay hydrated and keep your belongings safe than with a Lunchbox by your side. The Clear Lunchbox Hydration Pack ($109) and the Clear Snack Pack ($45) are available now via Lunchbox's official website.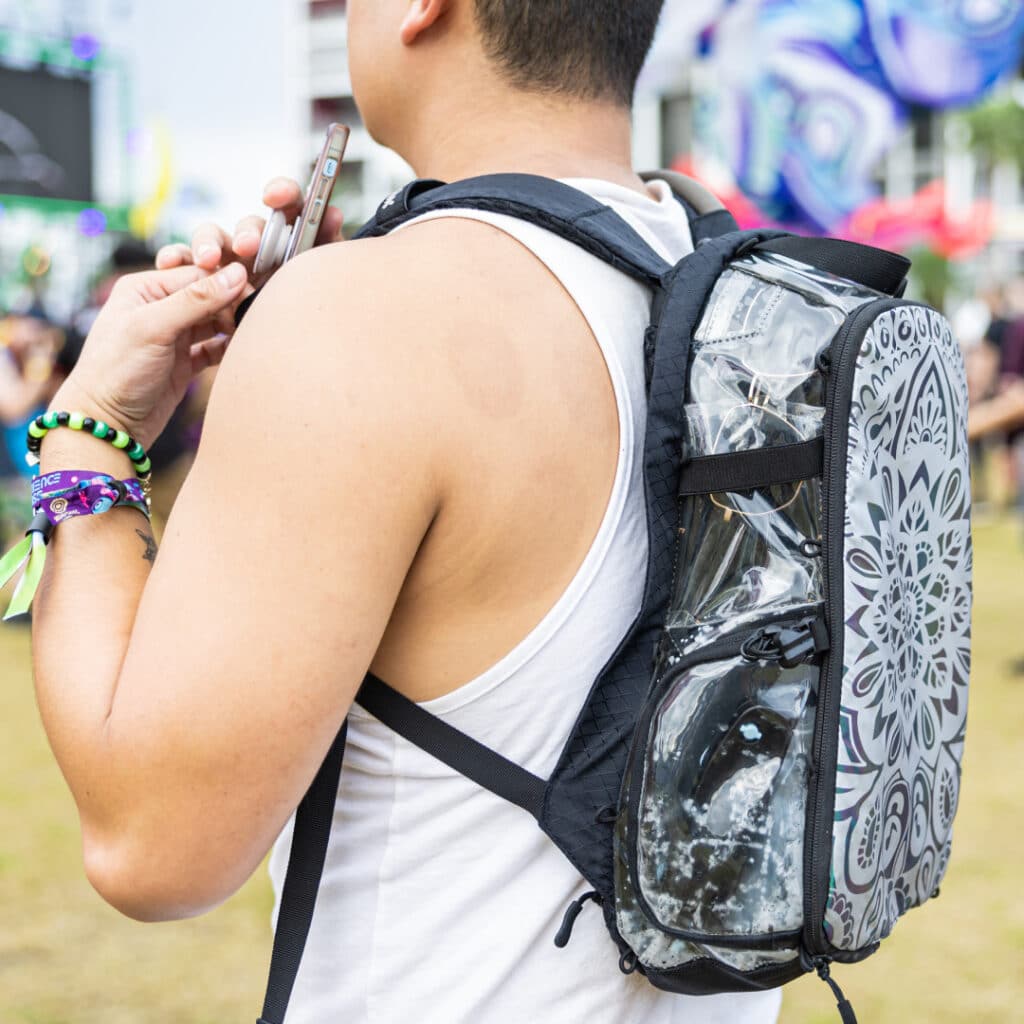 ---
Follow Lunchbox: