Summer Camp Festival returns in May with 60+ more artists announced including Ganja White Night, Green Velvet, Rusko, and more!
---
As its name suggests Summer Camp Festival is a weekend getaway full of various workshops, experiential sessions, and of course, amazing music. It returns this year from May 26-28 to Three Sisters Park in Chillicothe, Illinois, and today, over 60 more artists have been added to the lineup. Whether you're into heavier bass sets, more experimental, groovy sounds, or the infectious beats of techno, SCamp's lineup is sure to impress!
Joining the already incredible headliners – Umphrey's McGee, MOE, Willie Nelson & Family, Excision, vulfpeck, and goose – is Ganja White Night who will be serving up all the grime and wobbles. Attendees can also catch sets from the icon Green Velvet, as well as Wooli, Rusko, Boogie T, Marvel Years, and Buku. Explore musical improv with Everyone Orchestra and their rotating roster of musicians, where no two sets are the same. Mija and GG Magree's collaborative project So Tuff So Cute was also announced, alongside Kumarion, ZEKE BEATS, and Super Future.
In addition to more familiar names, phase two of the SCamp lineup features rising artists that you won't want to miss. From bands like Cody Lee's Last Detail, Chalk Dinosaurs, and Organ Fairchild, to the psychedelic Indie offerings of Little Bird, and the bass stylings of 20Twenty, and funk-laden zoska, there is so much to discover. If you are on the fence with whether or not to make it out to this year's Summer Camp Festival, and this expanded lineup isn't convincing enough, we don't know what is!
All GA, VIP and Pre-Party tickets and camping packages are on sale now. For more information and to purchase yours, visit the Summer Camp website.
---
Summer Camp 2023 – Lineup: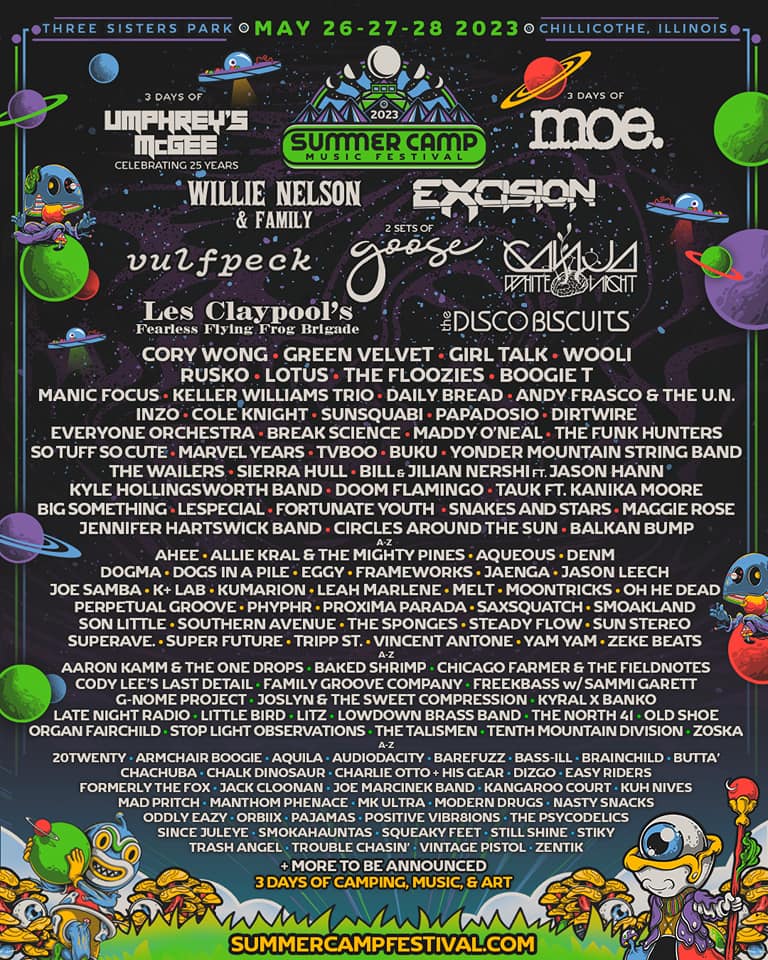 ---
Follow Summer Camp: