Initial speakers announced for the inaugural Beatport ReConnect Summit include A-Trak, Richie Hawtin, Eris Drew & Octo Octa, UNiiQU3, and more!
---
Back in 2020, Beatport created ReConnect as a way to bring the industry together during the pandemic. Now, with in-person events coming back to life, the first ReConnect Summit will take place on September 21-22 at Superior Ingredients / 74 Wythe in Brooklyn, NY. Just some of the topics set to be discussed at the inaugural event are wellness, diversity & inclusion, Web3, branding, future technology, and what's next in music. These topics will be presented by a global assortment of dance music industry luminaries as well as up-and-comers.
Today Beatport has announced the initial list of speakers, including A-Trak, deadmau5, Richie Hawtin, Coco & Breezy, Eris Drew, Giolì & Assia, Kerri Chandler, Natalia Clavier, Octo Octa, and UNiiQU3. There will also be representatives from important industry organizations ranging from Meta and Association for Electronic Music to MAC Presents and Creative Artists Agency (CAA).
ReConnect Summit tickets are $225 for a full two-day pass or $125 for a single day. Either pass includes access to daytime talks, keynotes, workshops, rooftop DJ sets, and nightly events in the club's main room. Attendees will be rewarded with a wellness series led by The Art of Areté. Examples of these sessions include "laughtercises" led by ambient music producer LARAAJI and a breathwork session hosted by Natalia Clavier of Thievery Corporation. There's a lot being offered at this summit, so be sure you don't miss out!
Head over to the Beatport ReConnect website so you can secure your spot today, and let us know if you plan to attend on Twitter.
---
Beatport ReConnect Summit 2022 – Confirmed Speakers: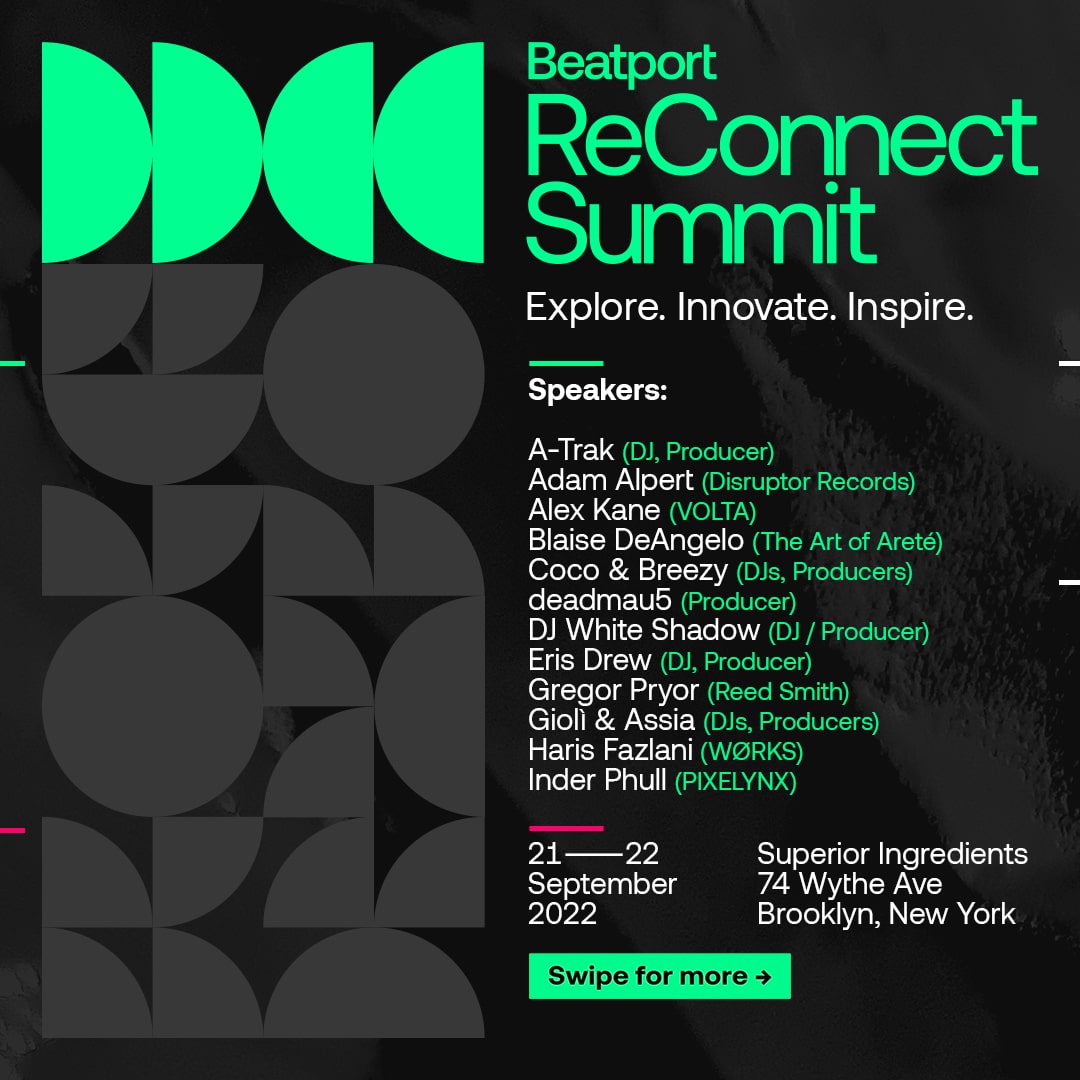 Beatport ReConnect Summit 2022 – Confirmed Speakers (more to be announced):
A-Trak (DJ, Producer)
Adam Alpert (Disruptor Records)
Alex Kane (VOLTA)
Blaise DeAngelo (The Art of Areté)
Coco & Breezy (DJs, Producers)
deadmau5 (Producer)
DJ White Shadow (DJ, Producer)
Eris Drew (DJ, Producer)
Gregor Pryor (Reed Smith)
Gioli & Assia (DJs, Producers)
Haris Fazlani (WØRKS)
Inder Phull (PIXELYNX)
Jess Mitchell (Monstercat)
Joe Perez (WØRKS)
Katie Bain (Billboard)
Kerri Chandler (DJ, Producer)
LARAAJI (Visionary Musician)
Liz Miller (Meta)
Marcie Allen (MAC Presents)
Maria May (CAA)
Matthew Friedman (Beatport)
Mitchell Bayer-Goldman (VOLTA)
Mitchell Gomez (DanceSafe)
Mohawk Greene (DanceSafe)
Natalia Clavier (Musician, Producer, Sound Healing Facilitator)
Octo Octa (DJ, Producer)
Raihan Anwar (Friends With Benefits)
Randy Reed (Red Light Management)
Richie Hawtin (DJ, Producer)
Robb McDaniels (Beatport)
Romain Pouillon (Beatport)
Roneil Rumburg (Audius)
Ronnie Yoked (Anheuser-Busch)
Sam Valenti IV (Ghostly)
Steve Satterthwaite (Red Light Management)
Tiffany Almy (PKA LAW)
Tanner Wilfong (Armada Music)
UNIIQU3 (DJ, Producer)
Verity Mayes (Beatport)
Vivian Rosenthal (Frequency Co-Founder)
---
Follow Beatport on Social Media: