After celebrating its 10-year anniversary this past spring, BUKU Music + Art Project announced that the festival won't take place in 2023.
---
BUKU Music + Art Project has been a staple of the festival scene during its decade-long run. Over the years, this unique experience in New Orleans has boasted lineups featuring top-tier performers and rising stars alike while firmly putting a focus on the culture and art as well. Beyond the music, art, and experiences that BUKU offered, another aspect that blossomed was the BUKREWE, a community that blossomed as the festival grew with each passing edition.
This year saw BUKU Music + Art Project celebrate its tenth year with yet another fantastic experience, but a sense of sadness has struck the community today as the festival's organizers have announced that it will not take place in 2023. In a statement that was posted to their social media channels, they honored the festival's legacy and the devoted members of the BUKREWE but said it was time for a change and that the current model of BUKU needs to take a break.
As the team behind BUKU mentioned in their statement, this is not a "goodbye" but a "see y'all down the road," leaving the future open for a refreshed model or new vision from this community-driven crew.
Did you get to experience an edition of BUKU in the past? Share your favorite memories made at the festival by leaving a comment on their Instagram or Twitter account.
---
Read the statement from BUKU Music + Art Project: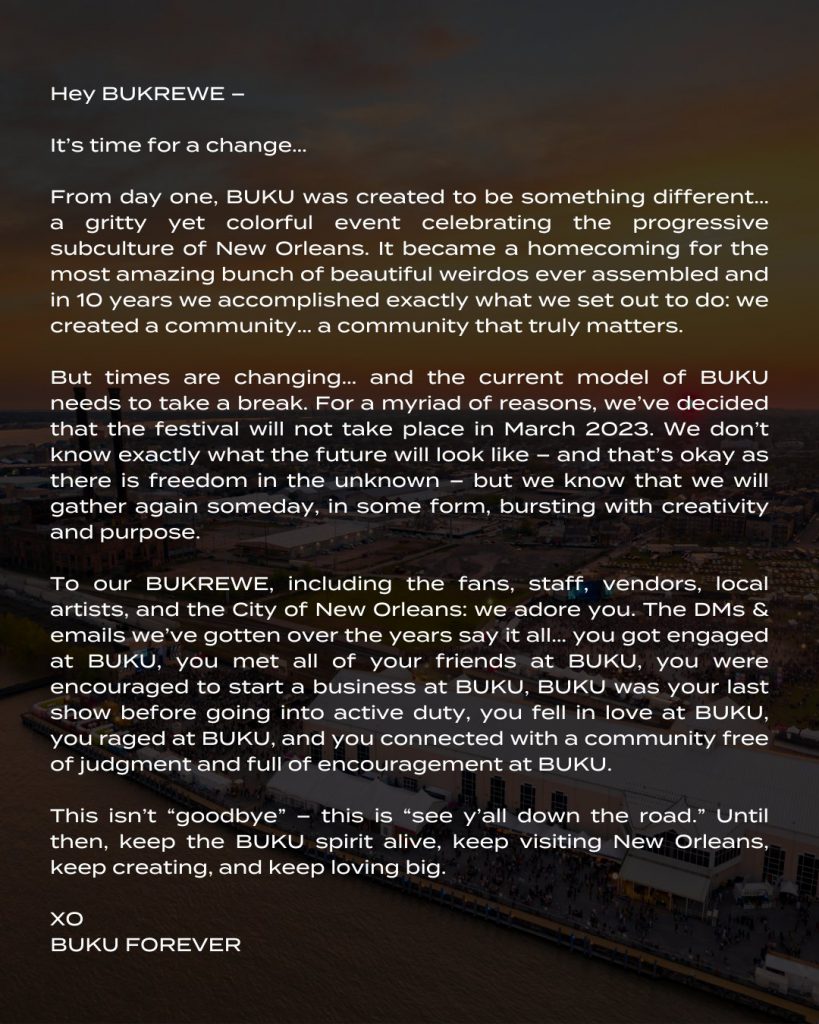 ---
Follow Buku Music + Art Project on Social Media: