If you're someone who loves immersive soundscapes that are full of dynamic elements, BLVDE RUNNER is an artist who needs to be on your radar.
---
While he might reside in the sun-soaked and palm tree-laden City of Angels, BLVDE RUNNER feels more at home in a world that is far less vibrant and far more monochrome. This all makes sense when you look at the cyberpunk dystopian influences that align with his alias and permeate the music he creates – but unlike the color palette he loves, the tunes that have surfaced thus far are anything but bland.
In 2020, BLVDE RUNNER teamed up with Juls to drop the aptly titled "Quarantine" for the masses to consume. He followed that up last year by working with Tantric on "Frozen," which is layered with glitchy elements, pounding drums, and haunting vocals. This year has only seen BLVDE RUNNER continue to impress by releasing a collaborative track with CORTR and MICA, "DUST," which dives into the deeper side of the bass realm. And more recent singles like "PENUMBRA" with Hazy Lake offer up a touch of trap, while "Fly" acts as a vibe-inducing ride that will take you to a different plane of existence.
The dynamic nature of BLVDE RUNNER's sound has clearly caught the ear of tastemakers in the scene as well. Not only did he take the stage during Brownies & Lemonade's Spring Break in Mexico earlier this year, but he's set to perform at Catch One in Los Angeles in just a few short days.
Looking to get some insight into the mind of BLVDE RUNNER, we caught up with him before his show in Los Angeles on May 7 to pick his brain. He dives into everything from his earliest days in the scene to the production techniques he uses when crafting up tunes, and plenty more. Listen to his exclusive guest mix on SoundCloud that's filled with loads of edits and IDs – and read on for the full conversation!
Stream EDMID Guest Mix 322 || BLVDE RUNNER on SoundCloud:
---
Hi BLVDE RUNNER, thanks so much for taking the time to chat with us. Let's jump right in and dive into your roots as an artist a bit. Where did your passion for electronic music stem from? What led to you becoming a producer?
Hey guys, thanks for having me. I've loved and listened to electronic music since I was a little kid – my dad used to be a DJ when he was younger and would sit me down on his lap and we'd listen to trance music together for hours. He also took me to my first electronic music concert: in 2011, we saw Deadmau5, Feed Me, and Avicii at Petco Park in San Diego. Having someone in the family who understands and has a love for dance music has been amazing and it's been incredible growing up around a set of ears I trust for feedback. 
I've always been a musician: I started playing piano when I was 3, but after about five years of classical training, my teacher got tired of me embellishing pieces I was supposed to be learning exactly. She referred me to a Grammy-winning jazz musician, and I was taught how to improvise. I got Ableton as a birthday gift when I was 11, and the rest has been history. 
From your name and music to your art and branding as a whole it's pretty clear you've been influenced by elements from cyberpunk dystopian films and such. Can you share some of your favorite aspects of that space?
The Blade Runner films are my favorite movies of all time. I've always been enamored with the concept of neon-noire, its oversaturated, hyper-consumerist aesthetic, techno-futurism, and dystopian overtones almost give it a "digital wasteland" vibe. One of the things that fascinates me most in cyberpunk science fiction is the concept of artificial intelligence and the "technological singularity," where AI becomes sentient and indistinguishable from humanity. Being a bit of a techno-futurist myself, I don't think that day is very far off in our future.
I think more than any other genre in film and media, Blade Runner and the movies like it (Ex Machina, Her, and Morgan, for example) force a sense of existentialism more than any other genre, as it makes us ask ourselves what it means to be human. My next major project embodies these kinds of questions.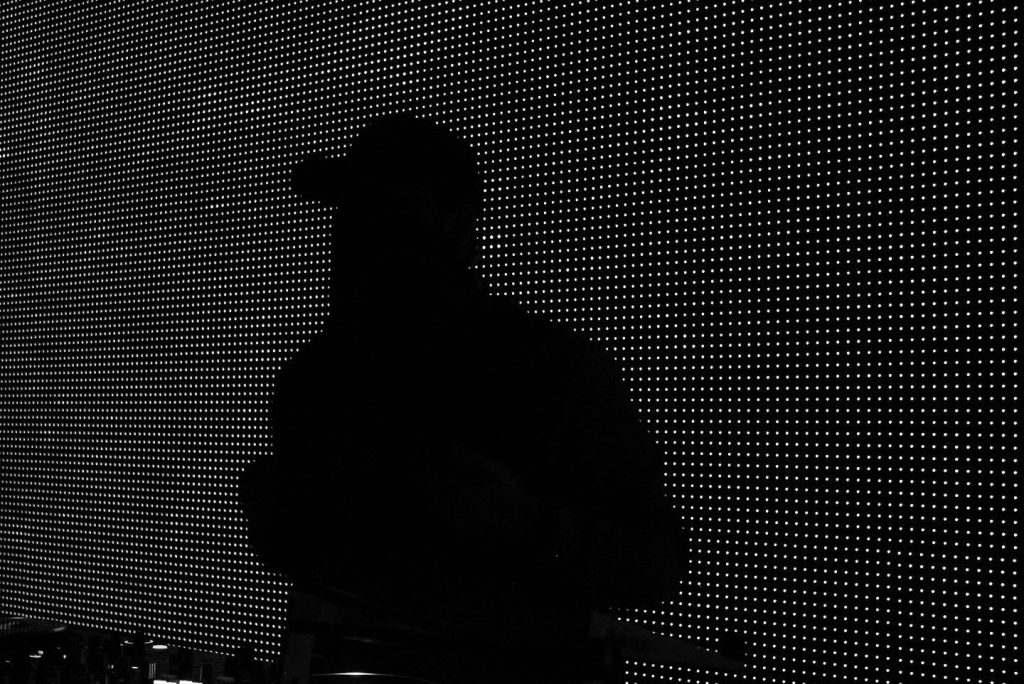 While some artists have found a love for vibrant colors, you're firmly centered on a monochrome experience. What is it about the black, white, and gray tones that define your art direction?
Black, gray, and white. Umbra, penumbra, and antumbra – the threshold points of an object cast in shadow. A big part of my project's branding has been virtual anonymity, mainly because I'm captivated by the mystery and mutable aesthetics of shadows and silhouettes. Having been involved in the back-end of music production for almost a decade, I was almost never listed as a collaborator on songs I worked on, and I began to think about how leaning into the aesthetic in my solo project might help me reclaim some of the "shadows" I created music in for so long. 
I believe that visuals can be just as, if not more engaging with a monochrome color palette, though there have been a few times I can remember where I've departed from it. I'll only throw color in if I'm really trying to leave an impression with something. When you take color away from a listening experience that is vibrant on its own, you allow a listener to focus their energy elsewhere and build their own vibrant world outside of color. Also, if you add it back in tactically and sparingly, it heightens the experience to a level you couldn't reach if everything was in color – think of those videos where people put colorblind glasses on for the first time, and in every one, the person gets so overwhelmed by a completely new world. You can create new worlds by adding things or taking them away.
As a rising artist who is building a new world with their soundscapes, do you feel you've faced hurdles that others might not have experienced? If not, what has been the biggest struggle you've faced so far as a whole?
When I was a kid, I remember being so excited to be working with artists whose music I listened to on a daily basis. However, at that time, there weren't very many 12, 13, or 14-year-olds as deep in the EDM world as I was. A lot of the contracts I signed were really predatory in hindsight because I was a minor, and a lot of the time, I didn't choose to work in the shadows, the terms of my contracts forced me into them. That actually was the catalyst for me going to law school–when I'm finished, I hope to advocate for and empower creatives to ensure that the art that they and I both love remains a sustainable career, and offer pro-bono contract proofreading services to young musicians.
Your recent tune "FLY" is an absolute stunner that sweeps listeners off their feet and whisks them away to a different realm. Can you shine a light on the creation of this tune? Where did you draw influence on the samples used?
I'm glad you like it! The tune is pretty out there for me, actually, and I probably won't be releasing anything like it in the foreseeable future. My friend, who owns the label the tune released on, hit a bunch of artists up to work on new projects with a common theme. Specifically, within that theme, I focused on the feeling of weightlessness and wonderment a kid would feel as they learn to ride on a swing set for the first time or jump off of something that seems tall and scary. 
I've been told that my creative process is strange, and this tune is the perfect embodiment of that. It came together in about three hours and was all done subtractively instead of additively. I started with a whole bunch of chaos, and chipped away at it and removed things until grooves and melodies made sense, less like a painter and canvas and more like a sculptor and a block of marble.
About halfway through writing the song, I realized that while I intended for it to have a pretty literal meaning, it also had a metaphorical and symbolic one, and could just as easily be read as not being afraid to take a leap because amazing things often happen when we push ourselves past our comfort zone. That's why the tone of vocals in the break shift pretty hard from the vocals in the introduction: it's hard to explain the feelings of weightlessness that exist once we go beyond our fears. 
Another gem that arrived this year is "DUST," which saw you work with MICA and CORTR. What's the story behind this collaboration? Do you approach these differently than when making solo tunes?
This collab was probably two years in the making or more! I originally reached out to CORTR first because one of his older tunes, "If I Died," was one of my favorite songs. I remember the very first version of the tune that I sent to CORTR – the working title was "Machina," aptly named, as I used a bunch of synthetic choir and industrial percussion. Leon told me he liked it a bunch and got to work. A few weeks later, he asked if he could bring a third person on the collaboration, which ended up being MICA. I've since become an unapologetic superfan of MICA's, and he is a musical genius. What I sent them initially looks little to nothing like the final product, but I think that's the hallmark of a good collaboration, right? You can hear everyone's influence, and they elevated the record to a height I couldn't have reached on my own. 
I am far more of a perfectionist on solo tunes, and that often translates to them taking much longer than collaborations. On the other hand, I have always loved collaboration, and I feel like it brings the best out of me. You can expect to see a bunch more solo work and collaborations from my project coming soon. I tend to approach solo work as a tinkerer, playing with subtraction like in "FLY," and really heavy post-processing of audio that's been resampled sometimes over a dozen times. 
With collaborations, I'll approach them in a couple of different ways depending on the situation. If the tune's made in person, it's pretty organic, and I love just noodling around until something catches our ears. This is pretty much the way every studio session goes for one of my upcoming collaborative projects with San Diego-based dubstep/hardstyle artist ZERØTONIN and DRFTR, a UK garage and bassline artist who lives pretty close by me in LA. We'll just sit down and be like "wanna make drum and bass today?" or "this sounds cool, what if we mixed together bass house and hardstyle?"
On the other hand, with collabs like "DUST" where the other artists are on the other side of the world in New Zealand, we'd just send the project back and forth, and send each other updated exports of the project for the rest of us to give feedback on. 
On the performance front, you just took the stage at Brownies & Lemonade's Spring Break and have a show at Catch One on the horizon. For those who haven't caught you yet, what can they expect from your sets?
Up until recently, touring and live shows weren't really on my radar. I feel incredibly grateful that I'm now at a place where people are coming to see me play my music live. I ended up posting a snippet of a Taylor Swift remix I made as a joke to my Instagram story, and out of nowhere, it got swiped up on, and I was asked to support Juelz and Jawns's duo project, "Enter the World" on their first club tour.
Shortly after that, I got hit up to play Brownies & Lemonade in Mexico which was an absolute blast – who in their right mind would say no to a week in Mexico? I reconnected with some old friends who were also playing that show and connected with a bunch of new friends, too, and you might even see a couple of songs in the future from us.
A lot of my recent releases have been back-catalog from a few years ago – I have over 300 unreleased songs right now, so most of what I'm really proud of that you might hear at a show of mine sounds very little like what's currently released. My shows are almost all unreleased trap and bass music from myself, my friends, and people I've looked up to for years.
I've found my sound in a darker, harder enclave of high-energy trap music, along the lines of RL Grime and ISOxo with his recent Nightrealm EP – funny enough, we played right after one another at a few shows in San Diego when we were younger, so I'm immensely proud of him and it's funny that our paths have crossed again in the music we're both making nowadays. I'm looking forward to the Catch One show in a couple of weeks, and on the horizon, look out for some bookings at some of LA's largest clubs and beyond. 
Finally, what goals do you hope to achieve with the BLVDE RUNNER project in the rest of 2022 and beyond?
First and foremost, I'm genuinely blown away by the support for my project and its growth for it being pretty much a part-time hobby during law school. I've checked off a lot of goals I've had for years in the past few months, and I won't be slowing down anytime soon. I want to get as much music out as possible and really emphasize my current sound.
I'll be continuing to polish tracks that I'm super excited about so that they can be released as soon as possible, while also continuing to collaborate with both old and new friends in the bass music world and beyond. There may or may not be a few more shows on the horizon I can't announce yet, so keep your eyes peeled for those as well.
I'll also be working on the score for a short film or two and doing some work on some video games, which will be a lot of fun as I've been looking forward to re-entering that space after a few years of being away. If the past six months are any indication of the next six months, I have no idea where the rest of 2022 will take me, but I'll be sure to enjoy every minute of it. 
Thanks for stopping by!
Thank you so much!
---
Follow BLVDE RUNNER on Social Media: