Gorgon City turned up the heat at Red Rocks with LP Giobbi, Totally Enormous Extinct Dinosaurs, and Damian Lazarus.
---
Gorgon City has established themselves in the contemporary electronic dance music scene since first breaking through in 2013. With the success of their most recent album Olympia, it's no wonder why they came to headline one of the world's most beloved venues, Red Rocks Amphitheatre. Nestled in the mountains of Morrison, Colorado, this venue has seen a plethora of legendary performers since first opening in 1941 – and Gorgon City was the latest to take the stage.
Pulling into the Red Rocks Amphitheatre, I was filled to the brim with excitement to see some incredible music. The arrival into the venue was quick and easy with staff who were helpful in directing traffic and handling the parking lot. As someone who has never been to Red Rocks, it was exciting seeing people hanging out near their car already beginning the night with their own music and dancing right from the parking lot. Hearing from some Colorado locals, the parking lot get-togethers are the best way to connect with friends before the venue opens.
Walking into the venue itself, I could see why it was such a sought-after place to attend. The sandstone towers on both sides of the amphitheatre created an incredible rim around the venue. Looking forward toward the stage, I was left speechless by the exquisite view of the vast mountain ranges and cities that could be seen in the distance.
Once we were inside, it was time to grab some snacks and drinks. It was so hard to choose with all the immense food and beverage options available. I ended up settling with a chipotle hot dog and a TopoChico hard seltzer, which seemed to be very popular in the crowd. We also went to check out the merchandise, but I was a little disappointed to find out that the staff had only been given 100 2XL t-shirts to sell. I was hoping to get something warmer because of the cold, but the t-shirt was a limited edition Red Rocks logo fused with Greek columns themed for Gorgon City's Olympia album. So naturally, I had to get it!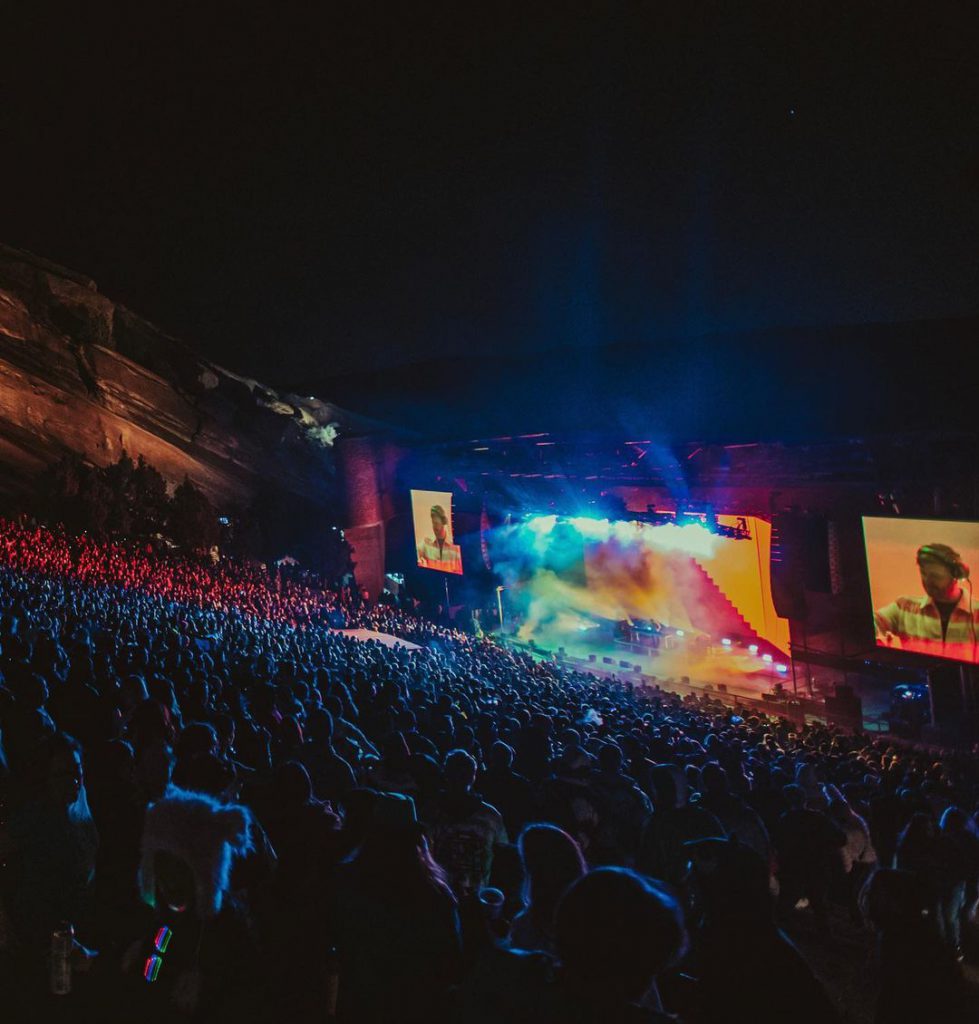 LP Giobbi started off the night as people filed into the amphitheatre.
Though the temperature was in the windy lows, the crowd kept dancing and grooving to LP Giobbi's house music beats. Her recent remix of Ben Kim's "Somebody to Love" had the crowd (me included) singing at the top of our lungs. Her happiness was toxic and it made for a great beginning of the night.
As her set winded down, Totally Enormous Extinct Dinosaurs took the stage and brought the heat. His set included songs like "Raggamuffin (Potential Badboy Remix)" by SHY FX and Damian Lazarus's Re-Shape Remix of TEED's own song "A Dream I Have." As someone who had never seen him perform prior, he is definitely someone I will go see again.
For the final opener, Damian Lazarus graced the stage putting us all in a tech-house trance, starting off with a great mix of "QUE NO SALGA LA LUNA (Cap.2: Boda)" by ROSALÍA. As a surprise guest, he brought out Leia Contois who sang "Start Over," her song with Damian Lazarus and Gorgon City.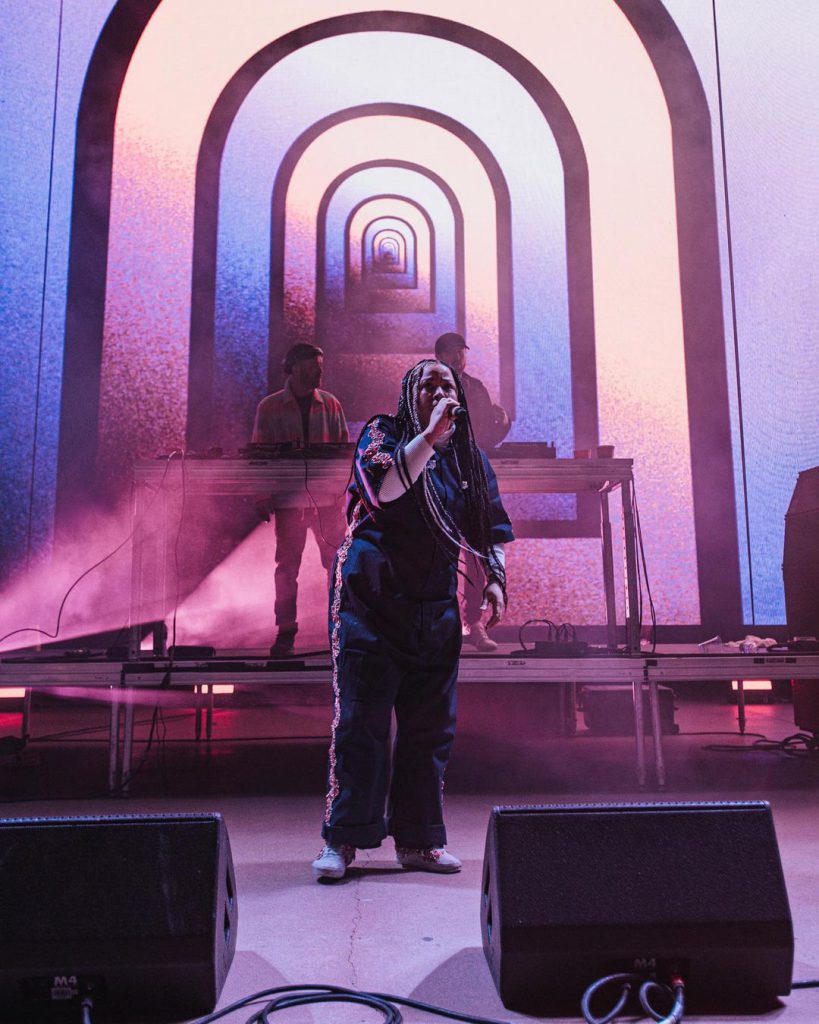 As the lights came on, the quiet of the crowd turned to a roar as people yelled out their excitement for the anticipated duo to take the stage.
The stage was set up for the two of them to perform perfectly in the center with their Greek-themed visuals (per their new album, Olympia) playing behind them. Gorgon City started off with "Alive," laying the foundation for a great set to follow. This incredible lineup included many songs off their newest album such as "Tell Me It's True" and "House Arrest."
For their song "Nobody," DRAMA surprised us with an appearance and belted the tune with some amazing vocals. With the inclusion of "All Four Walls" and their remix of Damian Lazarus's "Sacred Dance Of The Demon," this setlist was the perfect mix for Gorgon City fans far and wide.
During their set, I caught up with Roy Xue, a Gorgon City fan who had just moved to Denver and was attending his first Red Rocks performance. He offered up his thoughts on the show, saying "The venue is like nothing I've ever seen before. I've seen Gorgon City before and they are always amazing, but seeing them like this here at Red Rocks is just such a cool experience. They always throw the coolest shows." 
With such an incredible backdrop, it's no wonder Gorgon City created such an overwhelming experience for the audience. Having this duo be my first Red Rocks show made it was a very special moment for me and I'm sure for others as well. After seeing how far they've come since their 2013 debut, I'm excited to hear what more they have in store for us. If you've never been to a show at Red Rocks Amphitheatre or seen Gorgon City perform live, I highly recommend putting both on your to-do list.
---
Follow Gorgon City on Social Media:
Website | Facebook | Twitter | Instagram | SoundCloud | YouTube