Heineken House adds to the already massive Coachella lineup with Flying Lotus + Thundercat, Shlohmo, Jacques Greene, and more.
---
Year after year, Coachella packs an extensive list of performers throughout their two weekends in the desert. While their main lineup attracts a huge number of people, it's always their lineups for the Do LaB and Heineken House that always stun festival-goers with their individuality and uniqueness. Previous lineups have showcased genres from dubstep to house and even hip-hop along with ice-cold beers to help quench your thirst while in the desert.
This year's Heineken House lineup boasts artists that are predominantly hip hop and trap, this provides a stark contrast to the DoLab lineup that was released earlier this week. The first weekend will see artists like VEGYN take the stage on Friday, while Flying Lotus + Thundercat, Orion Sun, and more are set to play on Saturday and Sunday is set to bring Ms Nina, Mia Carucci, Brava, and more.
The second weekend kicks off in style on Friday with Jacques Greene, a producer who has previously released on Hudson Mohawke's LuckyMe Records, along with performances from Shlohmo on Saturday and Major League DJz and DBN GOGO on Sunday.
Additionally, artists taking the stage during both weekends this year include Acemo, Black Noi$e, American Dance Ghosts, Seeso, Junie., OG Ron C & The Chopstars, TRYi, and Harlie. Check out the full lineup below and let us know your thoughts about the Heineken House at Coachella in the comments!
---
Coachella 2022 Heineken House Lineup: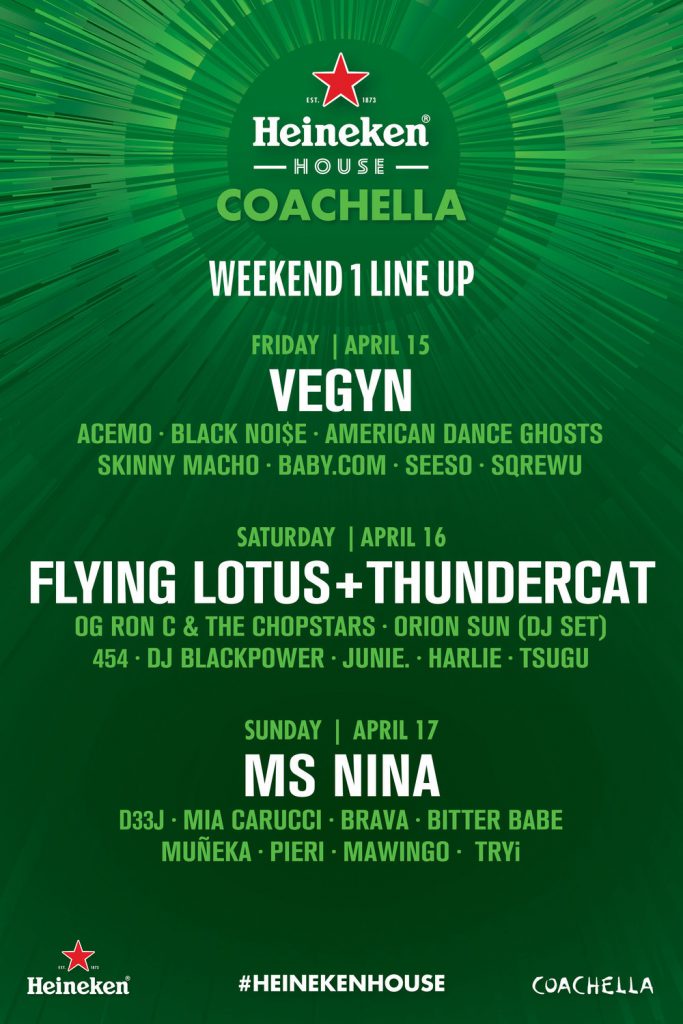 ---
Lineup By Artist:
454*
Acemo
Alko**
American Dance Ghosts*
Bae Bae**
Bitter Babe*
Black Noise
DBN Gogo**
DJ Black Power**
Deej*
Flying Lotus*
Jacques Greene**
Major League DJz**
Mawingo**
Mia Carruci*
Ms Nina*
OG Ron C
Orion Sun
Pieri**
Shlohmo**
Silent Addy*
Skinny Macho*
TRYi**
Thundercat*
Vegyn*
*Denotes Week One Only
** Denotes Week Two Only
---
Connect with Coachella on Social Media: