Brownies & Lemonade's Triple Double Cross brought the glorious sounds of wave, trap, and drum and bass to Los Angeles for one wicked night.
---
Brownies & Lemonade are professional party throwers who continue to push the community forward. Besides their rad parties and showcases, they're known for championing the underdog, rising talent in the scene. Even though they have excellent relationships with established artists like Skrillex and RL Grime, they continue to prioritize smaller acts. They don't recycle or repeatedly book the same big names. Instead, they seek artists with a fresh perspective, ready to disrupt the scene.
When Brownies & Lemonade announced Triple Double Cross, it instantly piqued my interest. For one night, attendees would immerse themselves in the delicious sounds of wave, trap, and drum and bass at Catch One. The lineup alone left me speechless because it featured names like Jon Casey, Deadcrow, and Remnant.exe – names you don't typically see on festival bills. As a result, an overwhelming wave of excitement hit me like a ton of bricks, and let me tell you, it's been ages since that's happened.
A lot has changed since I entered the scene in 2010, both good and bad. Not to sound dramatic, but no one prepares you for the growing pains. I questioned my love for dance music and the scene for a while. Nothing could excite me anymore because everything felt repetitive and oversaturated. I was over following the trendy stuff, my taste was evolving, and I was craving something new. I didn't know what, though. After sulking in my pity for over a year, I challenged myself to switch it up and seek new genres, artists, and events in 2022.
I wasn't expecting Triple Double Cross to impact me the way it did.
Catch One is in the heart of Los Angeles. It's a small, intimate venue with multiple rooms, nothing flashy, and that's what I love about it. I'm more reserved in new spaces and prefer to keep to myself. So as much as I wanted to jump right into catching some sets, I realized I needed to get comfortable in this unfamiliar space. Otherwise, I wouldn't have fun. At first, the venue can feel like a daunting maze, but once you explore the area, you learn how to get around efficiently. The outdoor patio was full of life with conversations, laughter, hugs, and smiles, and you could feel nothing but good energy.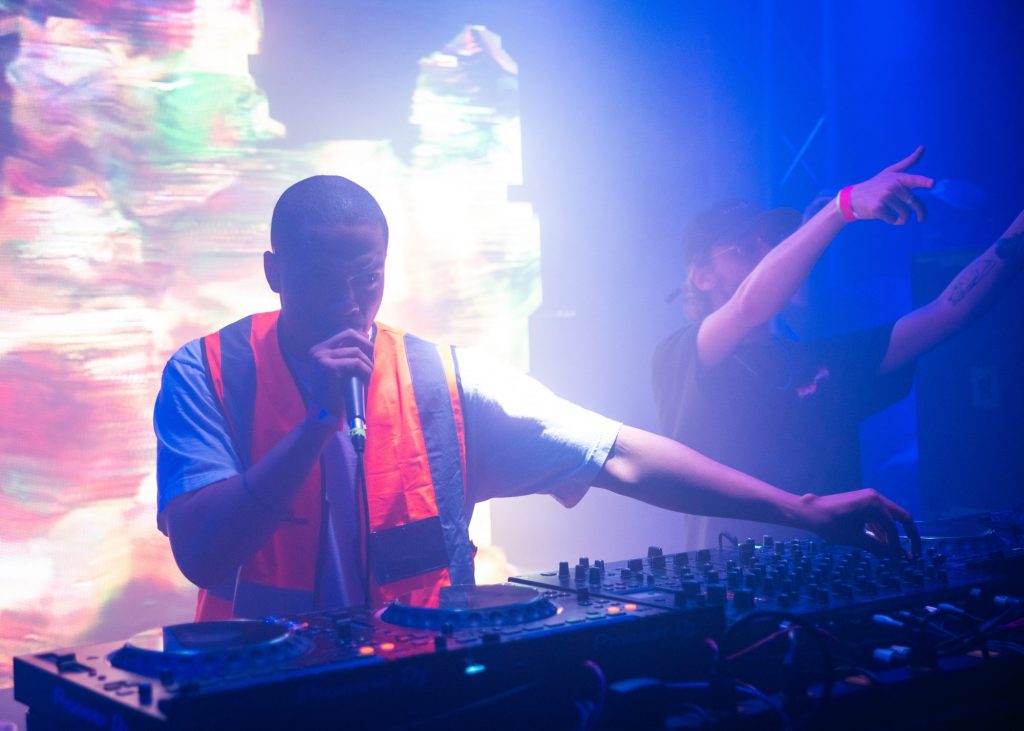 I kicked the night off with a b2b set featuring Jon Casey and LYNY.
Jon Casey is the lovely South African native featured on RL Grime's Sable Valley Summer compilations, with his two bangers "All Push, No Pull" and "FUEL" with CAB. LYNY is a Chicago-based producer known for mixing hip hop and electronic influences, and he's only 20 years old. Together, these two were on fire during their set. Jon Casey brought the energy in his highlighter orange vest, and LYNY was focused behind the deck. You could tell they were having the time of their life and feeding off the crowd, and the feeling was mutual.
FrostTop and RemK left my jaw on the floor with no crumbs left behind when they took the stage.
FrostTop and RemK destroyed Triple Double Cross with their polished set. I wish I could explain the energy in that room. It was incredible. I haven't felt that kind of energy since 2015, the good ole Flosstradamus era – and just when I thought it couldn't get any better, it did. They brought out a special guest, Boombox Cartel, and the building went wild. Bananas. The bass was hitting so hard that you could feel the walls vibrant. And for a moment, I looked around the room with big eyes and the biggest smile because I felt at home with my people.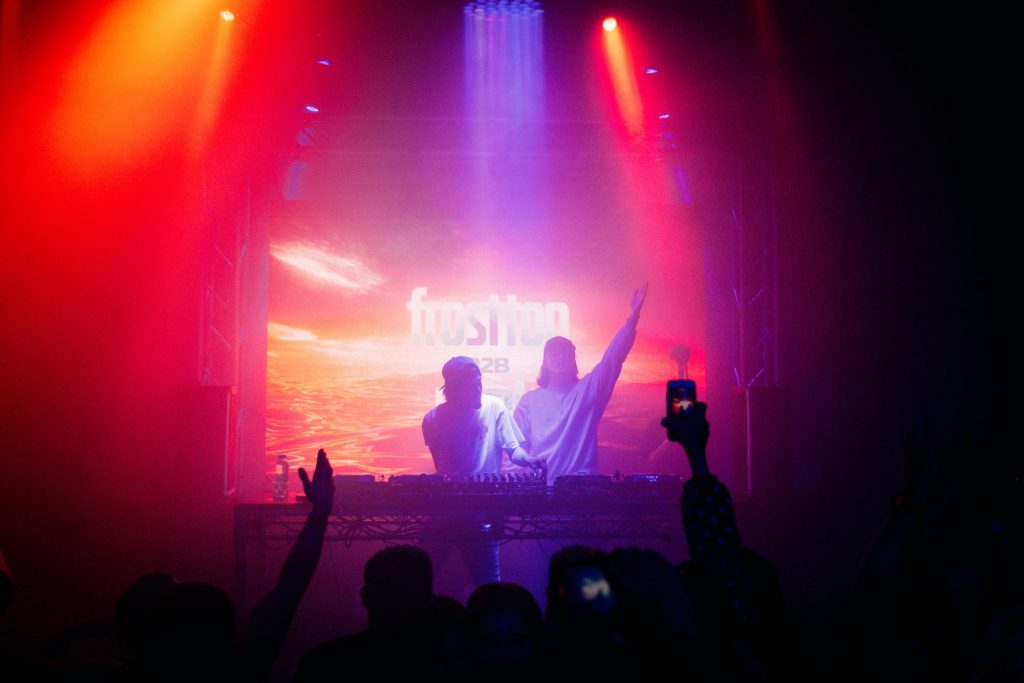 The rest of the evening only got better with barnacle boi b2b Brothel and Deadcrow.
Wave is a genre that deserves more recognition. Barnacle boi and Brothel going b2b was an unexpected treat. Even though their set was a shift from the high-energy trap tunes of FrostTop and RemK, their dark melodies and harmonies took over me. All I did was vibe to the music, allowing it to flow and take me on an adventure. And that's what I missed—being able to zone out and get lost in the music. There wasn't a need for fireworks, dancers, or moving stage props—just the music. Since the show, I've been listening to barnacle boi during my workdays. His stuff is immaculate and helps me focus. I encourage you to check him out, especially tunes like "Wanderlust" and "Don't Dwell."
Another artist that everyone should watch out for is Deadcrow. This guy is lethal and dangerous, and his set was my favorite. He's climbing up the ranks fast, and he deserves all the recognition he's getting. He dropped all my favorite records, including "Into Space," "Fallout," and "Scythe." When I tell you I was locked into his set, I was locked in. He knew how to keep the crowd engaged, wanting more. His range and set organization blew me away, and I can't wait to see him again. This Dutch native doesn't travel to the States much, so his set meant a lot to me. There was a point when I had to pull myself away to catch Hekler, so well-done Deadcrow. You're truly something special!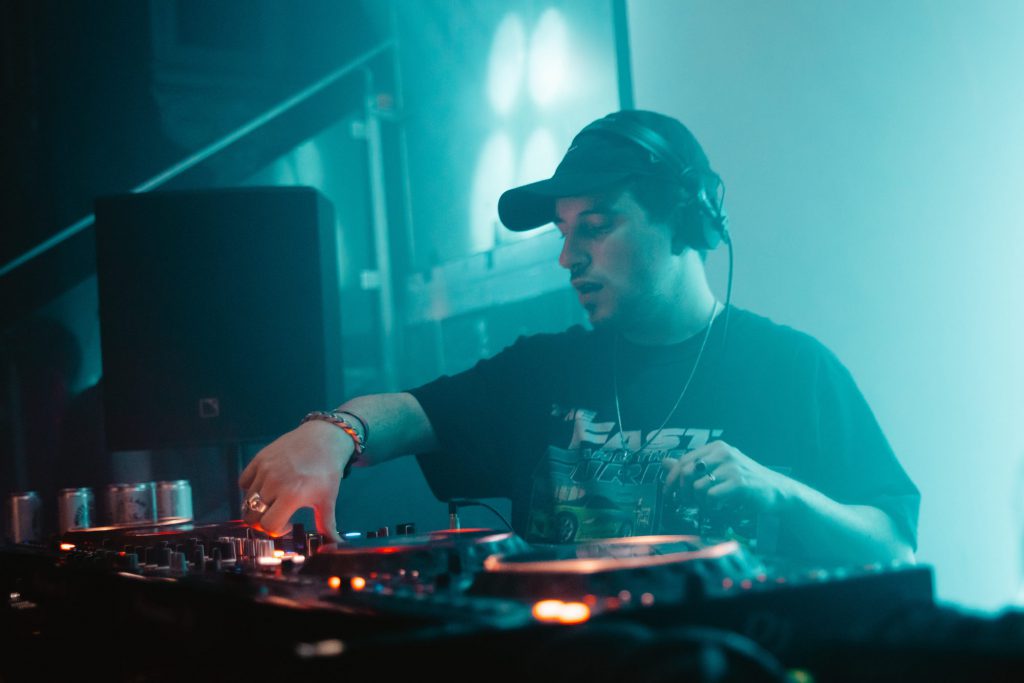 The night ended with Hekler, Gravedgr, and Lit Lords all taking the stage together.
Hekler is a force to be reckoned with when he's behind the decks. His energy is unmatched and it's always a pleasure to see him play. Recently, he's been experimenting and evolving his sound, so I was curious to hear it in real life. But things took a turn for madness when Gravedgr and Lit Lords entered the chat. This unstoppable trio killed it together, and I expected nothing less. As the closing headliner, they ensured the night ended on a stellar note.
My heart stopped when the music did because I didn't want it to be over. I didn't want to leave. Nothing compares to that sadness because you realize how much fun you actually had. I couldn't stop thinking about the evening and what I had just experienced days later. For me, it was magical and reignited the flame that was slowly going out. I felt this resurgence and excitement, and that made me so happy.
We need more collectives like Brownies & Lemonade in the scene.
Words can't express how grateful I am for checking out Triple Double Cross and seeing all the talent coming up. The future is very promising, and I hope folks are ready for another shift because it's going to happen. And if you're feeling like me when it comes to the scene, don't give up on it yet. There's so much magic in this community, and I'm thankful that I found it again.
---
Follow Brownies & Lemonade on Social Media:
Website | Facebook | Twitter | Instagram | SoundCloud | YouTube | Twitch