After the release of his speed house tune "Hispanic At The Disco," matphilly swung by to chat about his journey so far and plenty more.
---
Many artists who have roots in other genres have found a home in the electronic music scene and matphilly is one of them. This Los Angeles-based DJ and producer began his journey as a rock artist, playing in hardcore, pop-punk, and emo bands before eventually finding a passion for dance music. A series of events, both fortunate and unfortunate, led to his exploration of electronic music – and for his growing fanbase, it's been a blessing that he made his home in the scene.
Since first dipping his toes in creating electronic music, matphilly released a number of stunners that break down genre barriers and offer up intimate experiences for listeners. This is most pronounced on his debut album, i may be through with the past, but the past is not through with me, which landed on Nightenjin last year. Each track found within its runtime is dripping with emotion and further showcased the dynamic range that matphilly brings with his production.
This year, matphilly has only continued to build his discography in new ways. While previous releases have touched on genres ranging from dubstep and wave to electro house and electronica, his most recent release, "Hispanic At The Disco," sees him pick up the pace. This fresh tune dropped on Speed House Movement and is sure to set a fire in the shoes of anyone who listens.
Looking to gain some added insight into his story so far, as well as his most recent release, we caught up with matphilly to dive deeper into his mind. Check out the exclusive guest mix he spun up for us and read on for the full conversation with this rising star in the scene.
Stream EDMID Guest Mix 311 || matphilly on SoundCloud:
---
Hi Mat, thanks for chatting with us today. Let's kick this off by diving into your roots in the dance music scene. Who were some of your influences and favorite artists early on?
Daft Punk, The Crystal Method, The Chemical Brothers, and the soundtrack to the movie Hackers were my first introductions to dance music where I dove into just being a fan of the music. It wasn't until much later, when my last band broke up and went to college, that I discovered Dubstep. Skrillex, Rusko, Doctor P, etc., were artists I liked, but when I first heard "Roccos Revenge" by Trolley Snatcha, that's when I told myself, "I wanna make this type of music."
What led you to your decision to pursue a career as a DJ and producer in the scene? Was there a specific moment where you realized this was your passion?
It was weird. After my last band broke up to make music or do anything music-wise, I had no interest. I had been a touring band musician for a long time, and it seemed my dreams of "making it" were never going to come to life. Also, I was in a really serious relationship. I had thoughts of marrying my girlfriend at the time, and music wasn't paying anything, so I left the music scene to create a better life for myself that was financially stable to actually be able to make that happen for her and I.
So I got a job as a QA tester for a couple of video game companies and went to school for computer programming while working. This two-year gap was where I didn't make music from my last band to when I became a DJ. During that time, things started to fall apart for me. I was really unhappy with my life and my relationship. I was going down a really dark path of partying, and eventually, my girlfriend and I split up, and without hesitation, I packed up my stuff and moved to the Bay Area. I didn't have any reason to move to the bay other than I had some cousins out there, and I just wanted to get out of LA.
I met some people who took me to some dope clubs to listen to electro during that time. I was a fan of the music, so I would always go and have a blast. I came home one weekend for some family thing, and I went to hang out with my cousin, who was a DJ. A bunch of my uncles and cousins were DJs at some point, so it was always around me. Over those two years, he would talk me into trying to DJ because I had an ear for music, but I shut it down, but that weekend he got so intoxicated he was bugging me so much to the point where I was like, "Okay, show me how to work these things." I got the worst drunken slurred-minute tutorial on mixing. [Laughs]
When I started mixing, my cousins were hyping me up, and at that moment, the musical bug bit me, and I just fell in love with performing music again. I moved back home after that weekend and started making mixes and getting gigs. After about two years of DJing, a friend told me I should make music and gave me his Ableton key. The rest is pretty much history from there.
You kicked off the year with "Hispanic At The Disco," a speed house tune that's brimming with energy. What drew you to create a tune in this genre, and how did your production flow differ from other tracks you've released over the past few years?
I grew up to house music, but I played some big shows where I only spun bass music. It wasn't until I heard Odd Mob's bootleg of Jauz, Josh Pan, and Yookie's "Dinner Chat" and was like, "no fucking way." After that, I started to find more house music at 150 BPM, and that's how I found Haus Of Panda. I started listening to him and then decided to take a crack at it myself. The result was "Hispanic At The Disco." It originally was going to be on my album until Haus Of Panda heard it and wanted to release it on the label, so I took it off and gave it to him for release. I sat on that track for a couple of years, and now it's finally out.
Last year saw the release of your debut album that was teeming with quality tunes. Looking back on this release, what was the process like when creating these tracks and telling this story through music?
I tried my best to tell a story about some things I had struggled with over the years in my personal life – the death of a former girlfriend and my brother, relationships, friendships, personal battles with addiction, and just somehow coming out of it all alive. It was crazy when I decided on these themes and made the records.
When I was finished with the album, I had this weird moment where I was like, "wow, I actually did this, and I'm really happy with the outcome of it." I don't really talk about my past and the stuff I've gone through, but once I was done with it, I felt a huge weight lifted off my shoulders. I can finally be more open about my struggles to the world and hope that it could connect with people dealing with similar issues. It felt like my own personal therapy that I didn't know I needed.
How do you approach track curation when you're putting together a mix like the one you've created for us today? Do you prefer to make them on the fly or dig deeper into your catalog of tracks to unearth some gems?
I don't ever have a specific agenda. When I play shows, I usually know the first song I'm going to play and then go off the crowd and how much they like it. I decided to switch it up a bit for this mix and make it a bit of a showcase of new music I've been working on. Some are WIPs, and some are IDs or collabs that I hope to have released in the future. After I did my album, I thought I wouldn't have gas in the tank for writing new music, but I have written a ton of new music and worked on collaborative projects like with my friends in SUBshockers. I never do an ID showcase, and I figured this might be a good time to do it.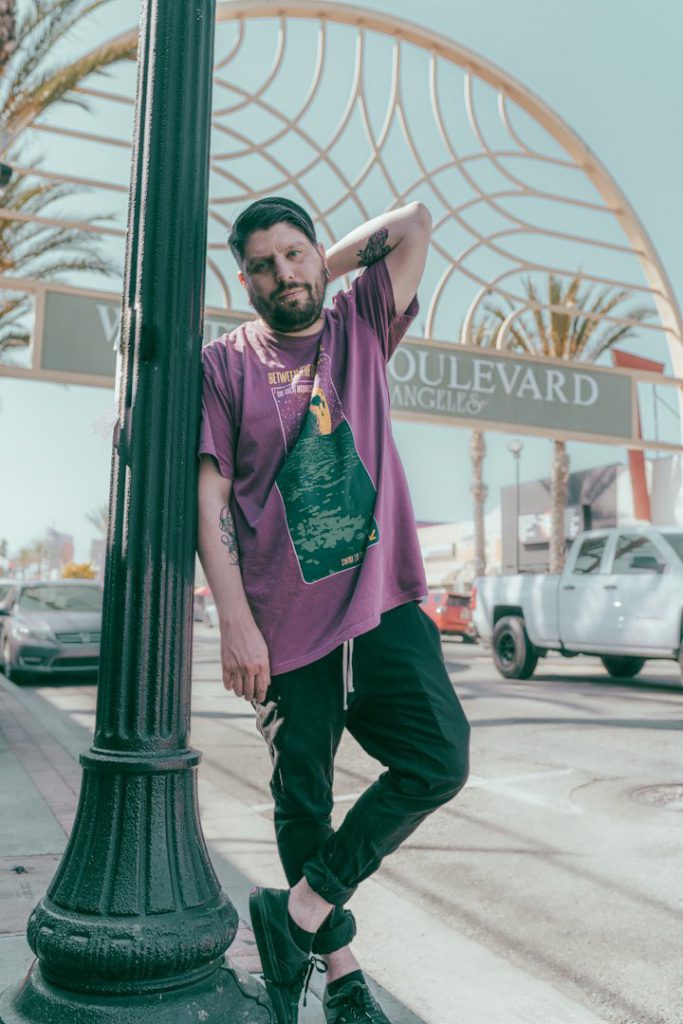 What's the biggest struggle you've faced so far in your career, and how have you overcome it?
Anxiety and the fear of losing. I've always had this problem with failure and not accepting it. I would allow it to eat at me, and that's where I was hurting myself without realizing it. I've learned to tell myself if things don't go the way I assumed to not stress about it and just be prepared for the next thing.
Now, let's say a label doesn't want to sign a record, or I can't get on a tour or show, I shrug it off and focus on what I'm doing instead of beating myself up over it. Not everything in life will happen the way you want it to. I get back up and keep doing what I'm doing because waiting around doesn't help me at all. Sometimes certain things are blessings in disguises, and you're glad it didn't happen. I just learned to accept it and move on and keep doing what I've been doing.
When we come to hang out with you in Los Angeles, where are you taking us on a night out on the town?
Coming from a Mexican household, I have to take you to the best spots to get Mexican food in my area. Depending on the time would be where I would take you, but it'll definitely be coming from a truck or right off the streets outside of someone's house. Also, living in Los Angeles, there's rarely a bad place to grab a drink; if it's a punk dive bar or on a rooftop in DTLA, it's going to be fun. Shows we are for sure going to exchange la or academy la because they made matphilly who I am today, and they're the best venues to see some shows. Unless we're going to see some bands… then we would probably be off to 1720 or Chain Reaction, a couple of my favorite places to see live music.
Finally, what goals do you hope to achieve in the rest of 2022?
I want to put out more music to the world. This collab EP with SUBshockers that were wrapping up is really special because of its story. I also have some songs I'm happy with that I want to share with people. I hope to maybe play some shows in places I haven't played as matphilly and continue to enjoy life as it comes to me. At the end of the day, as long as I'm not drugged out on the streets and living to see the next day, it's good enough for me because that's all I can ask for.
---
Follow matphilly on Social Media:
Facebook | Twitter | Instagram | SoundCloud | YouTube