Doctor Neiman swung by to chat about his new track "Useless," debuting his new project, and how he balances his full-time job and production!
---
Doctor Neiman may seem like a fresh name to grace the electronic music scene, but that's hardly the case as it's a new project from the mind of the already successful Noah Neiman. This new alias focuses on a harder bass sound, but still incorporates incredible vocal elements along with catchy melodies. Simply put, it's hard not to get lost in the sauce when listening to a Doctor Neiman track!
Doctor Neiman made his debut earlier this year with "Let Go," which was released on Subsidia Records, and it has been a constant barrage of new music that listeners have gravitated towards ever since. Tracks like "What About Love," "Wasteland" and "men." not only transport listeners into this unique world but also provide intense energy that any basshead would love. Having already landed on major labels such as Circus Records, Play Me, and NCS and with large aspirations for 2022, the future is definitely bright for Doctor Neiman.
With Doctor Neiman taking the bass world by storm, we knew we had to chat with him about his latest release, debuting the new project, and how he arranges his songs. So stream "Useless" on your preferred platform, listen to this exclusive guest mix from Doctor Neiman, and read on for the full conversation!
Stream EDMID Guest Mix 302 || Doctor Neiman on SoundCloud:
---
Hey Doctor Neiman, thanks for chatting with us today! Let's talk about your latest release "Useless," out now on Circus Records. This marks the final release of an astounding year for you. What was the process behind this release and did it differ from previous releases?
Hey guys, thanks so much for having me. It's an honor. Yes, for "Useless," it almost feels like a bit of a brush up against my Noah Neiman project. A bit more on the pop-melodic future bass side of things than dubstep. I was just having a bit of fun in the studio with some new synthesizer patches and samples, and it sort of ended up becoming a full track. I was really happy when I found out that Circus liked it enough to sign it as another single. They're really easy guys and gals to work with. 
This year was the debut of the Doctor Neiman project and the project blasted off like a rocket. When planning to make the switch to bass music, did you anticipate this much buzz around this new project?
To be honest, I expected far less. Starting a new project from scratch is always rough. You barely have an audience and no one knows what you're about. Luckily I knew a few people in the industry from my other project being where it was at, and that was really a leg up in getting Doctor Neiman started. A big part of it was thanks to the Enhanced Music crew, Tritonal and R3HAB.
And then what Doctor Neiman turned into after having Excision release my first single, and then Circus, NCS, and Play Me… well, let's just say I'm extremely thankful to have all the support I've got!
Speaking of which, your original Noah Neiman project was widely successful and focused more on pop dance music. What inspired you to switch over to the bass scene?
I've always liked electronic music because of the energy it had. I grew up listening to 2Unlimited. Anything that made me want to dance, I loved. So at the beginning of my production career, I was producing trance and house. Eventually, the industry shifted more towards a pop-oriented sound because of guys like The Chainsmokers or Avicii. So a lot of us felt the need to pivot in that direction because that was now the sound that was selling tickets.
Eventually, I realized that I was chasing trends, and despite being successful, it just wasn't where my heart was anymore. So I took some time to evaluate what I really wanted out of a career in music and decided to reconnect with what brought me to EDM in the first place. Energy. And to be frank, what subgenre has more energy than dubstep? [Laughs] Maybe hardstyle, but I've got a little hint of that planned for next year too, so watch out!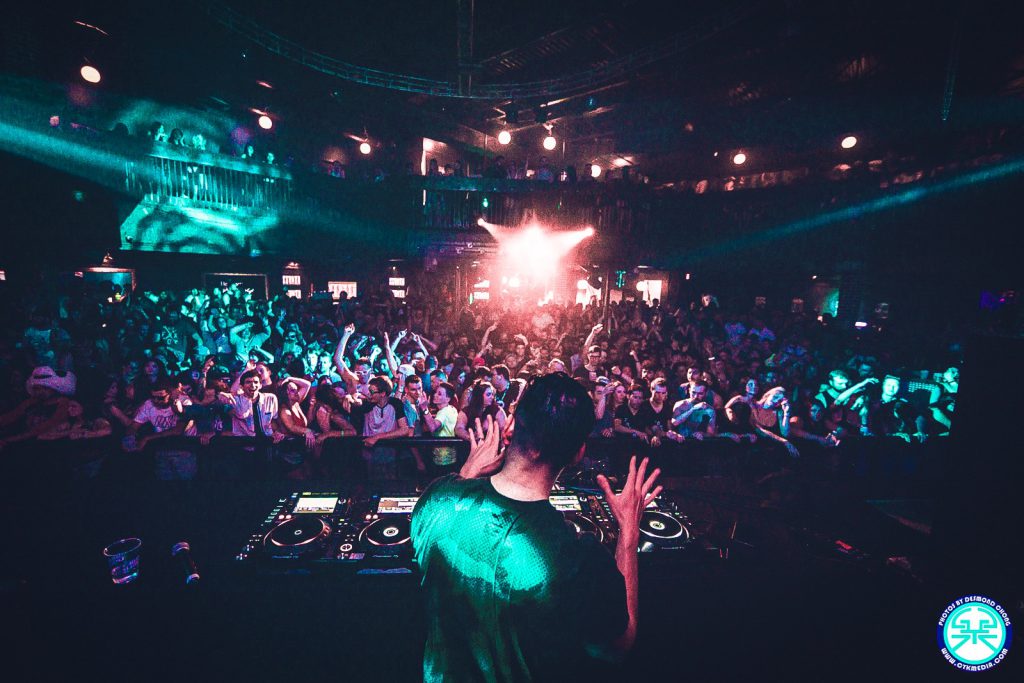 A Doctor Neiman track typically combines vocals of some sort along with heavy drops. When in the studio, do you generally start with the vocals first or the actual production of the song?
It's both really. Sometimes a writer, a label, or my manager will send me a topline that sounds great and I'll write around that. That was the case with "Wasteland" for instance. Then, there are also times that I'll have a production written specifically to serve a topline, so I'll send it around to some of my friends to write on.
I will say though, it always makes me anxious when I send an instrumental off because, I mean, you never know what you're going to get back. Luckily, almost everything I get is always top-notch. I sent Jenny Chapin the instrumental to "Let Go", and she dropped that amazing topline on it. It might be one of the best I've ever heard! It's hard every now and then though because there are times where I'll get something back that just isn't quite what I was hoping for and I have to go back to the writer and tell them it's not right for the track which ends up hurting their pride, or worse, I've paid them and then I'm stuck with a vocal I'm never going to use.
So to answer the question, I do both. But which do I prefer? Starting with a vocal first. At least then I know whether I like it or not before any money or time is invested.
We've noticed a trend in the Doctor Neiman album artwork, with each piece featuring skulls and a somewhat medieval theme. Where did the inspiration come from for this character and are there any plans to build this out further?
Oh yeah, the idea stemmed from a drawing I saw on Instagram by Danger Stranger. It was a skeletal knight with green bones in a suit of armor. He also did one of a girl with green skin and streaming mascara running down her face. I discussed it with him and we developed the idea into a piece that became the artwork for my NCS release with Micah Martin, "Wait For Me." That was the first piece I had done for the Doctor Neiman project, despite it not being the first release.
Eventually, the idea grew into three characters: a skeletal knight with a golden mandible who wields a BC Rich Warlock guitar, a witch with blue skin and war paint/makeup sort of like Furiosa from Mad Max: Fury Road, and finally, a likeness of myself but sort of vampiric in form. Along the lines of Kiefer Sutherland's character, David, from Lost Boys. I started working with an artist named Keith West, better known as HangxFang on Instagram. He has a visual approach that really works with the style I'm trying to elicit. 
I'm not quite sure how far we're going to take the idea, but the characters are definitely my signature. In time though, I'd like to make up an audio-visual live show that incorporates the characters into a story that takes place over the course of one to two hours. So rather than just a rave, people would be coming to experience a narrative along with the music.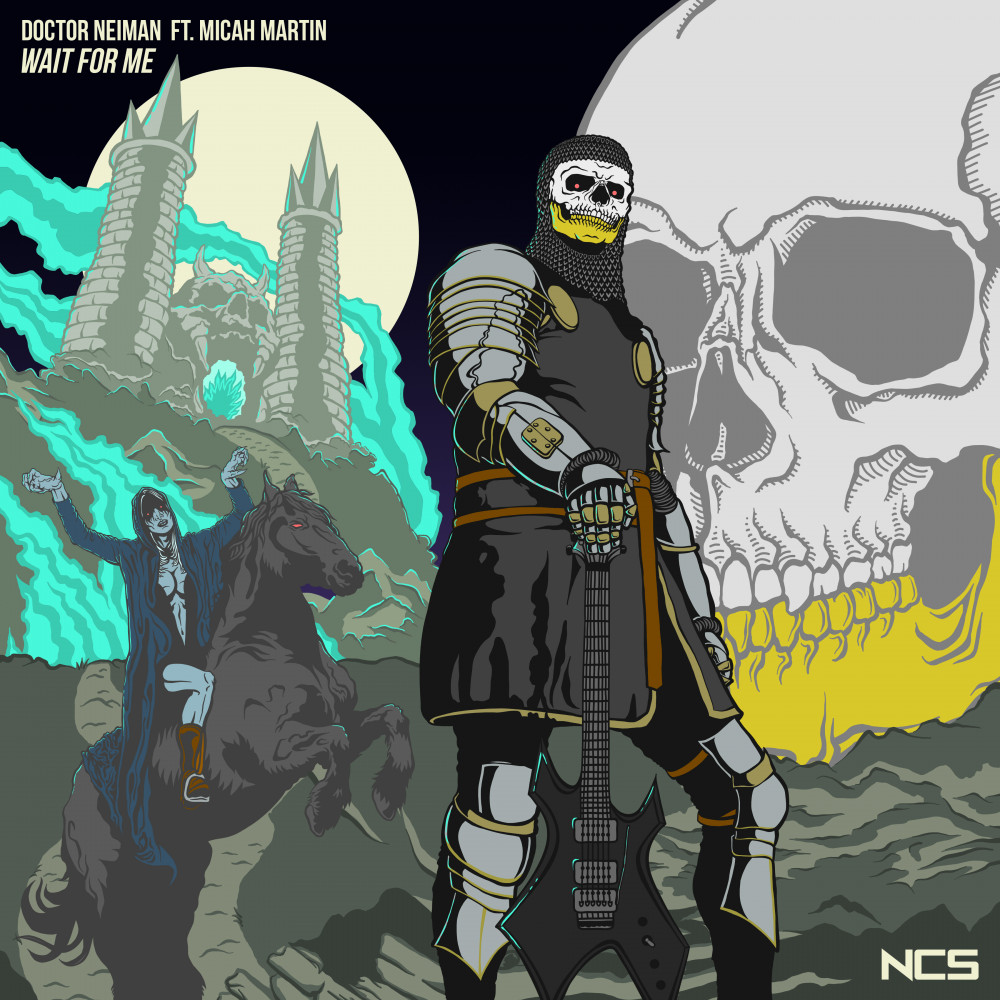 You're a real-life optometrist in the Austin area. How do you balance a full-time job, shows, and producing?
Ah yes, this question gets asked a lot. To be honest, it's hard. It was a lot easier before 2020 but since then I've had boy-girl twins and took on the role of chief of operations at our clinic. So time is at a premium now. Shows are easy. They're at night and on the weekends. I don't take calls at my office and I've got a very supportive wife and manager, so that's all good. However, keeping the production side rolling is all about streamlining my workflow.
I've spoken about this for years in interviews, but I am still finding people that complain about the use of things like samples or presets or anything that isn't wholly created from scratch by the producer. They say "you didn't write that beat or that melody. You're not original. You don't know how to produce. You suck." Look, here's the deal. Music production is so accessible these days. You have so many tools at your disposal that make things very simple. So just use them. Sure, you can make every little bit of your song from scratch. But then I can come behind you and say "you didn't build that synthesizer." So where does it end?
The truth is that it never ends. So rather than focus on where my sounds are coming from, I focus on what I can do with them. That leads me to producing a finished, professional-sounding record almost every week. If you know what you're doing in a studio, all you really need is a good idea and you can write very quickly.
After that, it's just time management. I'm awake at 4am and it's go-go-go until I hit the bed at around 10 or 11pm. 
As we close out 2021, do you have any goals you would like to achieve in 2022 that you are already thinking about?
Like any musician, I just want to grow my project. As I mentioned earlier, I think building towards the audio-visual storytelling show would be the ultimate goal, but that's probably way down the line. For now, I'm just focused on producing more music and signing it to great labels.
---
Connect with Doctor Neiman on Social Media:
Facebook | Twitter | Instagram | SoundCloud | Spotify