Will you be dancing with the aliens at Countdown NYE this year? Tickets go on sale September 23 for this cosmic celebration!
---
One of the best ways to celebrate the end of the year is by being at a music festival with your friends and getting a dose of dance music beats to carry you into the next. That's exactly what Insomniac had in mind when they created Countdown NYE in Southern California – and over the past few editions, it has truly come into its own as the aliens make their way back to the planet to party along with us all.
The latest transmission from the aliens arrived last week with the news that they would be landing on both coasts for Countdown this year – but while details still are to be revealed for Countdown Campout in Florida, the dates and ticket info have been released for the edition in SoCal. Mark your calendars (and race to book your rooms at local hotels) because Countdown SoCal will be taking place on December 31 – January 1. Yes, that's right, the festival will be expanding to two days again for the first time since 2017!
Related: Want to know what it's like to be abducted at Countdown NYE? Check out our recap of the 2019 edition to find out why this event is truly out of this world!
GA Tickets for Countdown NYE in SoCal will start at $129.99+fees, with GA+ at $219.99+fees and VIP at $259.99+fees. VIP amenities include fast entry and exclusive amenities including gourmet food and drinks, as well as extra activities and special viewing areas. All ticket types can be purchased on layaway for $9 down.
Tickets for Countdown NYE 2021 go on sale Thursday, September 23 at 12pm PT via CountdownNYE.com. Will you be abducted by the aliens this year? Let us know in the comments – and stay tuned for the lineup and more details!
---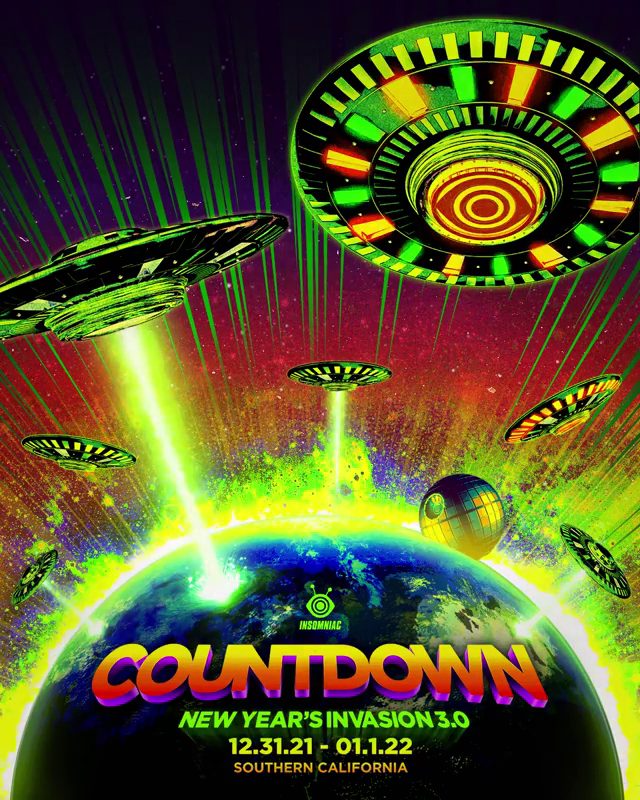 ---
Connect with Countdown NYE on Social Media: