Multi-talented artist Covex brings forth "Fallin' Back," the fourth and final single ahead of his album that's accompanied by a music video.
---
Covex is gearing up to release his first full-length album, A Change of Perspective on the independent label Moving Castle this coming August. In anticipation of this milestone in his career, he's fanning the flames of excitement by teasing his fans once again with a fourth single off the album, "Fallin' Back."
"Fallin' Back" is the last taste everyone will get before they can experience the actual album itself, and Covex doesn't hold back. He exposes a darker side to his production style and dominates the vocals himself, proving once again that he refuses to allow his music and art to be put into a box. In the track, Covex explores the complex and unrelenting emotions of being stuck in a toxic relationship. The track opens with gentle, calming sounds and his own beautiful voice repeating "I'm fallin' back in love." Then, a pounding beat begins, seemingly mimicking the sound of your heart when it's beating fast, as though you're aggravated or anxious.
The soundscapes throughout the song continuously build and release, reminiscent of the repetitive cycle of being stuck in a toxic situation. The lyrics perfectly encapsulate the unrelenting, repetitive emotions of an unhealthy kind of love — from the sunken costs of fighting and arguing just to end up throwing everything away, to the helpless feeling of being full-on addicted to someone you know isn't good for you.
Dive into the emotional masterpiece of "Fallin' Back" by watching the video on YouTube below or listen to the track on your favorite platform — and keep an eye out for the full-length release of A Change in Perspective in August!
Watch Covex  – Fallin' Back on YouTube:
---
The "Fallin' Back" music video, directed by Hudson Ratzlaff, makes viewers feel the toxic turmoil even more deeply by giving us a relatable narrative of unhealthy cycles to get lost in.
This music video takes viewers down the toxic rabbit hole itself by following someone's own battle with unhealthy relationships. The video's main character finds himself lying on his back in the middle of the desert, as though he'd fallen there from a great height. To the side of him is a doorframe. The metaphor of the doorway expresses the many different avenues and rooms that we enter in life, and how each experience affects your overall perspective – whether that may feel like a good thing or a bad thing in the moment.
The doorway in the desert takes him into the middle of an argument with a girl, who shoves him back through the door, leaving him in the desolate desert once again. After this first fallout, our main character tries a second door to a house party, where he encounters a girl who offers him a red pill. They end up arguing, and he goes right back to the desert where he began. He enters a third door which takes him to a sunny picnic with another girl. That relationship ends in an argument similar to the first, sending him back to square one all over again.
Finally, he sees all three doorways beside one another, and all three women he was involved with approach him together. They were very different from one another, but they had one thing in common: they weren't good for him. He runs from them trying to escape his past yet again, and walks through yet a final fourth door, only to find himself back on the desert floor again, seemingly perpetuating the cycle to no end.
---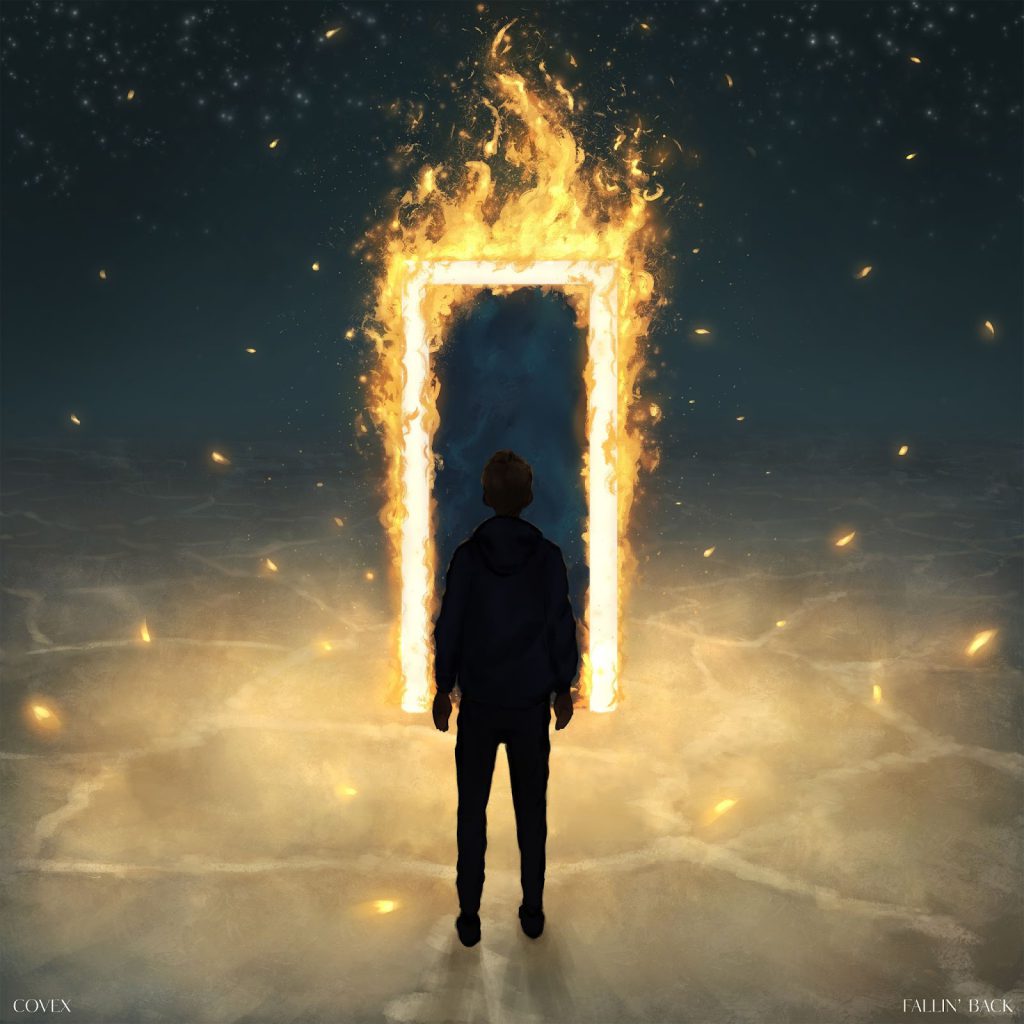 ---
Follow Covex on Social Media:
Website | Facebook | Twitter | Instagram | SoundCloud | YouTube