Dabin, Autograf, SG Lewis, Moore Kismet, Seven Lions, Cassian, and more have been unveiled on the lineup for Lost In Dreams Music Festival.
---
Back in February, Insomniac continued its growth into new reaches of the dance music and festival scene by unveiling one of its newest brands, Lost In Dreams. Centered around the sounds of melodic dubstep, future bass, and other vocal-driven styles, this new addition to their roster has already seen a number of stunners on their imprint. But along with the initial announcement was a tease that Lost In Dreams would become its own festival as well, and after teasing its debut this year, today they've unveiled the lineup!
Set to take the stage at the Downtown Las Vegas Events Center on September 4-5, Lost In Dreams Music Festival is sure to be a dream for anyone who loves the emotion-driven side of dance music. Immediate standouts on the debut lineup include the likes of Autograf, Cassian, Seven Lions, Moon Boots, and SG Lewis, but it only gets better from there.
Melodic dubstep fans will be flocking to catch sets from artists like Jason Ross and Crystal Skies, while those looking to immersive themselves in some sweet sounds won't want to miss pluko, k?d, and Shallou. There's a hefty offering of rising stars on the lineup as well including the likes of Moore Kismet, Gem & Tauri, Pauline Herr, and Dabin. And Lost In Dreams will feature some b2b action from Manila Killa and Chet Porter, along with performances from Elephante, Kaivon, and Amtrac that will sweep attendees off their feet.
GA and VIP Tickets for Lost In Dreams Music Festival will go on sale Friday, June 4 at 12pm PT via their website. GA is priced at $100(+fees) while VIP will run you $180(+fees), both will be available via a payment plan as well. Please note that to access VIP areas, you must be 21+ with a valid photo ID.
---
Lost In Dreams Music Festival 2021 – Lineup: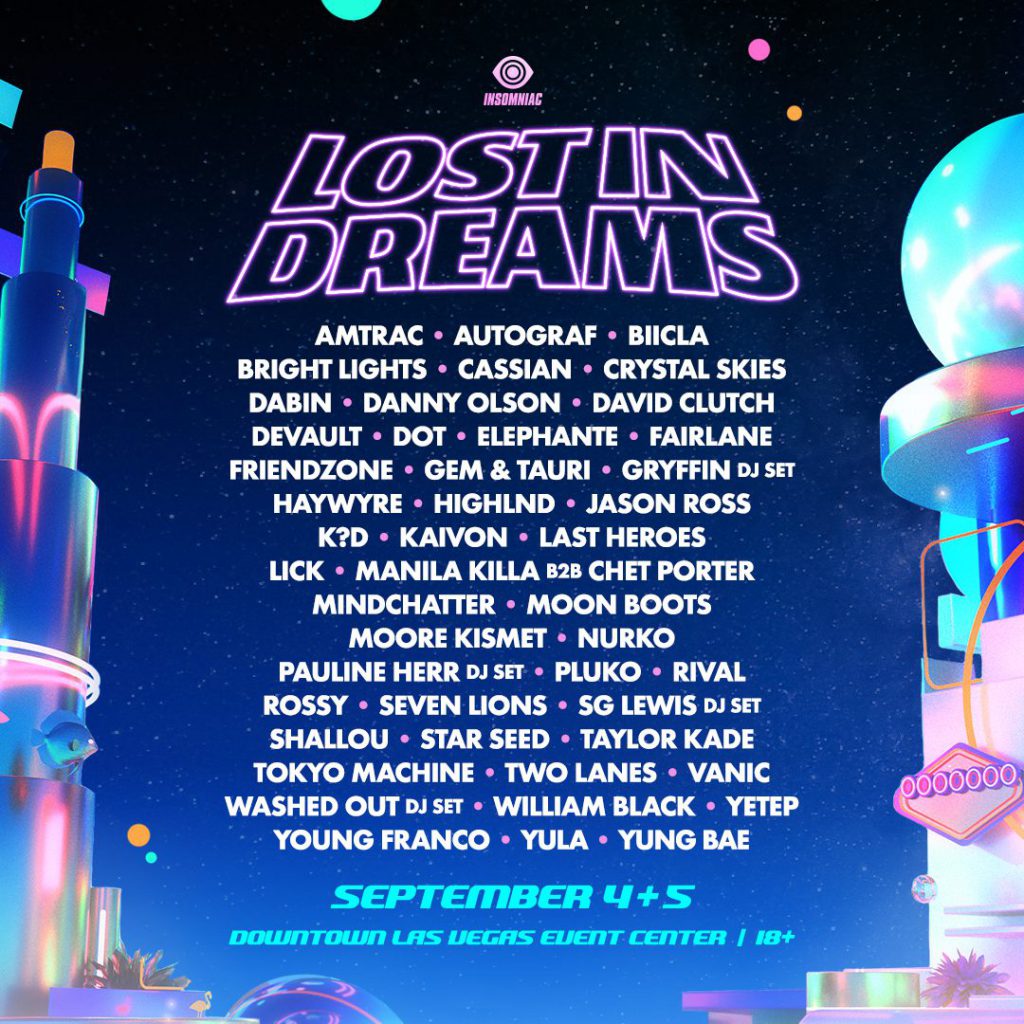 ---
Lost In Dreams Music Festival 2021 – Lineup By Artist:
Amtrac
Autograf
Biicla
Bright Lights
Cassian
Crystal Skies
Dabin
Danny Olson
David Clutch
Devault
Dot
Elephante
Fairlane
Friendzone
Gem & Tauri
Gryffin (DJ Set)
Haywyre
Highlnd
Jason Ross
K?D
Kaivon
Last Heroes
Lick
Manila Killa b2b Chet Porter
Mindchatter
Moon Boots
Moore Kismet
Nurko
Pauline Herr (DJ Set)
Pluko
Rival
Rossy
Seven Lions
SG Lewis (DJ Set)
Shallou
Star Seed
Taylor Kade
Tokyo Machine
Two Lanes
Vanic
Washed Out (DJ Set)
William Black
Yetep
Young Franco
Yula
Yung Bae
---
Follow Lost In Dreams on Social Media:
Website | Facebook | Twitter | Instagram | SoundCloud | YouTube