Cincinnati-based start-up Tixxy launches to send its users friendly message reminders to let them know about the next latest local shows.
---
Unlike other pesky interactive chatbots that reach out to us, Tixxy will probably be the exception to the rule, especially now that live shows are back in full swing of things. The services the Cincinnati-based start-up company offers consist of sending its' users friendly automatic text message reminders letting them know about the next hottest show on the block. By signing up using your Apple Music or Spotify account, Tixxy personalizes concerts in the user's area based on their music tastes. It acts like an alarm clock on your phone, music fans will receive alerts about event announcements and ticket sale dates.
For their launch, the concert recommendation chatbot is partnering with Sound Rink, 10th Street Entertainment, and AXS. The new channel that reaches music fans proves that companies like the partners appreciate counting on additional sources that help directly target fans. Concertgoers that signup to Tixxy can click through and buy tickets from that message received to an upcoming event. Furthermore, artists, venues, and promoters can count on Tixxy spreading the word about upcoming shows at no additional promo costs.
With support from Sound Link, specializing in VIP experiences that range from creating unforgettable meet & greets and intimate backstage moments, and the leading entertainment management and marketing company, 10th Street Entertainment, Tixxy is gearing up to take the chatbotting game by storm once concerts and events come back. Plus, having already partnered with big ticketing companies, Ticketmaster, and most recently, AXS, it is a guarantee that people will no longer be missing a show to their favorite artists.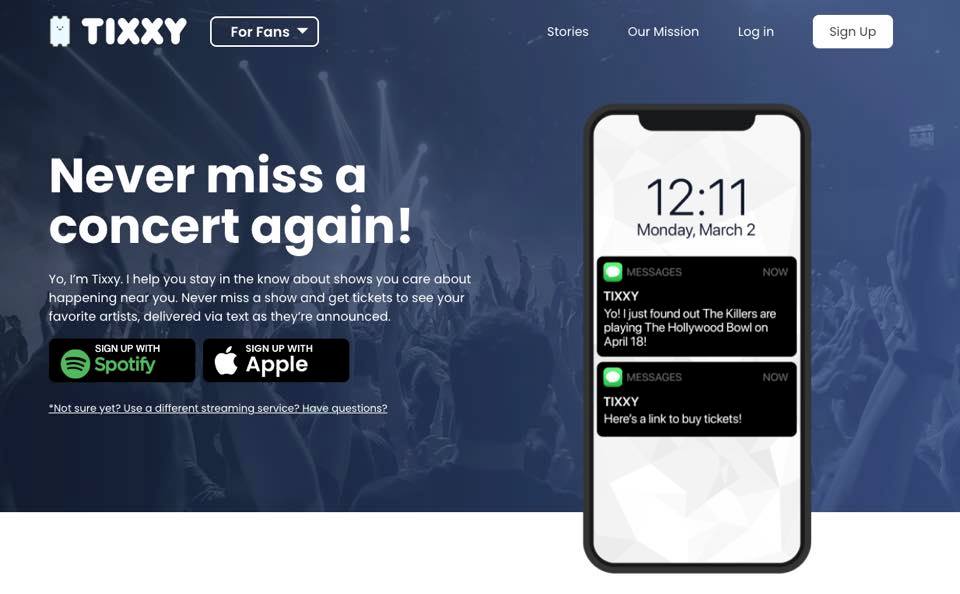 ---
Follow Tixxy on Social Media: