Tequila beer brand Desperados partnered with Elrow and Beatport to raise money via Rave to Save app for clubs and venues.
---
Nightclubs and venues around the world were affected by the global pandemic as they were forced to shut down due to lockdown measures. Those working at the venues lost their jobs and many owners faced the harsh reality of having to close permanently, especially with limited support from local governments. The nightlife community, along with brands like Beatport, have backed efforts to keep those doors from permanently closing, and the latest to join in is beer company Desperados.
Desperados is intent on helping save the nightlife scene by launching Rave to Save app available on Apple and Android. Working in partnership with Beatport, the app will be used during a series of eight virtual parties that kicks off on March 27 from inside Prince Charles Club in Berlin, Germany. Kicking off at 19:00 CET, the show will be broadcast live on Beatport's YouTube and Facebook pages and feature Purple Disco Machine and Nakadia.
Like an Apple iWatch, the Rave to Save app will track the user's moves, and with every 1,000 steps made, which equals 10 minutes of dancing, the Netherlands-based company will donate €1 to a club. Desperados also invite users to help boost donations by directly contributing to the venues in Germany, the UK, and Spain, which some will participate in by hosting one of the online parties. Desperados will also match up to €30,000 per event, so make sure you get to groovin'!
The money raised will be delivered directly to venue owners to cover as many financial responsibilities as possible like staff salaries and rent. Though the money raised only applies to supporting clubs and venues in Europe, people everywhere can still join in the fun and help.
The Rave to Save initiative is not Desperados' first rodeo in the virtual world. Last year, the company teamed up with world-renowned party producer, Elrow, 31 international DJs, and seven well-known venues to live stream 16 sessions straight into the comfort of people's homes. Stay tuned for more news to come including future events!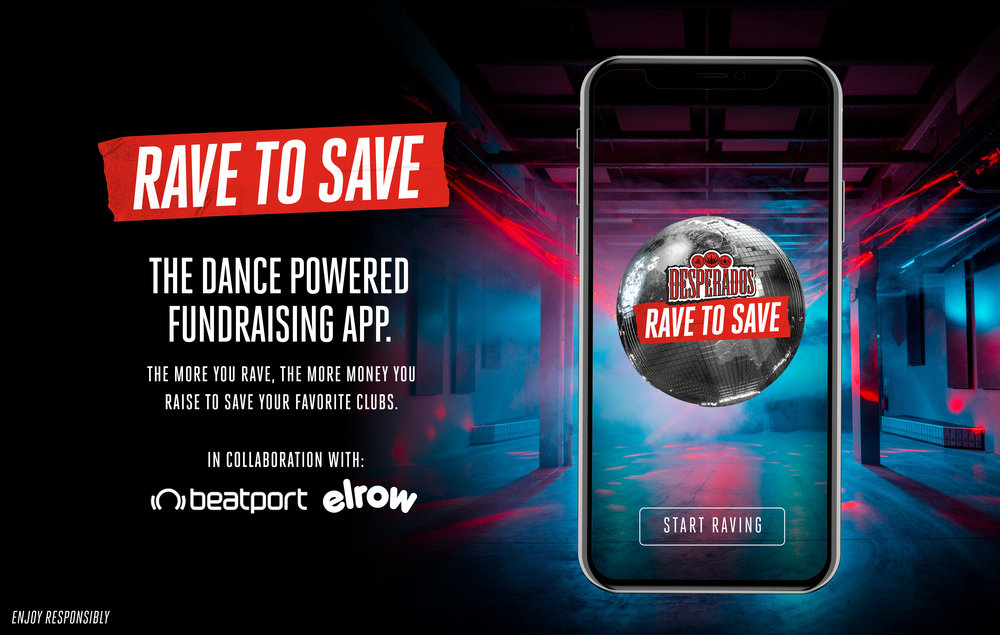 ---
Connect with Desperados on Social Media:
Website | Facebook | Instagram | YouTube
Connect with Beatport on Social Media: