Anakim, Porth Nole, Apollo Nash, and notsure will be taking the stage during Graydient Collective's Gallery Sessions series in February!
---
Over the past three months, Julian Gray and members of the Graydient Collective crew have taken over Twitch on Sundays with the Gallery Sessions livestream series. Each week it has brought fresh sounds from a range of artists who are rising through the ranks of the scene like Bedroom Logic, Sysdemes, GHOST DATA, and more.
Now they've announced that the series will continue into the month of February and true to form, it's packing some serious heaters on the lineup. Kicking off the series on February 7 is Anakim who will be throwing down some of his sensational tunes during his DJ set that will take place at 12pm PT that day. Gallery Sessions alumni Porth Nole will arrive on February 14 and we can only imagine that love will be in the air during his mix on Valentine's Day.
Related: Did you miss out on past editions of the Gallery Sessions series? Head over to Graydient Collective's YouTube channel to dive into the archived performances.
Apollo Nash is set to grace the virtual stage during the series on February 21. He's one not to miss after stunning listeners with his releases and livestream performances last year, especially if you're someone who loves the sound of trance. Closing out the Gallery Sessions run this month on February 28 is notsure, who is sure to impress with his immersive, chilled-out sound that will help guide everyone into the final weeks of winter.
Make sure to follow Graydient Collective on Facebook and Twitch so you know the moment they go live, watch each episode below, and stay tuned for more from this fantastic group of artists in 2021!
Tune in to Graydient Collective's Gallery Sessions series on Twitch:
---
Graydient Sessions – February 2021 Schedule: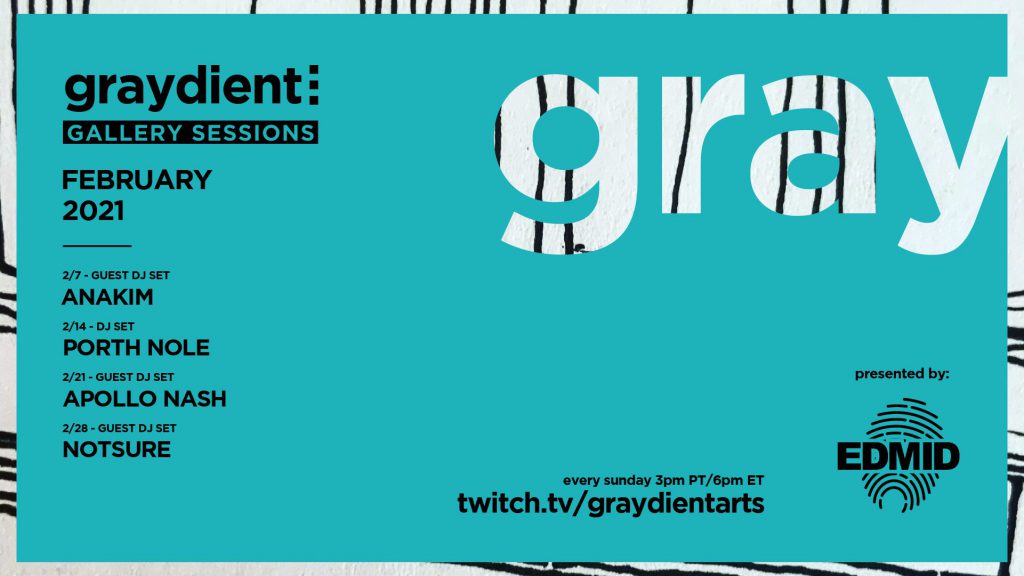 ---
Follow Graydient Collective on Social Media:
Website | Facebook | Twitter | Instagram | SoundCloud | YouTube | Twitch