The MAD ZOO crew is taking the virtual experience to new heights this weekend with their latest event in Minecraft: MAD ZOO in the Void.
---
While many artists have flocked to livestreaming platforms like Twitch and YouTube over the past few months, few have been able to truly create an immersive environment quite like the one that can be found on Minecraft. Traditionally used as a video game, the platform has seen new life breathed into it with creative artists exploring the block-filled realm. And that's exactly what Mat Zo and his label MAD ZOO have set out to do with MAD ZOO in the Void.
Set to take place over the weekend of September 19-20, MAD ZOO in the Void will feature a fresh stage, visuals, and the Mad Zoo Campsite 2.0 for attendees to explore. Oh, and of course they'll be delivering some epic sets as well with some of the biggest names in the scene taking the virtual stage such as Kill The Zo (Kill The Noise & Mat Zo), KOAN Sound, Tsuruda, Mija, and Holly… just to name a few.
To create that communal experience, Mat Zo and MAD ZOO have teamed up with MSI Gaming, Unitea, and Audius to make this the most cutting edge Minecraft experience to-date. Friends will be able to interact and chat with each other in real-time as they catch sets and exploring the virtual realm that is filled to the brim with new creatures, shops, bars, and artist merchandise, while the campsite will play host to virtual meet and greets and more.
Tickets for MAD ZOO in the Void are available now via their website. To join in on the fun you'll also need Minecraft Java Edition that is available for Windows, Mac, and Linux, so make sure you grab a copy if you don't already have it!
---
MAD ZOO in the Void – Lineup: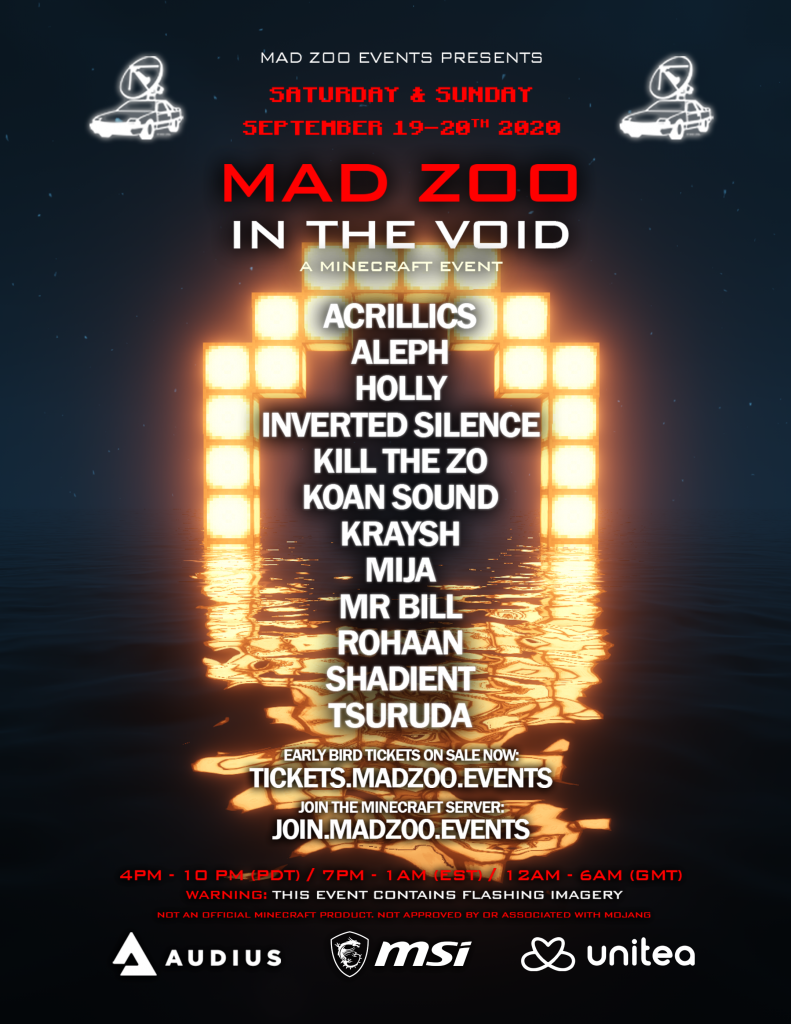 ---
MAD ZOO in the Void – Lineup By Artist:
Acrillics
Aleph
Holly
Inverted Silence
Kill The Zo
KOAN Sound
Kraysh
Mija
Mr Bill
Rohaan
Shadient
Tsuruda
---
Follow MAD ZOO on Social Media:
Website | Facebook | Twitter | Instagram | SoundCloud | Bandcamp