"The show must be paused so others can be heard" was the statement made this week by many in the scene as they joined the Black Lives Matter movement.
---
Just over a week ago, our nation shifted from fears around COVID-19 to outrage over the death of a black man. His name was George Floyd, a black man killed in plain sight by the hands of a police officer in Minneapolis. After his death, protests around the world erupted as communities expressed their anger and outrage, while also calling for justice and reformation of law enforcement. Among these protests, the music industry cultivated a way to use their platform and support Black Lives Matter by bringing Black Out Tuesday to life.
The idea behind Black Out Tuesday was for the music industry to stop for a day to reconnect with their communities, as well as amplifying the voices of others and speak up against the injustice in this country. The purpose was not to simply be silent or take a day off, but rather to refocus efforts in creating a positive change in the world. Displayed social media with black square images on platforms like Instagram, it quickly took hold as artists and dance music lovers used hashtags like "blackouttuesday" and "theshowmustbepaused" in support of the movement.
While some expressed their support online, others in the industry in Los Angeles peacefully marched in Beverly Hills the morning of June 2, to show that the "music stands for a different rhythm" and that the rhythm is centered around Black Lives Matter. Among those protesting was up-and-coming DJ and producer Mark Lizaola, who showed his disapproval of our current system and the abuse he and his community has dealt with for years.
"I believe that numbers matter in order to change what is happening around the world. As a hispanic male dealing first hand with these issues growing up in Rialto, a predominantly black and hispanic community, there is an immediate issue here that has resided with the police. Reform and proper leadership need to be prioritized."

Mark Lizaola
What the media has failed to show is the volume of peaceful gatherings that have emerged since Floyd's death.
The protest in Beverly Hills was a peaceful act of the community unified to fight back against the systemic racism in our country. Many have knelt in silence, while others have expressed their own emotions through chants and written messages. Impactful moments like protestors facing the cops chanting "take a knee" in hope that officers would show respect for the death of Floyd but received no response was chilling. Additionally, those who were unable to join the protests themselves offered support by driving their friends and bringing supplies along with them.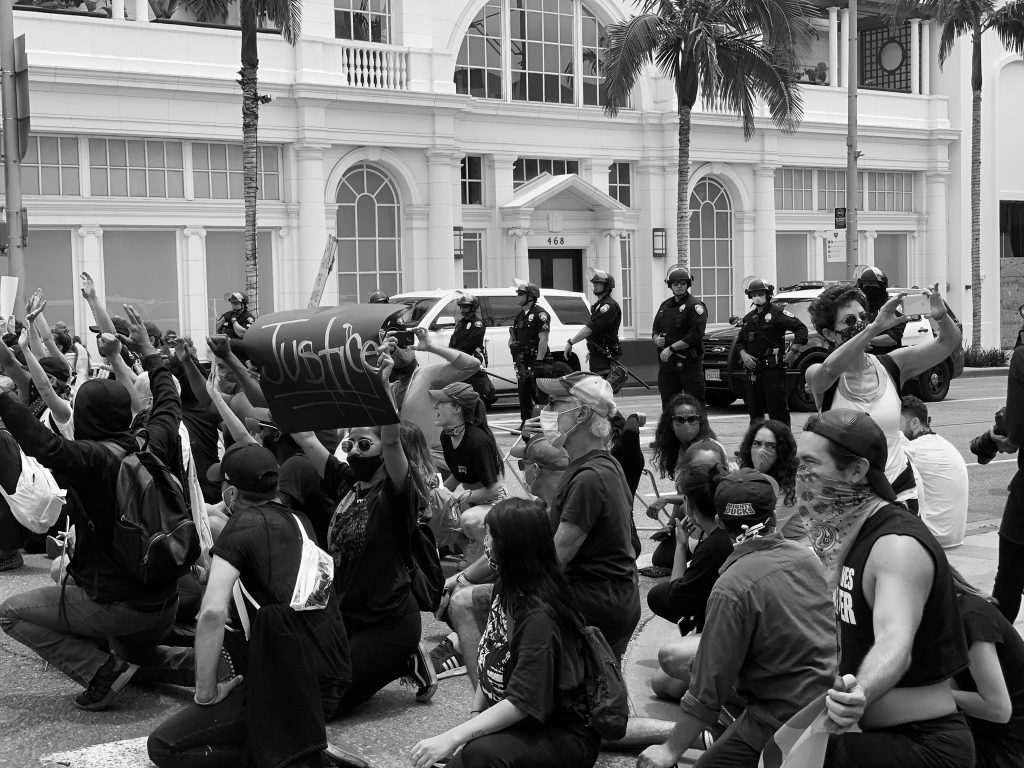 Just because you can't actively protest doesn't mean you can't support Black Lives Matter, and artists are proving that with donations and using their platforms to raise awareness.
The music industry, especially in 2020, has been no stranger to adversity. We already saw it come together in the face of COVID-19 and now, we are witnessing artists make it very well known what side of history they choose to be on in the fight against injustice. Artists are doing their part in many different ways to keep the momentum moving forward as they advocate for the necessary change we want and need to see in the world.
Pretty Lights broke his two-year social media silence to contribute to the cause, giving a generous $10,000 that was evenly distributed between 70+ community bail funds. Eric Prydz is another artist who has made his stance very clear and has donated $10,000 to ActBlue. Bassnectar released on his Instagram that he and his team would be pausing anything music-related for a week so they can focus on activism and education. In addition, the Bassnectar team will also be donating $100,000 split amongst five different organizations. These include Black Lives Matter, Color of Change, Campaign Zero, NAACP Legal Defense and Education Fund, and Media Justice.
In addition to using social platforms to vocalize their stances, some artists have been in physical attendance at protests across the nation. GRiZ is no stranger to using his platform to campaign for change and was present at multiple peaceful protests in Denver, Colorado – one of which ended in a dance party. Slander posted a video to his Instagram captioned "Equality over Racism #blacklivesmatter," showing himself and others peacefully protesting in Santa Monica, CA. Other artists seen protesting are Nitti Gritti and Subtronics, who are among artists who have donated thousands, such as Sable Valley, RL Grime, Marshmello, and more.
Some artists have gone as far as to continue to speak out on their social platforms, despite risks of losing their work visas. You can see the exchange between Gramatik and a fan on his Twitter below, where he comments on the matter.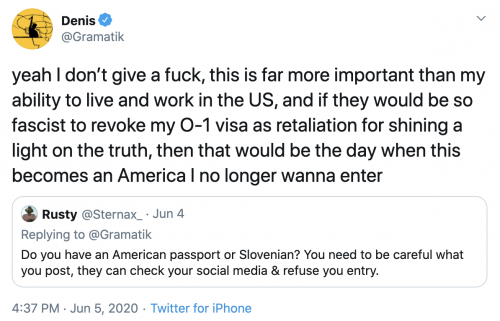 On Friday, June 5, many flocked to Bandcamp during their latest day of waived fees for artists to support those who would, in turn, be donating to Black Lives Matter or other funds around the country. The company also announced that on Friday, June 19, they would be donating their own fees generated that day to the NAACP Legal Defense Fund. Additionally, other artists like Keys N Krates have used the platform to help raise funds for causes as well.
Fixing this failed system is in our hands and we must be involved in making change happen.
In order to make a change in the world, we must also be actively apart of that change. It is important for us all to use our voices and resources in the fight against injustice in this country and that's something we must continue to keep doing in the future.
If you would like to support and donate to Black Lives Matter please head to their website. Additionally, there are other charities and funds you can get involved with or support as well including the NAACP Legal Defense and Education Fund and many more. Check out this list from Reclaim the Block for more details on how you can get involved.