Let's get real, Black Lives Matter in the dance music scene: An open letter to the dance music community from a black raver. 
---
I'm a black woman living in America. Right now things are completely out of control and I've spent the last week trying to process my own feelings about the murder of George Floyd in Minnesota. In fact, it's important to note that this isn't the first black person to become a hashtag. He is one of too fucking many. 
My reality is different from the majority of the dance music community. Many of you can not relate or understand the Black experience in America. I'm not going to spend another minute walking you through it because Google is an easy tool to use, so instead of watching another episode of Space Force — spend time watching 13th by Ava DuVernay or looking up the black history that you never learned in the classroom, unless you proactively picked Africana Studies as your major in college. But I doubt that. 
I don't need to explain the chain of events that are currently taking place across the country. I will say that this isn't a movie. This is real life. And this is also a pivotal time for the dance music community to come together, educate others, and stand up against injustice. So please, listen to my story.
I entered the scene nearly a decade ago, but I started listening to dance music before I even realized that it was dance music. Artists like Kaskade, Calvin Harris, The Bloody Beetroots, Above & Beyond, and Crystal Castles were all on my iPod shuffle. I started attending small gigs and club events before entering the big leagues with my first major music festival, Hard Summer in 2011. Soon after, I started attending Insomniac events like Beyond Wonderland and Escape. 
The rave community is beautiful and there's a reason why I fell in love with it so quickly.
The values of PLUR resonated with me and I fully invested myself in a place where I felt free. I learned how to trade Kandi. I started meeting so many new people. It was truly euphoric.
But I noticed that I didn't see many people who looked like me. There weren't many black ravers when I started raving. I could count on one hand the black people I would bump into at festivals and shows, and when we crossed paths it was a celebratory moment. When in fact, it shouldn't have to be. 
As my involvement in the community grew, I brought my sister into the scene in 2015. She graduated from high school and I purchased her first EDC Las Vegas ticket. Yes, my sister went big from the start.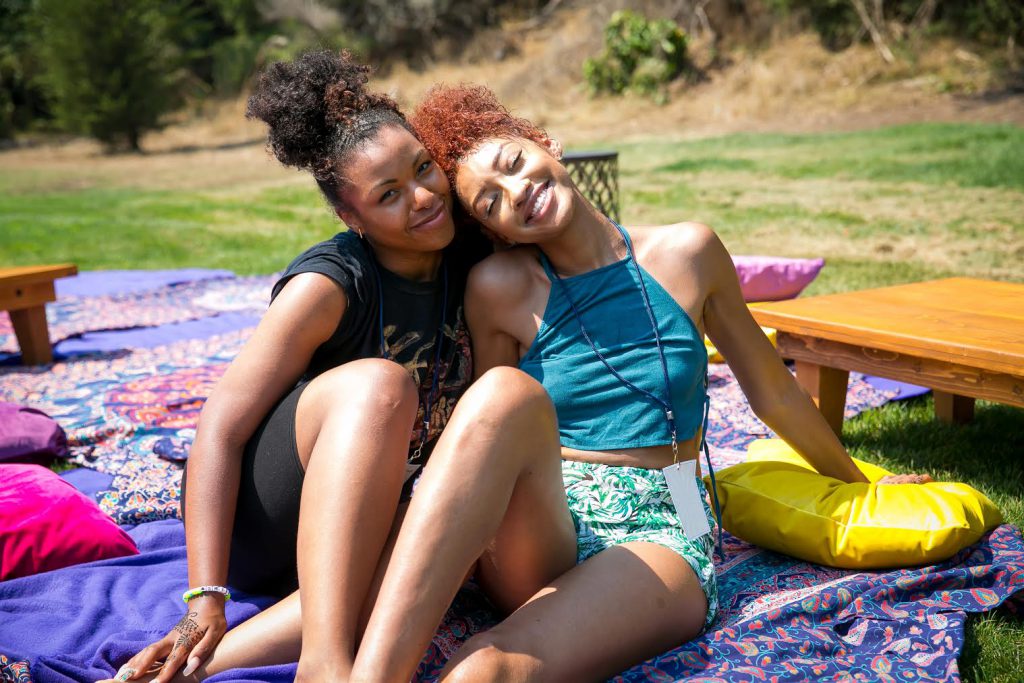 Within the last five years, the representation of black ravers in the scene has evolved so much and it's absolutely beautiful.
Instead of bumping into just two or three black ravers, I've seen more with each passing event and it makes my soul flutter with happiness. Why? Because dance music isn't a popular genre within the black community, even though black people built the foundation of dance music.
Take a moment to look up Frankie Knuckles, Stacey "Hotwaxx" Hale, and The Belleville Three. Get up to speed on The Paradise Garage. The roots of dance music were born out of Detroit, Chicago, and New York. The scene that you love exists because marginalized groups wanted to create a space where we're accepted and liberated. 
The events that took place on May 25, 2020, ignited a fire across the nation and the world at this point.
To watch a white officer kneel on a black man's neck for eight minutes and 46 seconds was traumatic, but this isn't my first time at the rodeo. I've become numb to these things because we've been here time and time again. 
We're living in a COVID-19 world. We have been locked in our homes, people have lost their jobs, and people are struggling. People don't have anything to lose. However, I noticed the outrage about the murder of George Floyd was coming from one particular group of people in the community: Black ravers. Without any question or hesitation, we were all openly talking about what we witnessed. But everyone else was silent. Quiet. Nothing. 
For days we expressed our feelings about how black bodies are treated as disposable and that our lives do not matter. And quickly I started to feel this rage from within my gut boiling over. I openly expressed my disappointment with the community in a Twitter thread because I was absolutely fed up. Why wasn't anyone else in the EDM community saying anything? Why? This community is the best at defending others and speaking out against body shaming, slut-shaming, etc. But when it's race-related the crowd goes mute. 
I thought I was alone but I wasn't. I noticed more and more black ravers speaking out about the inconsistency within the community. In fact, people were telling us how to feel and upset that we were openly talking about George Floyd and the injustices of our people. 
Side note: Do not tell anyone how to feel about any situation especially if it doesn't pertain to you. If you are an ally, know your place. But we will get back to this subject later on.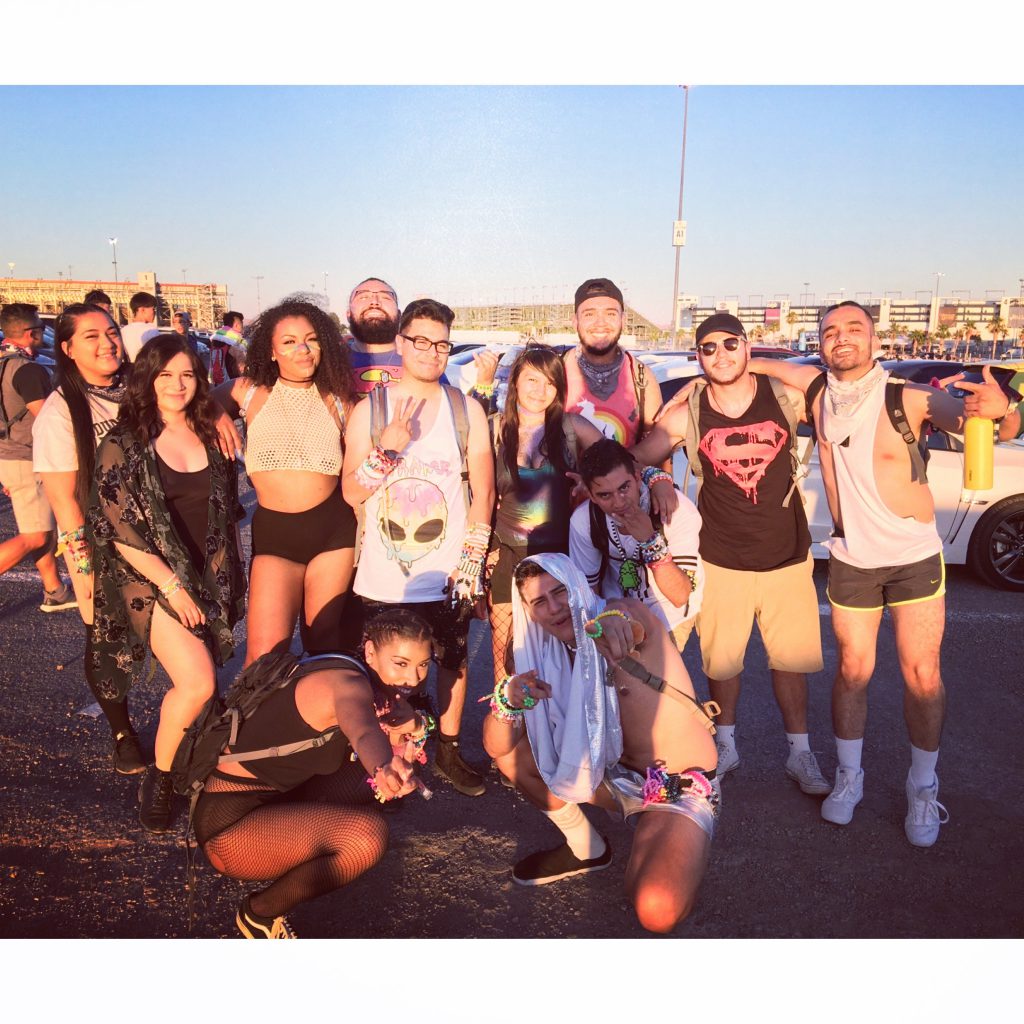 Soon, I noticed that artists like Svdden Death, G Jones, and Alison Wonderland speaking out about George Floyd on social media.
Say what you want about these artists, but they are truly for the cause and as a fan, this speaks volumes. When artists started using their platform and influence to speak out about the murder of George Floyd the train of acknowledgment started, but it should've started from the jump and you shouldn't wait for an artist to speak out to follow suit.
The outrage and response were insanely slow, and people are JUST NOW getting around to speaking out. I can easily drag these artists but that's not what this community is about, and that includes the "All Lives Matter" responses from others as well. Words to the wise, educate yourself about why the Black Lives Matter movement started in the first place. If all lives matter, black people wouldn't have to remind you that our lives matter.
Even though we cherish the values of PLUR, spreading positive vibes isn't going to bring justice to George Floyd.
Turning a blind eye, being silent, and telling people to be PLUR is not going to end police brutality. It will not change the experience of black people in America, and it's important to understand the difference between PLUR and toxic positivity. 
Our blackness is seen as a threat to society. Our blackness can get us murdered and it's crucial to let that sink in and resonate. If you are a member of the rave community you are supposed to stand against racism, sexism, bigotry, homophobia, transphobia, and other injustices that the world faces. Our problem is your problem. There's room for everyone on the dancefloor and that same energy MUST be applied to the real world. 
We have a responsibility as a community to stand in unison with each other. It costs nothing to be supportive. It costs nothing to be present and listen to what we have to say. It costs nothing to be an ally. Work is required. People feel that we're asking for a lot but in reality, black people are still fighting for civil rights. We're still fighting for this country to respect us as human beings. Not objects. 
You can do better. This community can do better. It shouldn't have to fall on the backs of some. It should be all of us. 
There are plenty of available resources out in the wild that you can dig into. Do your research. Learn our history. Educate yourself. There are endless non-profit organizations that support people of color communities. Support black and brown indie brands when you're looking for that next rave fit. Take the time to check on your friends and the black ravers that you have crossed paths with. Know your place. Do not insert yourself into our narrative. Do not insert judgment. Listen. Have a conversation. 
People are confusing emotion with confrontation. We have a right to be angry. We have a reason. In fact, there are over 400 years of reasons, but that doesn't make us combative. Stay in your lane as an ally. For the people who are out there on the frontlines, protesting—thank you.
Shoutout to the donation trains that have happened and every person who has opened their purse and wallet during a pandemic. Shoutout to Sable Valley for raising over $16,000 during their stream this previous weekend and RL Grime matching that donation.  Shoutout to Svdden Death, Subtronics, and Marshmello for donating. Shoutout to Yehme2, Jauz, and a growing list of people who are being real and authentic about what's going on.
Lastly, I have seen allies speaking out and getting attacked on social media for doing so. If that is you, someone attacking those who are standing up for black people right now, you need to get the fuck out of the scene because the rave community isn't about ignorance. Again, black ravers should not be alone in this fight. If you do not feel this is a problem then that is privilege driving the boat. Period.   
Your favorite black hottie,
Raven Wright 
P.S. Melanin Ravers and @ravinglegs created a spreadsheet to track the artists and organizations who were speaking out and showing support. Please note that the tracker isn't 100% complete, but the genesis of its creation started due to the lack of responses within the community. You can take a look over on Google. 
---
Follow Black Lives Matter on Social Media:
Website | Facebook | Twitter | Instagram 
Follow Melanin Ravers on Social Media:
Follow Raven Wright on Social Media: