While taking a break from the boogie, check out the Learning & Culture Programming Lightning in a Bottle has to offer this year!
---
While its impressive lineup is always a draw, one feature that sets Lightning in a Bottle festival apart from the rest is the incredible and versatile Compass. Throughout the weekend this space is used for helping attendees focus on their own personal and spiritual growth. The Compass will be hosting over 80 workshops and performances. Thought-provoking discussions will be held by visionaries, artists, psychonauts, and musicians, scientists, and experts of all sorts.
The eclectic lineup includes the godparents of psychedelic art and exploration Alex Grey and Allyson Grey, wellness expert of the Sacred Woman Rites of Passage program, Queen Afua, as well as mycologist Paul Stamets. They, among many inspiring individuals, will be leading talks and discussions including 'Manifesting Greatness via Sensuality & Radical Self Love', 'Social Media, Sex & Shame', and 'Receiving Instructions from the Non-Human World'.
Exploring this side of the festival truly enhances the magic that Lightning in a Bottle has to offer.
With so much to learn and experience, The Compass helps attendees to open their hearts and expand their minds to new ideas and important conversations. In addition to powerful lectures will be interactive workshops, workshops, and classes. From Dance Church by Fatima Robinson to a Balinese Water Purification Blessing & Ceremony by High Priestess Ida Resi Alit. With six different immersive ritual spaces, LiB ensures each experience is meaningful and safe for personal growth.
Lightning in a Bottle has also partnered with a number of organizations that allow attendees to use and share what they learned at the festival with the world after. These partners include Living Village Culture, Extinction Rebellion, Kiss the Ground, Le Ciel Foundation, MAPS, Lifeforce Academy, NEXUS Global, Wellness Official, Water Now, Amazon Watch, and Psychedelic Journeys.
If you are not taking advantage of the amazing opportunities at the Compass than you are only experiencing half of Lightning in a Bottle. This space is an amazing way to use your time away from music to heal, learn, and grow. Tickets are available now for Lightning in a Bottle 2020 via their website!
Lightning in a Bottle 2020 Learning & Culture Lineup: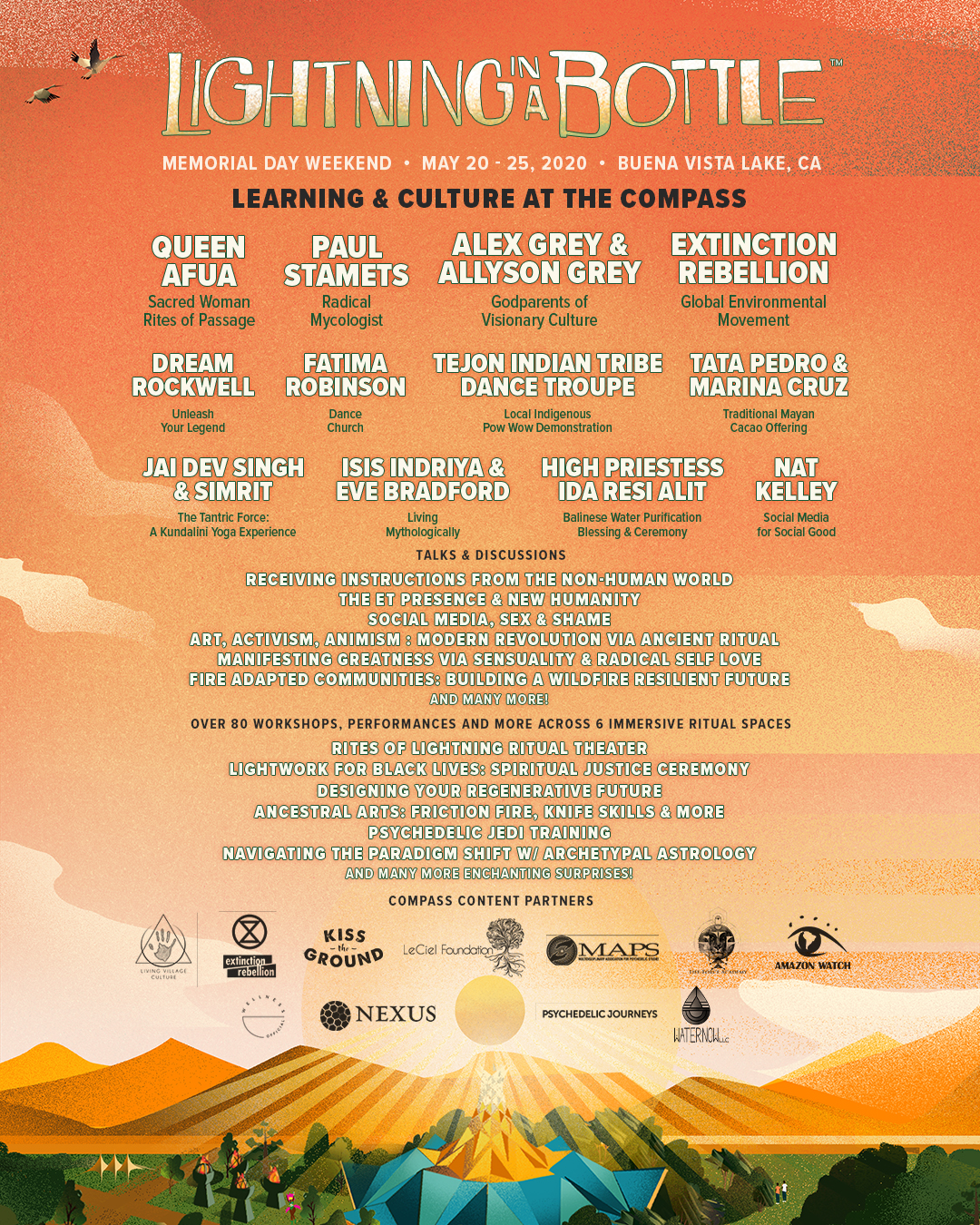 ---
Connect with Lightning in a Bottle on Social Media: