Elrow is where visual and audio arts collide and the first edition of elrow'art Kaos Garden in Brooklyn was an energetic spectacle that held true to the aesthetic. 
---
No one goes to an elrow event just for the music. Sure, like any good rave, the music and dancing are important, but the professional party throwers up the ante with a colorful visual show that goes well beyond the expected lights and lasers. Each event, like Kaos Garden, features costumed dancers, moving 3-D models, colorful beach balls, confetti cannons, and inflatables hovering over the crowd. Oh, and the crowd?! Most of the crowd gets into the costumed theme and just roaming the audience is an event unto itself!
When I wrote the elrow'art Kaos Garden preview, I noted that the theme was a reinterpretation of Bosch's The Garden of Earthly Delights. I'm not sure I fully understood this theme, nor did my crew when discussing costume ideas, but it did ultimately delight. We all opted for the glitz and glamour of costumes with rhinestones, sequins, body gems, and lots and lots (and LOTS) of glitter.
"My roommate knows my love for great parties and a spectacle, so after seeing elrow in Ibiza, we jumped on their first Brooklyn show in 2018. I've been to virtually all of them since… making friends each time along the way. It's become such an event that I now host a Champagne and Glitter pre-party!"
– elrow fan Rocket Q. Osborne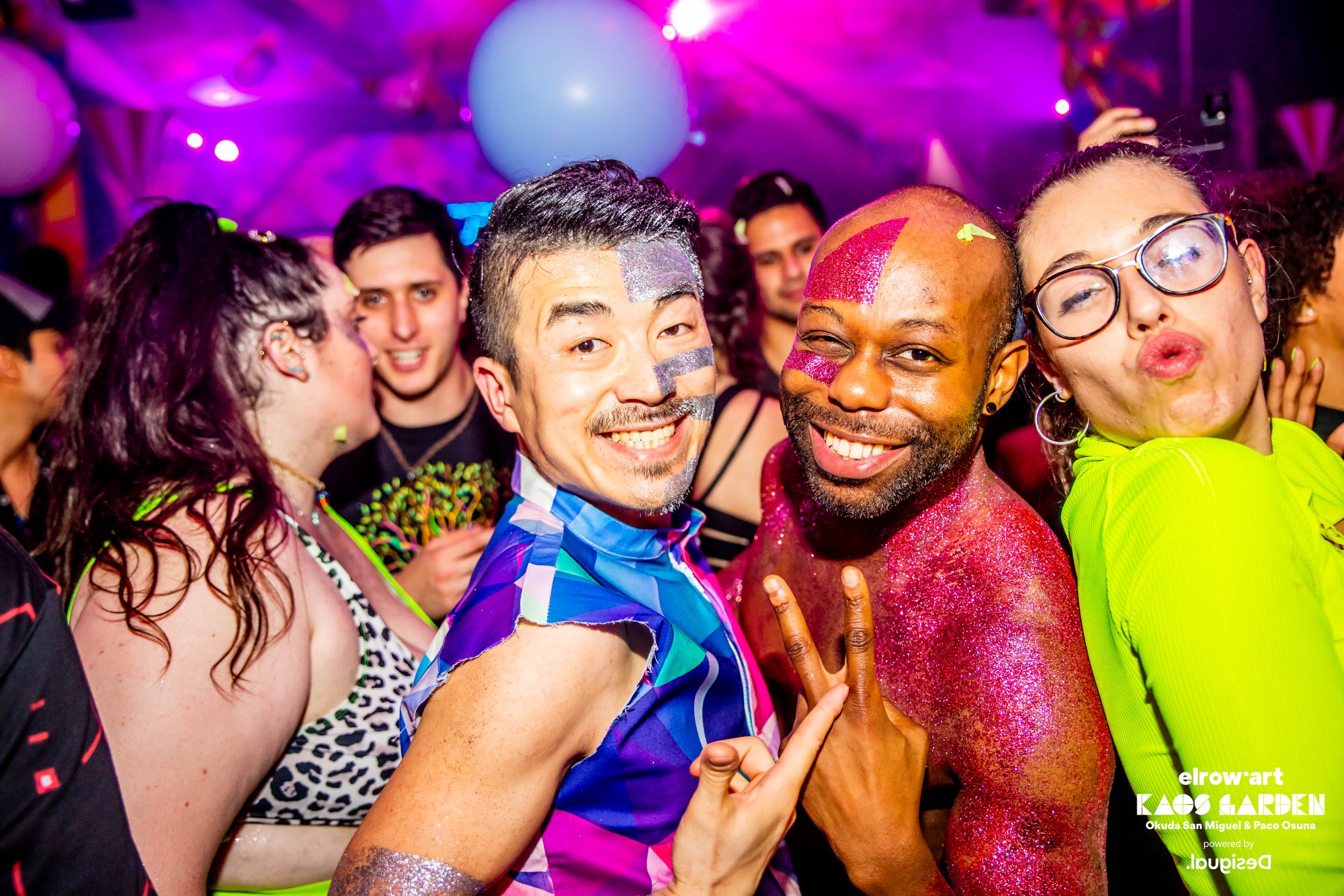 After the Champagne and Glitter pre-party, we gave the three stages a quick pass to get a general feel for the event.
For this event, elrow was using the three indoor winter stages at Avant Gardner: Great Hall, King's Hall, and Lost Circus. We immediately fell in love with the complete immersion of the visuals in the Great Hall but decided to hit up the smaller stages first. (And here's a time lapse of the incredible venue setup!) Lost Circus wasn't our flavor of music when we checked it out, and it was the darkest and least decorated room, so we moved on to King's Hall. Francisco Allendes was on stage and the music was the perfect starting point for our journey into Kaos Garden.
I was immediately taken by the Balearic style that would be a music theme throughout the night. Reminding me of clubs in Ibiza, it's the kind of sound that just gets you moving. To me Allendes' sound (and others later in the party) is like the brighter side of techno – undoubtedly grounded in techno, but not meant for a dark Berlin dungeon. And this makes sense with the bright and colorful elrow theme. No matter – we were jumping up and down at the front of the crowd in no time. Beach balls were bouncing along with us and the inflatables overhead gave a light and airy feel to the room, even though it was quite crowded.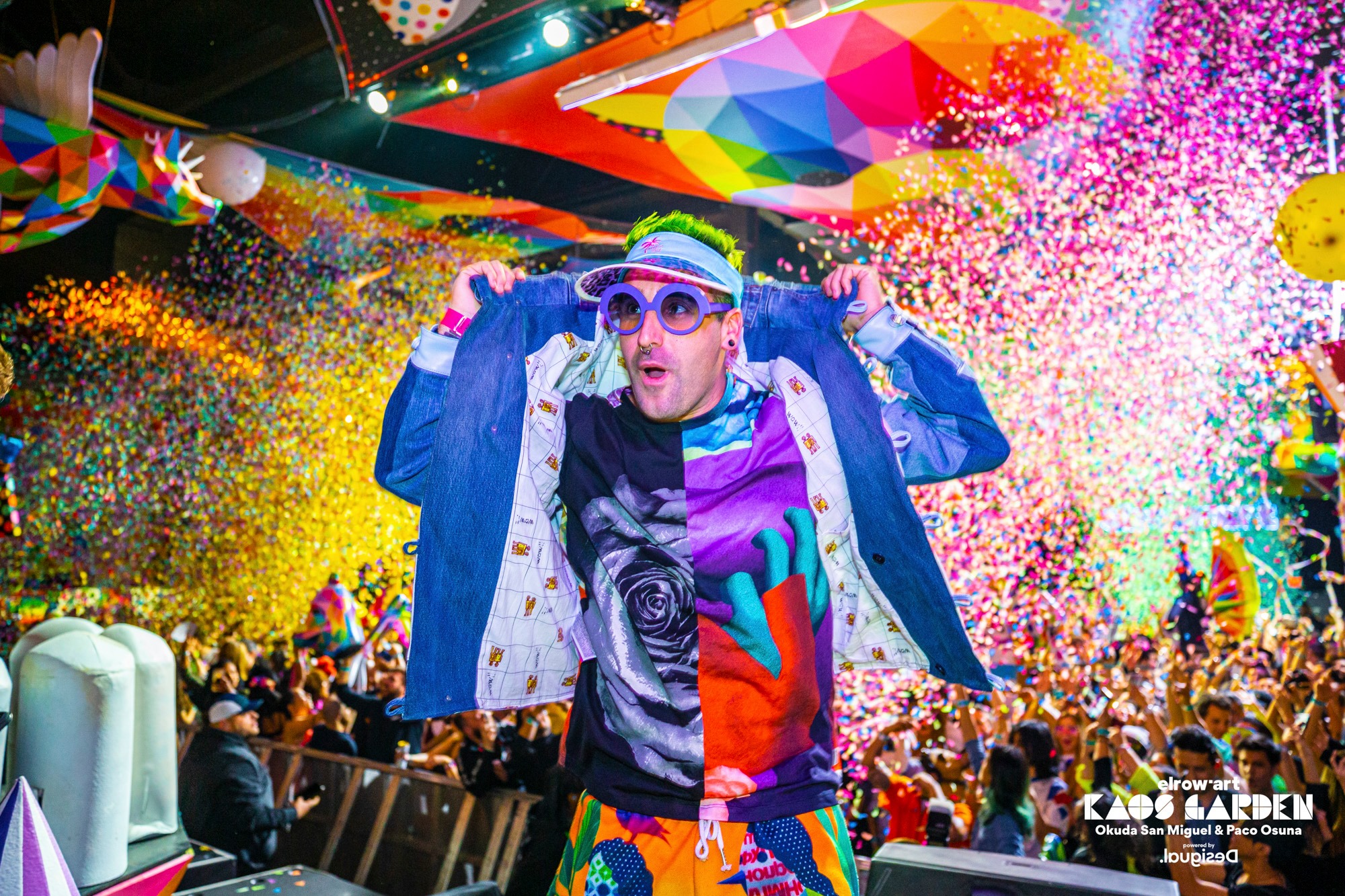 Next up in King's Hall: Latmun and his tech house style took us a little deeper. And darker.
While all the sets we experienced were super dance-y, Latmun took us a little deeper and a little darker than the rest. And we were totally down with that! There was something special about feeling a little darkness in a venue that was meant to be very bright and colorful. Unfortunately, in an attempt for my initial crew to connect with some other friends, we ended up in another room – and not really able to get the two crews together.
Herein lies the rub of indoor festivals – crowd flow.
My overall elrow experience at Avant Gardner for Kaos Garden was amazing. But if I have one critique, it's the same one I have at any multi-stage, indoor event: crowd flow. Ticket capacity is likely based on the capacity of each stage PLUS some number of attendees being in the halls, food, merch, and smoking areas.
Unfortunately, crowd distribution is never balanced and when we moved to Lost Circus to connect with our other friends, we were met with an immovable wall of revelers. Our friends were deep in that throng and we danced in the back to Jesse Calosso B2B Jean Pierre for a bit before giving up on getting anywhere inside that room.
We sort of wandered aimlessly in and out of spaces for a bit after that, taking the opportunity for bathroom breaks and refills of water. We also hoped we could get our friends out of Lost Circus, but, alas, by the time they got out of there, we were deep in a whole new experience. While we found the Lost Circus a bit underwhelming in terms of the decorations, and King's Hall "fun and floaty," it's what awaited us in Great Hall that was truly the elrow experience.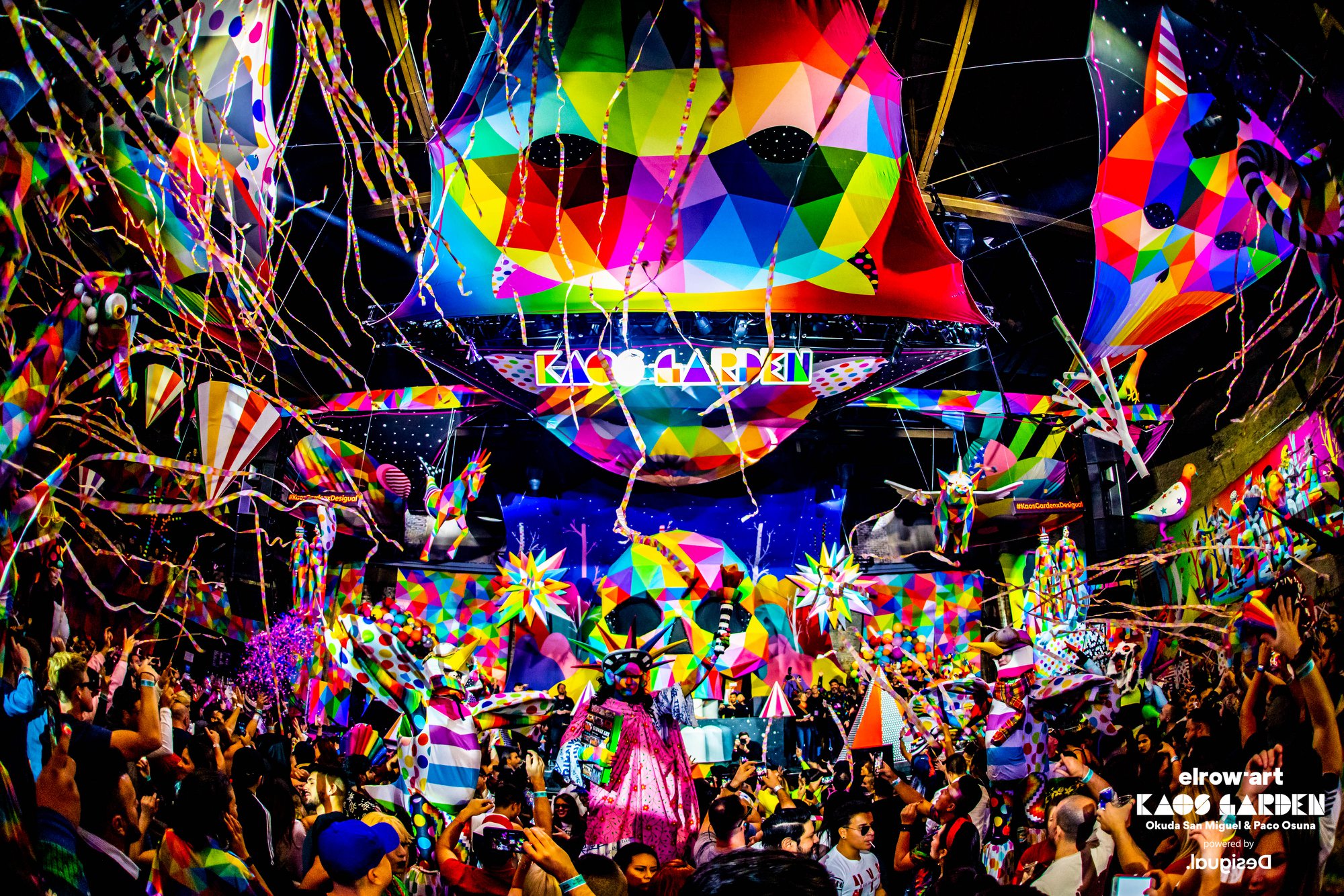 The Great Hall had something visual happening on nearly every existing surface, and then some!
Getting into some space in the Great Hall was a challenge and I think we knew that once we dove in there, we were staying for the rest of the night. Once we found a nice spot right in front of the sound tables, we began to take in the full spectacle that is elrow. The bright colors on the walls and in the costumes of the dancers that were scattered around the room on various platforms – it was quite the sight.
Then, suddenly, I recognized my first track of the night: Green Velvet's "Flash" (Eats Everything Remix). Only at that moment did I realize that Eats Everything was on stage. It was also the moment I realized how much new music I had been exposed to so far, and how I was loving all of it even if it was unfamiliar.
Finally, 3AM had arrived which meant that headliner (and the event's musical curator) Paco Osuna took the stage.
Continuing to embrace the unknown, I didn't look up any of Paco Osuna's music before the event, but from the hype, I knew I wanted to hear it live. Because of that, I was rewarded with a truly dynamic and funky sound. His set flowed in and out of recognizable genres, and I'd ultimately describe the set as "funky disco techno". One perfect example was when he played "Get With Him" (Ron Carroll's Spirit Filled Mix) – a track that is somehow dark and light at the same time. And undeniably funky and dance-y.
Paco Osuna drove us into the wee hours providing the musical energy needed to last till 5AM. However, when we left at that time, he showed no signs of stopping and was scheduled till 5:30; yet I suspect he didn't even stop then.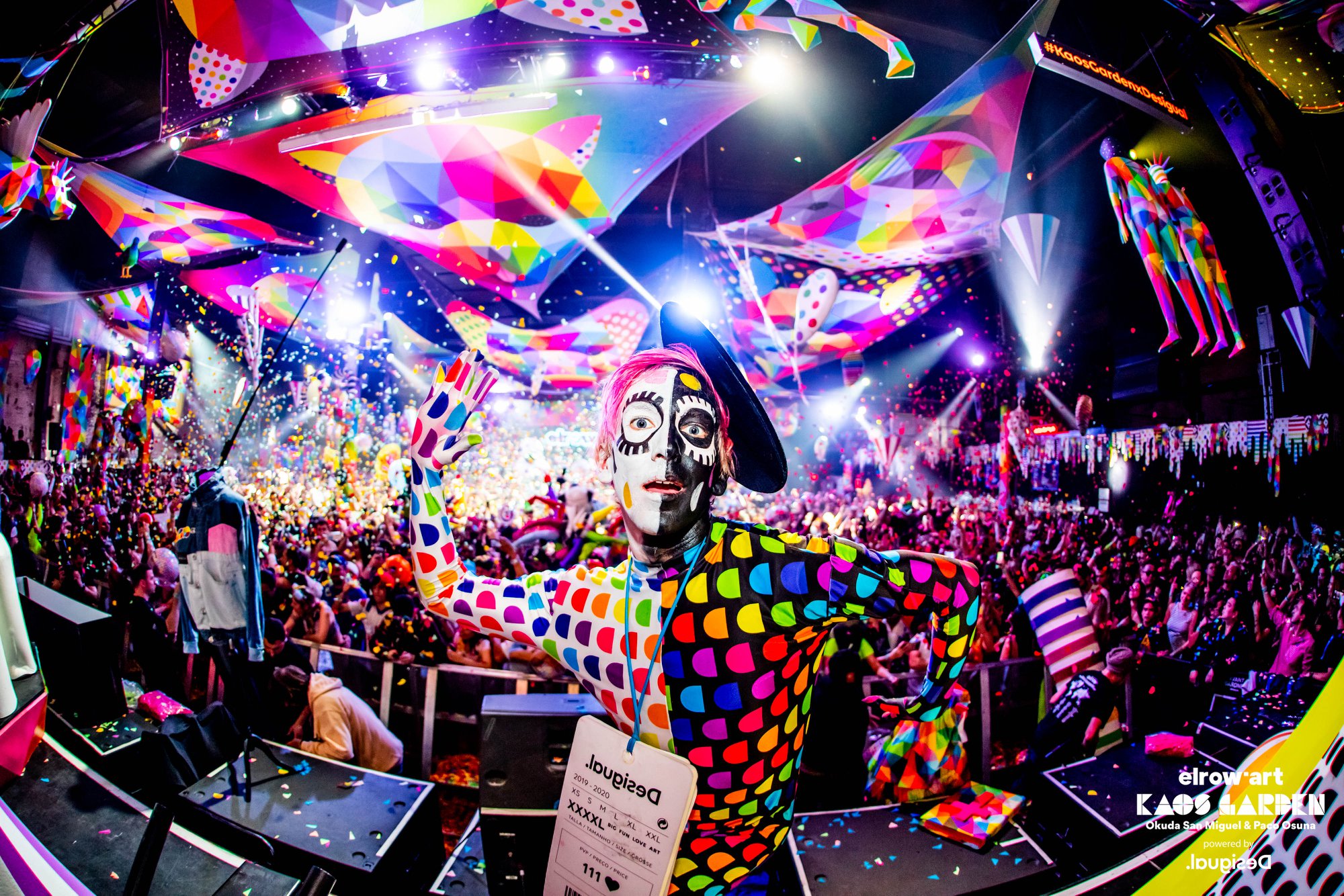 And let's not forget the confetti cannons!
With so much happening at this event I almost forgot to mention elrow's signature "trick" – the confetti cannons! When I was first told that we'd be practically drowned in confetti, I shrugged it off as a bit of a parlor trick. But if you've never been on a dance floor when dozens of cannons sound off and confetti drops from the sky for minute, not seconds, you are missing out on a singularly intoxicating experience! I dare you to dance in that scene and not smile, or in my case, giggle uncontrollably. It was such a feeling of euphoria that washed over me every time the confetti dropped. And elrow had the final laugh when I was home hours later getting undressed and confetti feel from every nook and cranny of my clothing.
Elrow is an undoubtedly immersive experience and even without others to compare, I could feel that Kaos Garden was perfectly situated in the elrow aesthetic.
This may have been my first elrow experience, but it certainly won't be my last. The immersive visual experience on top of the terrific musical lineup is definitely a selling point for me. Add to this music that had a balanced diversity to keep the energy flowing and a crowd that absolutely gave themselves up to the night, and this is an event to be remembered… and relived!
Have you attended an elrow event? What are your thoughts? Let us know in the comments below!
---
Follow elrow on Social Media: