Houston-based festival Freaky Deaky is just a few months away! Get ready by checking out the newly announced stages and "Road To Freaky Deaky" event series.
---
Have you figured out your plans for Freaky Deaky yet? Taking place on October 26-27 at Houston Raceway, the stacked lineup truly has something for everyone and provides a perfect escape to Texas before winter takes over. With discounted flights, hotel deals, and a DJ contest available on their website, Freaky Deaky is creating what is sure to be an awesome weekend for music lovers from all around the country.
Tier 3 tickets to Freaky Deaky are 85% sold out! Single days tickets are available as well. Grab your tickets now and RSVP to the Facebook Event for the latest updates.
If waiting until the week of Halloween is too far away to get a taste of this spooky festival, then the "Road to Freaky Deaky" events are exactly what you need! Freaky Deaky is hosting six shows that feature Figure, Malaa, Rusko, Cash Cash, and Kill The Noise, each taking place in different cities and venues spread across the region.
Tickets to these shows are available now as well, so grab them while you can since you won't want to miss out on the action!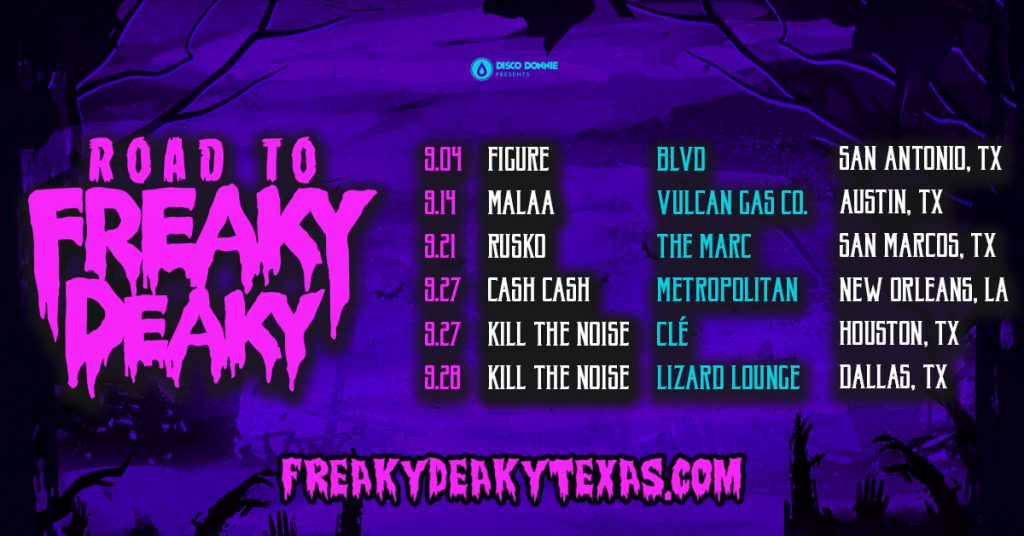 ---
It wasn't just the Road to Freaky Deaky that was recently announced, as the daily lineups for each of the festivals' five stages have also been unveiled.
Now that we know which artists will be playing each stage and if it's on Saturday or Sunday, the true planning can commence. With a larger venue than last year, I can't wait to see the production on these stages and what Freaky Deaky has in store for us.
The Shrine stage hosts some of the biggest names on the lineup. Touching on all genres from trance (Cosmic Gate), house (Shiba San b2b Walker & Royce), electro (Deorro), and more, The Shrine will be where a vast majority of attendees spend the most time. We're particularly excited for Martin Garrix, Jonas Blue, Moksi, and Spencer Brown.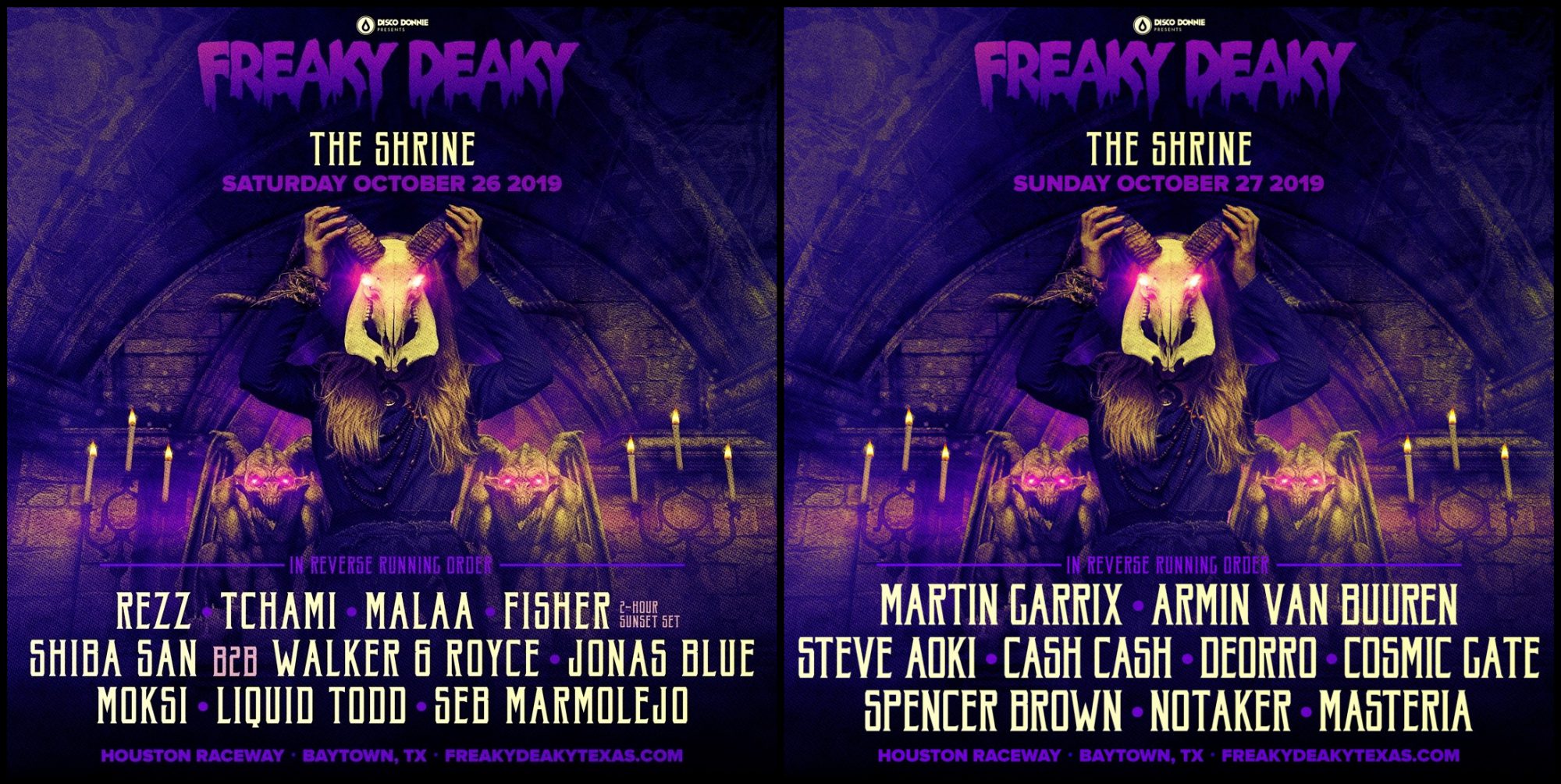 Next comes The Crypt stage, which has a satisfying mix of all types of bass-heavy music.
Along with the big names like Borgore, Getter, and Kill The Noise, there's a strong undercard as well. There's trap (ATLiens), heavy dubstep (Kai Wachi), experimental bass (CharlesTheFirst), midtempo (LICK), and tons of other artists to choose from. The Crystal Method and CloZee are some particularly interesting additions to this stage's lineup.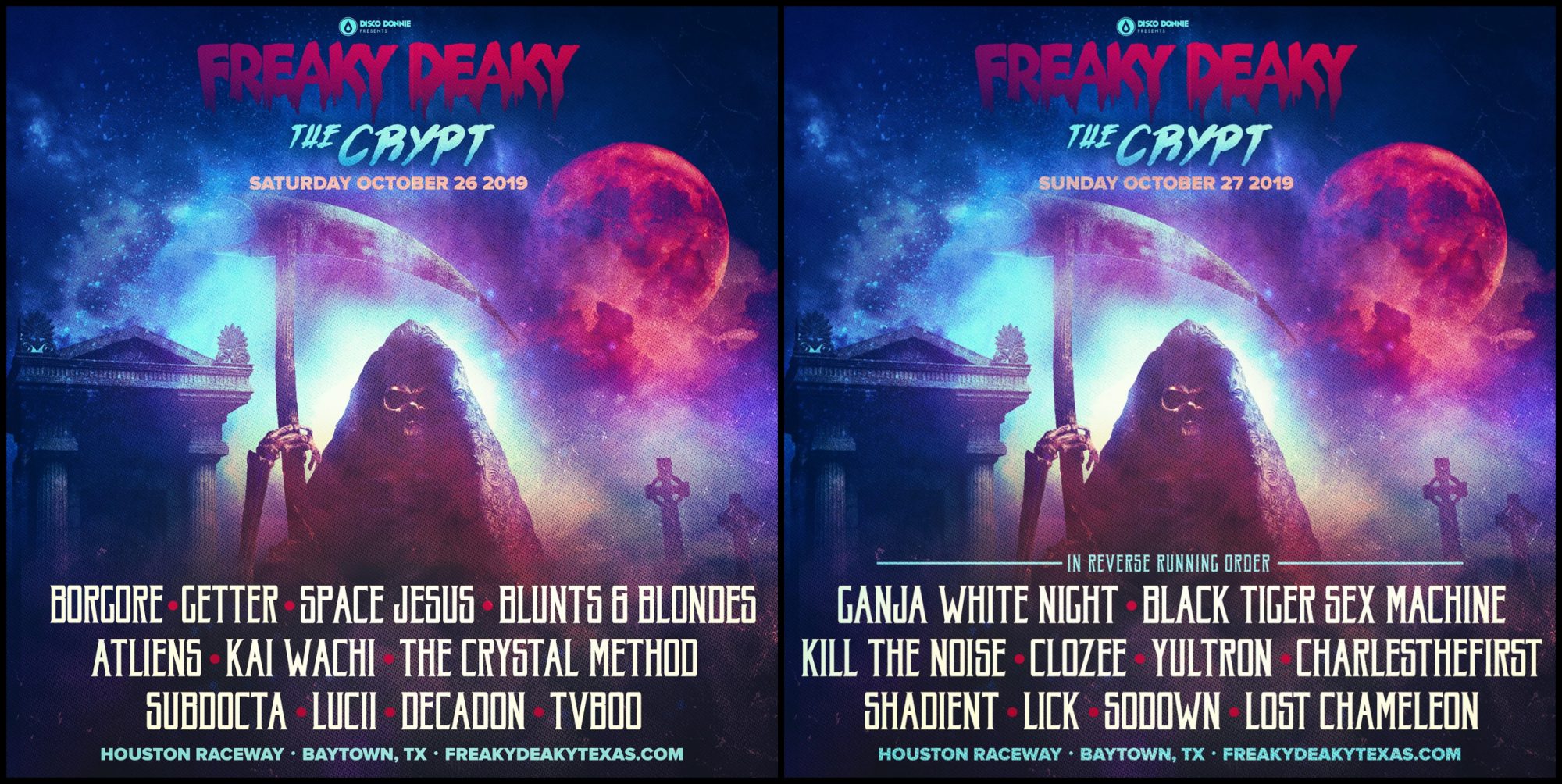 Haunted Hollow is another stage that hosts a really unique blend of genres.
On Saturday, there's drum n bass from Planet Of The Drums and Delta Heavy, and psytrance from Dimibo and Simon Patterson. On Sunday, it's an all out hard dance party with sets from Lil Texas, Coone, Lady Faith, Geo, and more.
Da Tweekaz and Tweekacore will both have a time slot; the former is an all-inclusive hard dance act, while the latter is a side project from the duo that focuses on happy hardcore. The lineup at Haunted Hollow truly sets Freaky Deaky apart from other Halloween festivals.
The Big Top is next and this one's a proper house and techno party.
This stage will act as a perfect getaway from the EDM and bass music heavy stages. Lane 8, Yotto, Cristoph, and Luttrell headline the first day, while Green Velvet, AC Slater, Chris Lorenzo, and Dombresky dominate the second day. Some other can't miss acts include VNSSA and Volac b2b Phlegmatic Dogs. We're expecting to spend plenty of time at The Big Top!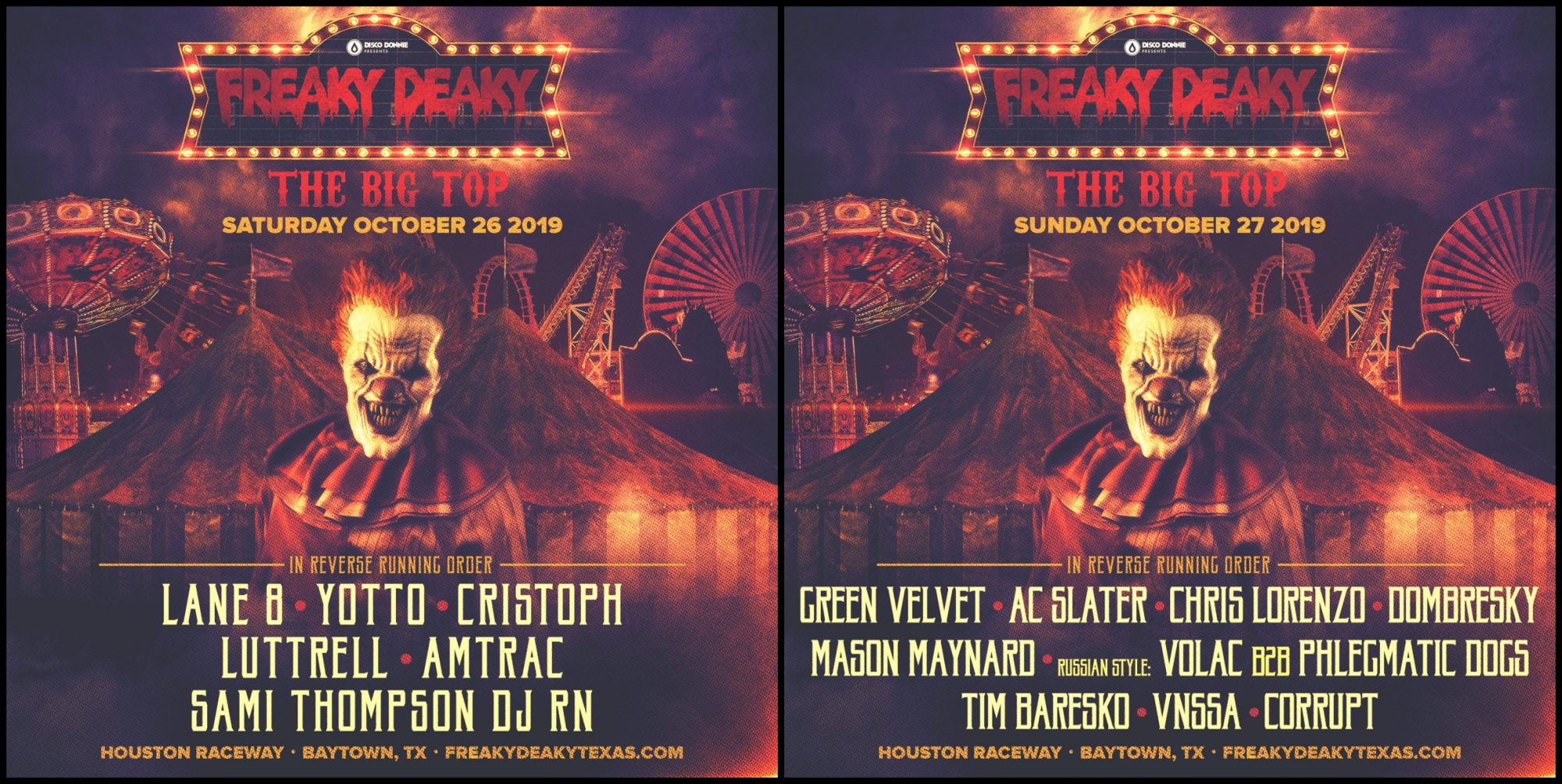 Lastly is The Rising, a smaller stage in the middle of the festival that hosts a variety of artists on the come up.
Featuring artists like Ghost Data, Monstar, Arson, and Wes Walz, this stage is shining a light on some of the rising stars in the scene today. You can also enter the DJ contest now for a time slot on this stage as well!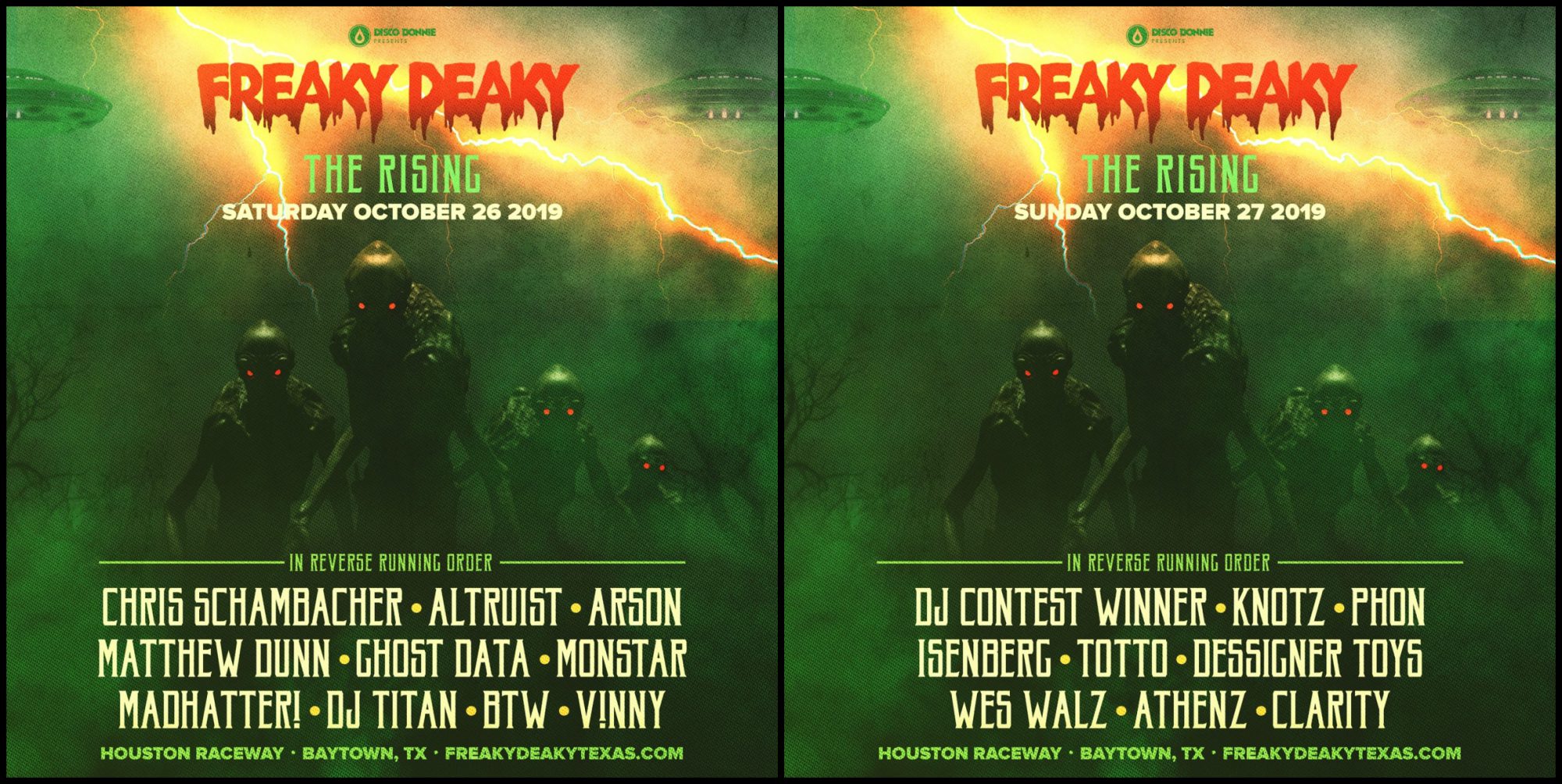 With the festival about two months away, there's plenty of time to solidify your travel plans and find a squad for Freaky Deaky.
I know I can't wait to escape Chicago's cold weather in late October and spend a weekend in Houston with my best friends getting down to one of the best lineups of the year. Grab your tickets now, follow their socials below, and stay tuned for more updates on this awesome event!
---
Connect with Freaky Deaky on Social Media