If you can't make it this year to celebrate the 15th Anniversary of Tomorrowland, you're in luck as the live stream of the festival is a go!
---
This year is a monumental one for one of the world's most renowned dance music festivals, Tomorrowland. Turning 15 years old, they're packing a serious punch during the first weekend with a lineup that is absolutely stocked full of amazing artists and stunning production elements that will have your jaw on the floor. But if you can't make it to Boom this year, you're in luck as the live stream will give you a peek into the magical world they've created.
The live stream for the second weekend begins on Friday, July 26. Watch the stream below, read on for the schedule, and tune in via live.tomorrowland.com! 
Streaming over the course of both weekends, the Tomorrowland team has you covered with sets from some of the biggest names in dance music spread across four channels. While it may not cover each and every set like we hope it would there are some major artists who will be featured that you definitely won't want to miss during the first weekend.
Now that the festivities from the welcome party are over and the People of Tomorrow are ready to party, things will be full steam ahead on the stream. The first weekend featured some amazing sets from artists like Yotto, CamelPhat, Don Diablo, and Sam Feldt so expect some pure electronic bliss this weekend as well.
Take a look back at the first weekend's festivities in our live sets post, and don't forget to watch the Spectacle as well as there will surely be some fun surprises in store. Check out the live stream schedule below, and let us know which sets you're planning on watching in the comments!
Watch the Tomorrowland 2019 Live Stream:
---
Tomorrowland 2019 Live Stream Schedule: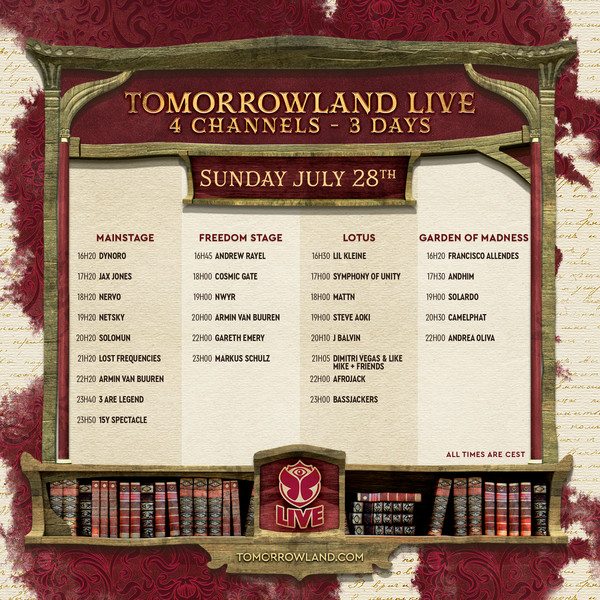 Weekend 1 Schedule:
---
Connect with Tomorrowland on Social Media: