Northern Nights Music Festival has added more artists for their upcoming edition this summer and it's jampacked with talent!
---
Over the past few years, Northern Nights Music Festival has quickly become one of the must-attend events each summer. Nestled behind California's Emerald Curtain at the Cook's Valley Campground, they've been at the forefront of the scene by bringing together quality music, engaging workshops, and progressive cannabis policies that few other festivals have even thought to offer.
After dropping their initial lineup and announcing that they would be the first festival to have the recreational sale of cannabis on-site, we couldn't wait to see what was in store this summer. Now, they've delivered even more artists like ZHU, Minnesota, PLS&TY, and VNSSA to really round out their lineup for 2019 and make it pop.
Related: Read how the 2018 edition of Northern Nights went down and get a look into all that the festival has to offer!
Also joining the lineup for this year's edition of NNMF are plenty of other talented acts like Berner, Fuego, Brian Cid, Alix Perez, Flow & Zeo, and plenty more. And you can't forget the cannabis-friendly stage at the NN Tree Lounge that will be hosted by The Green Door SF and Filigreen that will feature some of the most beloved brands in
Tickets and camping passes have been moving fast with passes now at Tier 3 and Grove and Car Camping already sold out. Grab your passes soon via Eventbrite if you're thinking about attending because you won't want to miss this edition.
---
Northern Nights 2019 Lineup: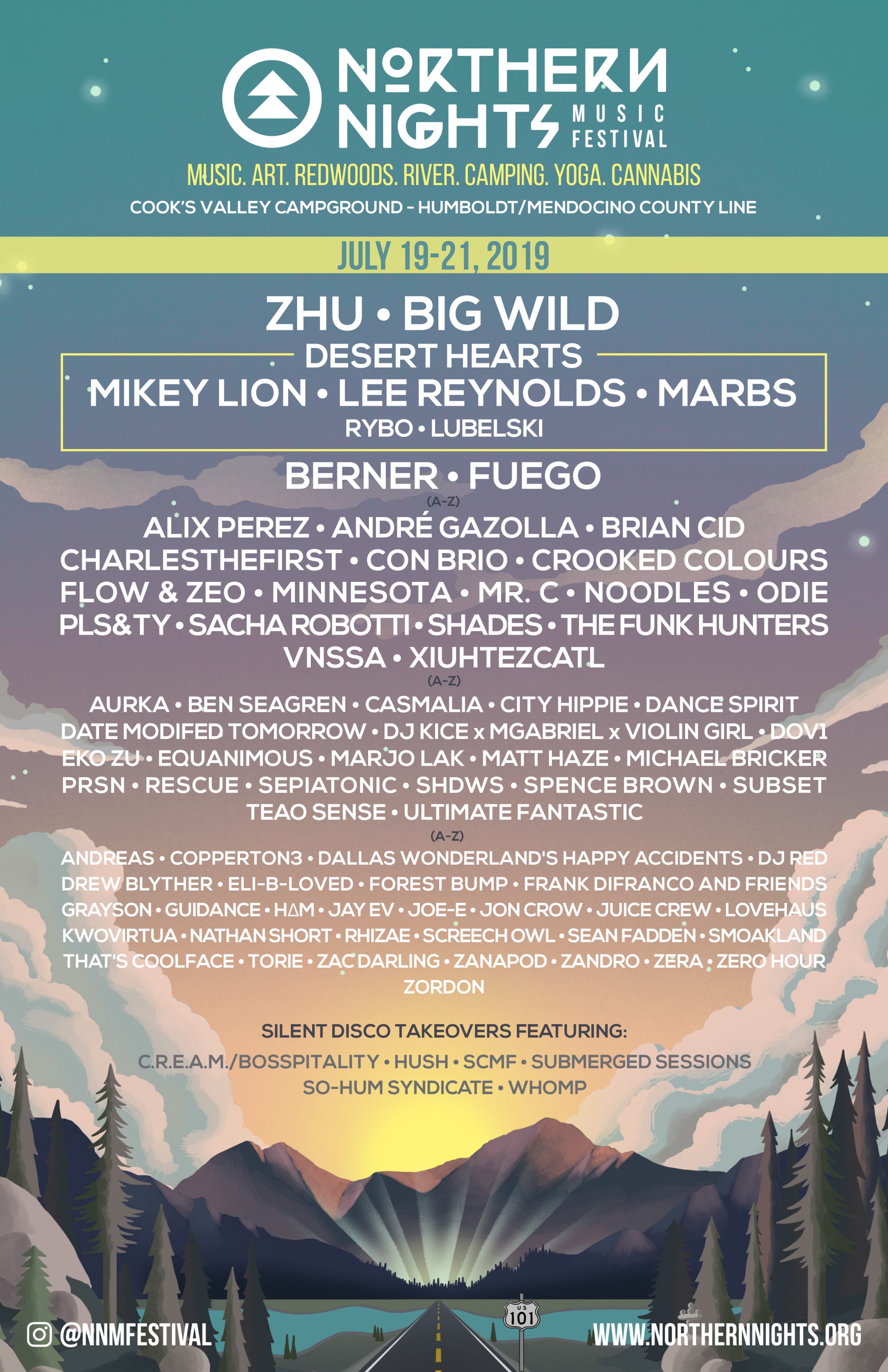 ---
Northern Nights 2019 – Lineup By Artist:
ZHU
Big Wild
Desert Hearts: Mikey Lion, Lee Reynolds, Marbs, Rybo, Lubelski
Berner
Fuego
Alix Perez
Andre Gazolla
Brian Cid
CharlesTheFirst
Con Brio
Crooked Colours
Flow & Zeo
Minnesota
Mr. C
Noodles
Odie
PLS&TY
Sacha Robotti
Shades
The Funk Hunters
VNSSA
Xiuhtezcatl
Aurka
Ben Seagran
Casmalia
City Hippie
Dance Spirit
Date Modified Tomorrow
DJ Kice x MGabriel x Violin Girl
Dovi
Eko Zu
Equanimous
Marjo Lak
Matt Haze
Michael Bricker
PRSN
Rescue
Sepiatonic
SHDWS
Spence Brown
Subset
Teao Sense
Ultimate Fantastic
Andreas
Copperton3
Dallas Wonderland's Happy Accidents
DJ Red
Drew Blyther
Eli-B-Loved
Forest Bump
Frank DiFranco and Friends
Grayson
Guidance
HΔM
Jay EV
Joe-E
Jon Crow
Juice Crew
Lovehaus
Kwovirtua
Nathan Short
Rhizae
Screech Owl
Sean Fadden
Smoakland
That's Coolface
Torie
Zac Darling
Zanapod
Zandro
Zera
Zero Hour
Zordon
---
Connect With Northern Nights on Social Media: