Brandi Perales shares her favorite moments from the scene, who she listens to, how she fell in love with electronic music, and more!
---
Name: Brandi Perales
Rave Name: Shark Mami
Age: 25
Hometown: Houston, TX
Occupation: I do social media, operations and I'm also a manager for a jewelry store.
Twitter: @brandiinycolee
Instagram: @sharks_glitter
---
What was your first electronic music event?
I had been to an event back when I was in high school but I had no idea who I was seeing and the music was something unique to me. I fell in love with it BUT my "first" event was TJR and it was a big party. [Laughs]
What/who influenced you to attend your first event?
Considering TJR my first event; an ex-boyfriend of mine actually did. He now hates EDM from what I've been told, and that's his loss.
What is one moment from an event that was special and why?
I have SOOOO many stories but my favorite is a current one. I was finally able to see Excision again after three years for The Paradox tour. One of my all-time favorite tracks Jeff has put out is "Drowning". It carries a message that means a lot to a ton of people and I appreciate the fuck outta that.
Anyways during his set here in HTX my friend Snorlax knows how much "Drowning" means to me so when Jeff dropped it during his set Lax, of course, caught a beautiful moment of me. Singing out of key and horrible mind you my emotions came out and he got it all on video. I later posted it online and then it went viral on IG and Facebook and got a lot of negative and positive messages from it but that's with anything I had to learn.
About a day later on Twitter, Jeff commented on my video and was like "ah I remember you…" and so on saying kind things to me. So the fact that a simple video hit a huge audience and caught the attention of one of my favorite producers is a VERY FUCKING SPECIAL MOMENT.
What is your favorite festival or event?
All I've ever known was Something Wicked because it was local. Going to festivals out of state was the dream for me and this year EDC was the move. I will say EDC was amazing but Lost Lands I feel will be my home forever. Which I'm 99.9% sure that will be my favorite festival. So catch me there!
What is your favorite electronic song and why?
"Breathe" by Slander and Adam K. This song just like a small handful of tracks mean the world to me but this one, in particular, means the most.
Not to get deep into my past…everyone has skeletons and has had obstacles they've been through. It's up to us to take that and change our own life. I had made a three-hour drive up to ATX and went to this one cliff at a park I knew of. I left my dog and my room cleaned back at my apartment. I told no one that I was leaving. I was at rock bottom and that was it for me. Music is powerful no matter what anyone says because it can save someone's life.
As I was getting ready to end it all "Breathe" came on and it was like as if I was slapped in the face. The mind is very powerful and one song made me break out into tears after not feeling any type of emotions for months. I'm EXTREMELY thankful I'm still here today. I still struggle with depression, anxiety, and PTSD since I decided to stop taking pills prescribed to me but when those issues start to creep up Breathe is always on repeat.
I have yet to meet Slander and tell them what their music has done for me. I know that sounds cheesy but I want to thank them in person one of these days and give them all my love.
Who are your favorite artists?
Slander, Excision, Zeds Dead, Jauz, Kayzo, Liquid Stranger, Seven Lions, Squnto, 1788-L, and Kaskade. Just a few for ya.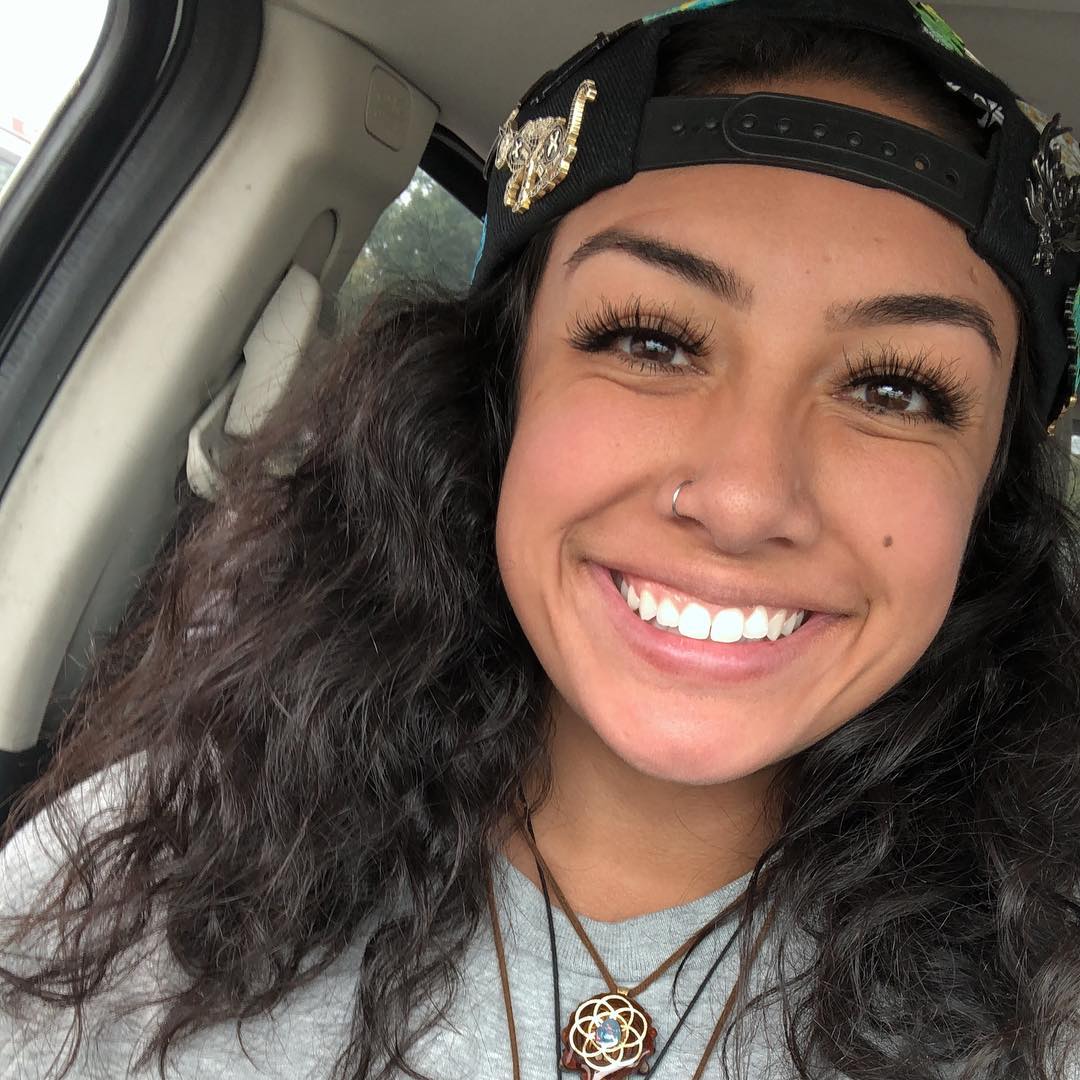 What are your favorite genres?
I love all sub-genres of EDM but definitely dubstep, DnB, downbeat, freeform bass, bass, trap, heaven trap, and melodic dub…the list goes on haha
What do you feel your "Identity" is in the electronic music community?
I like making bassface and headbanging. [Laughs] I feel as if I don't identify with anything specific in our community. This may sound cliché but I'm honestly just myself. My identity is me, my vibe always attracts people no matter what, so I think mine is just being myself and loving whoever comes my way.
Is there anything else you would like to add about yourself for the readers?
Man, shit is crazy but just know that with this community we are blessed to be in…its full of all kinds of people.
Always remember your vibe attracts your tribe… it's true. YOU be the change you want to see and live your fuckin best life. On the lowest of days, just remember you have people who are probably going through the same shit but you are loved and the culture can save your life like it did mine.
Whoever reads this I want you to know, I love you dude.
---
Do you want to be featured in our weekly ID Spotlight segment? Click HERE for the submission form!