Drumcode Festival 2018 is not slouching on the talent for its kick-off edition in Amsterdam, bringing even more techno to the city!
---
There was little doubt that the first Drumcode Festival, a team-up between Adam Beyer's Drumcode music label and European promotions group Awakenings, would bring a fantastic lineup of talent.  After dropping the initial lineup for the festival, which is set to take place in Amsterdam on August 8, we now know who else will be playing and the set times as well.  From Adam himself to Amelie Lens, Dense & Pika, and more, the festival is sure to bring smiles to any techno lovers face.
Diving deeper to discuss the festival layout, you can explore up to four different color-coded stages.  Red, Purple, Blue, and Orange round out the choices, and with little else to go on then the lineup, it's hard to say whether the sounds will differentiate themselves between each stage enough to really know why certain talent wound up on certain stages.
Along with a new festival comes a location you may never have noticed before as it lies home to a smaller scale.  Amsterdam is full of unique vistas for festivals but the former ship wharf known as NSDM Amsterdam is certainly a different locale.  Between its shipping container rooms, sustainable houseboats, and a crane turned into a hotel, one should be excited to find something unique about this label-centered festival.  Check out a few photographs from the grounds below.
If you are ready to dive deep into the Drumcode Sound, check out the full lineup below.  Do forget to check out livesets from this July's edition of Awakenings Festival for a taste of what to expect!

---
Drumcode Festival 2018 Full Lineup & Set Times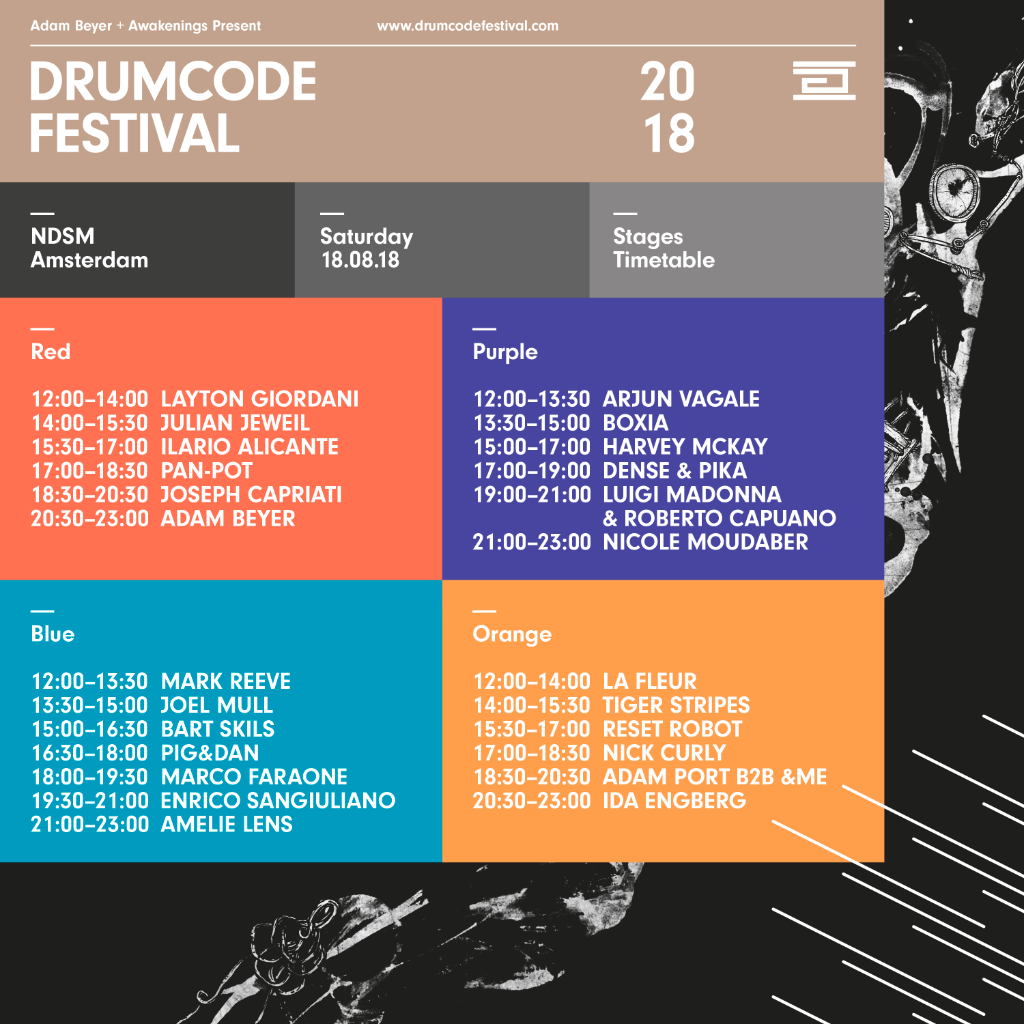 ---
Drumcode Festival 2018 – Lineup By Artist:
Adam Beyer
Adam Port B2B &ME
Amelie Lens
Arjun Vagale
Bart Skils
Boxia
Dense & Pika
Enrico Sangiuliano
Harvey McKay
Ida Engberg
Ilario Alicante
Joel Mull
Joseph Capriati
Julian Jeweil
La Fleur
Layton Giordani
Luigi Madonna & Roberto Capuano
Marco Faraone
Mark Reeve
Nick Curly
Nicole Moudaber
Pan-Pot
Pig&Dan
Reset Robot
Tiger Stripes
---
Drumcode Festival 2018 – Event Information:
Date: August 8, 2018
Hours: 12:00 – 23:00 CEST
Location: NDSM Amsterdam, Holland, The Netherlands
Age Restriction:
Website: DrumcodeFestival.com
Facebook Event Page: RSVP HERE
Tickets: PURCHASE HERE
---
Follow Drumcode Records on Social Media:
Website | Facebook | Twitter | SoundCloud | Instagram | YouTube