Northern Nights Music Festival returns for another year of the sickest beats, hottest vibes, and the coolest water to play in all summer!
---
It's that time of year again! Grab the floaties and get prepared for another year of sick beats at Northern Nights Music Festival as they're bringing us another stunning edition on July 20-22 this year. The weather will be warm at Cooks Valley Campground in Humboldt, but the South Fork Eel River will be the perfect companion for those hot days.
This year, artists such as Mr. Carmack, Justin Martin, and Sage the Gemini will be taking the stage at Northern Nights, proving that there will be no shortage of amazing music to dance to. Other artists that were announced on the first phase of the lineup include Ardalan, Jack Beats, Walker & Royce, Worthy b2b Option4, and many more. Check out the full phase one lineup below to see if your favorite artist is playing the festival!
Aside from the quality lineup of artists already announced, one of the standout aspects of the festival is the inclusion of their Tree Lounge, an area where medical marijuana patients will have the ability to meet and interact with some of their favorite companies and product makers.
Don't miss out on Northern Nights this year, tickets are on sale now so grab your's today by visiting www.northernnights.org/tickets!
---
Northern Night Music Festival 2018 – Phase 1 Lineup: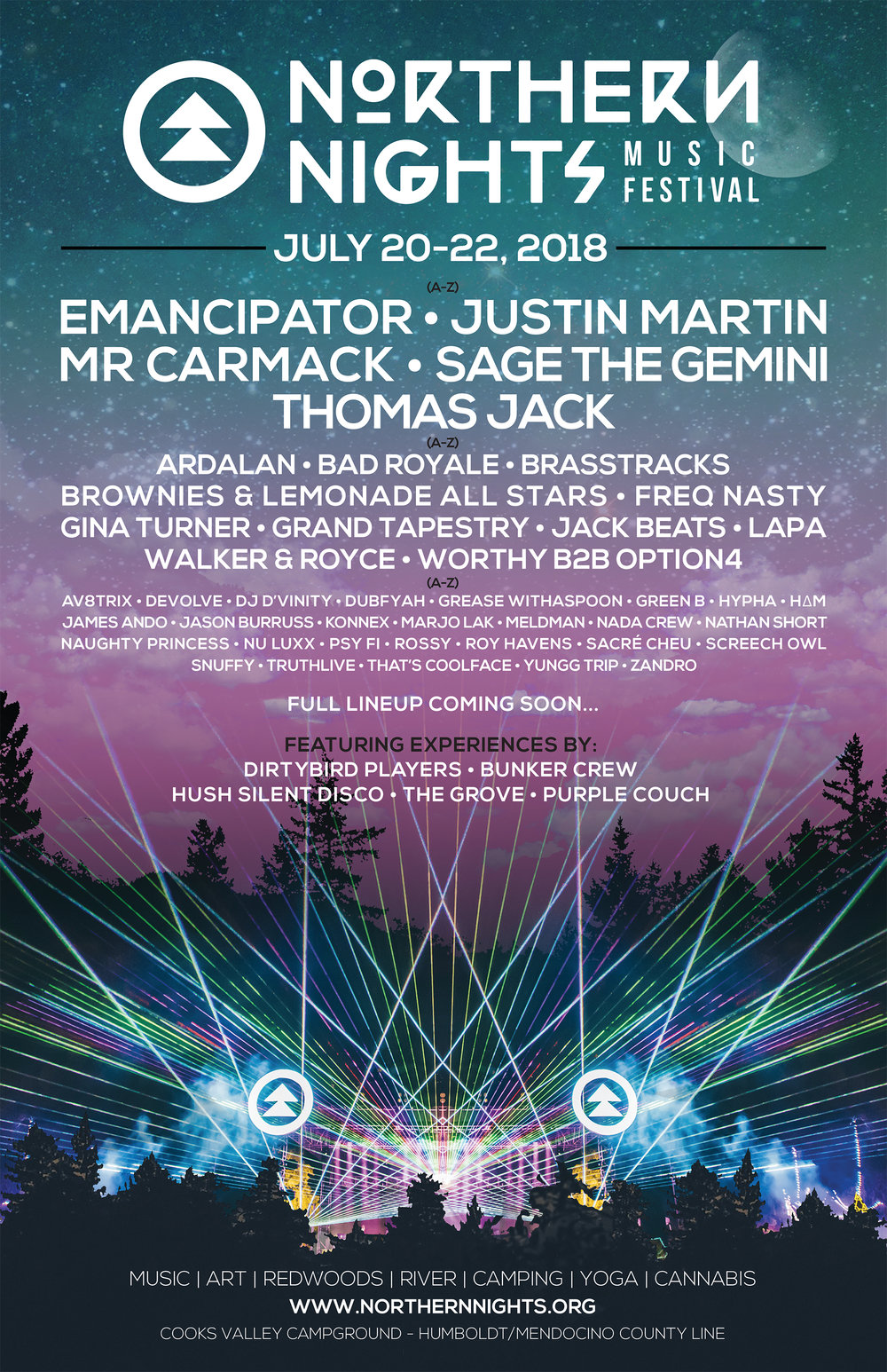 ---
Northern Nights Music Festival 2018 – Phase 1 Lineup By Artist:
Emancipator
Justin Martin
Mr. Carmack
Sage the Gemini
Thomas Jack
Ardalan
Bad Royale
Brasstracks
Brownies & Lemonade All Stars
Freq Nasty
Gina Turner
Grand Tapestry
Jack Beats
Lapa
Walker & Royce
Worthy b2b Option4
Av8trix
Devolve
DJ D'vinity
DubFyah
Grease Withaspoon
Green B
Hypha
HΔM
James Ando
Jason Buress
Konnex
Marjo Lak
Meldman
Nada Crew
Nathan Short
Naughty Princess
Nu Luxx
PSY-Fi
Rossy
Roy Havens
Sacré Cheu
Screech Owl
Snuffy
Truthlive
That's Coolface
Yungg Tripp
Zandro
---
Follow Northern Nights Music Festival on Social Media: