Calling all ShipFam! Your favorite party boat party will be returning in 2019 with two back to back sailings in the Caribbean!
---
After two successful sailings to kick off 2018, HARD Events has announced that Holy Ship! will be returning next year with another series of back-to-back parties on the high seas. Set to take place on Norwegian Cruise Lines' massive ship, the Norwegian Epic, ShipFam will be able to join the nonstop party on Holy Ship! 12.0 from January 5-9, 2019 or Holy Ship! 13.0 from January 9-12, 2019.
This announcement will change things up for many who plan on attending, as the 12.0 sailing runs an extra night to give those in attendance some added fun. Both cruises will depart from Port Canaveral to the Bahamas, with Holy Ship! 12.0 receiving an extra day at the island paradise of Great Stirrup Cay which will give ShipFam a second private island party to dance at.
Those who are thinking about attending in 2019 better start getting ready soon, as cabins go on sale to returning ShipFam at designated times between March 6-9. If any cabins remain, they will go on sale to the general public at 2pm EST on Wednesday March 14. All it takes is a $250 deposit to save your spot, and you'll definitely not want to miss next year's edition of Holy Ship!
More details regarding the sale can be found via holyship.com!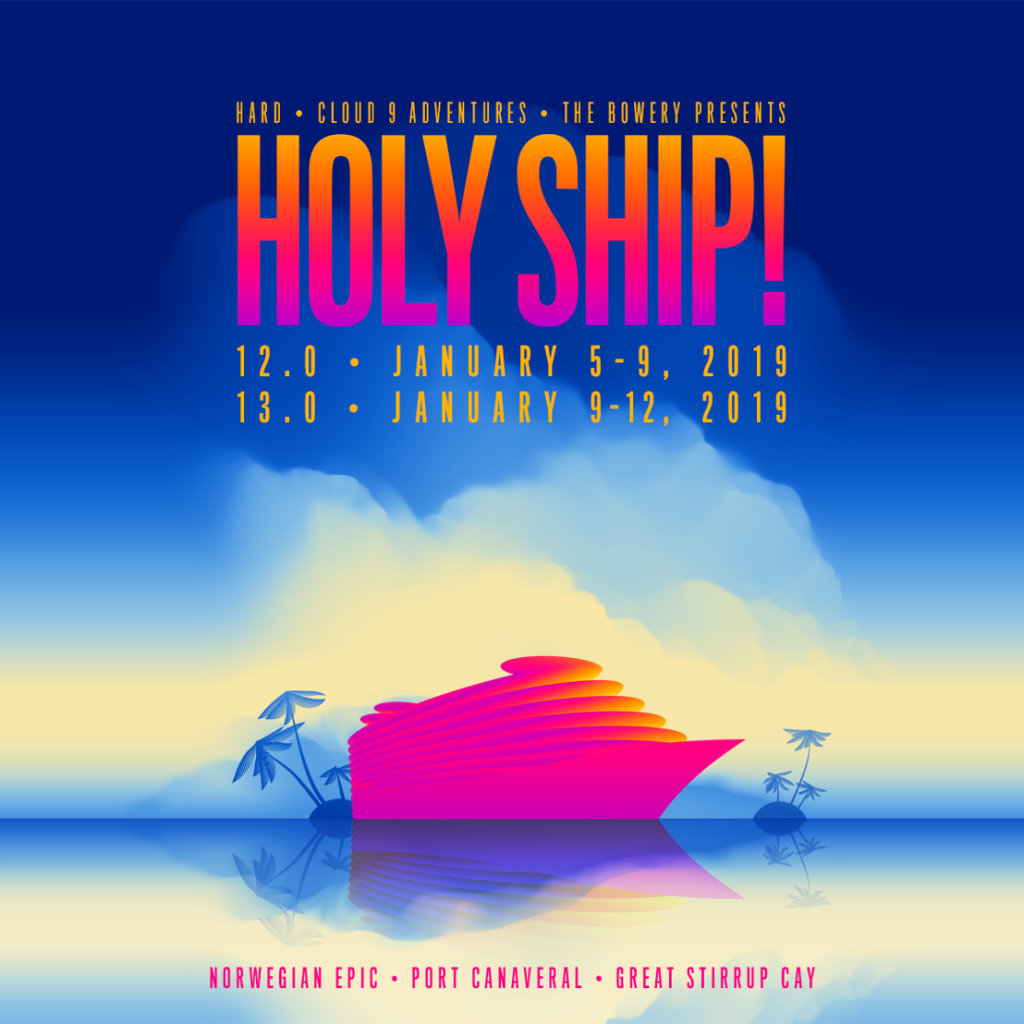 Past editions have featured plenty of quality artists who have taken the stage like Kaskade, Claude VonStroke, Excision, REZZ, and more. This isn't your typical festival though, as artists regularly stay on board for the cruise to hang out and interact with their fans both through scheduled events and casual hang out sessions.
Along with the announcement of dates for 2019, Holy Ship! also released their recap videos for the 10.0 and 11.0 sailings this year. Take a look at the recap video below for a taste of what's in store while on board, and let us know if you're planning to set sail on 12.0 or 13.0 in the comments!
Watch the Holy Ship! 10.0 + 11.0 Official Recap on YouTube:
---
Follow Holy Ship! on Social Media: